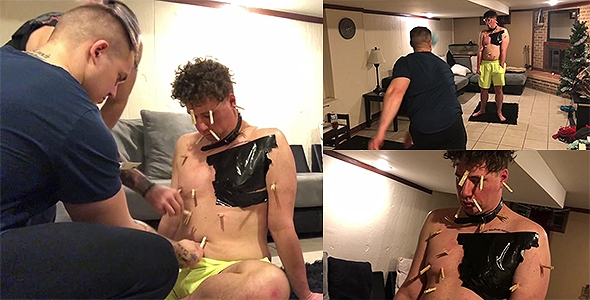 3 New Video – Time for another duo dom games. This time, MasterUltimateGod and his alpha buddy put clothes pins all over this fag. Each of these doms gets a point for each pin they knock off the fag with balls and darts they throw at him. Watch these two alpha men humiliate this fag as they pelt him. The pathetic bitch just has to stand there and take the pain they inflict on him. He truly is owned and enjoys every second of it. Before that round, both doms test the fag's devotion. Fag Butler is ordered to get to his master's shoes and put his face inside. But there is a catch. MasterUltimateGod and his buddy tie up the fag, push against him, pull him back, and do whatever they can to stop him. It's like watching American Gladiators. See the fag struggle to overcome two straight, alpha men just so he can get his face in his master's shoes.
After all of the abuse Fag Butler has been put through, MasterUltimateGod decides he has earned a bit of a reward. And what better way to reward a foot fag than with some alpha jock feet. A more casual worship session, Fag Butler loves his master's alpha straight feet. Watch him lick his dom's shoes clean, then worship some alpha socks. MasterUltimateGod makes the faggot breathe in his Jordans so he can remember the scent that runs his life.
---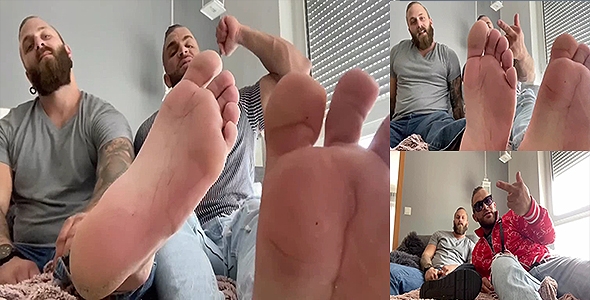 2 New Videos – Master Flexgod and his alpha mate count their cash and show off their huge jock feet. After some flexing and verbal abuse, they put their socks directly in your face. This is complete heave for a foot fag. Later these two alpha doms make you drink their spit out of a cup. Both muscle doms flip you off, verbally abuse you, and stick their huge feet in your face. Be an obedient faggot and do everything they order you to do. This is your ideal life, serving 2 doms at once.
---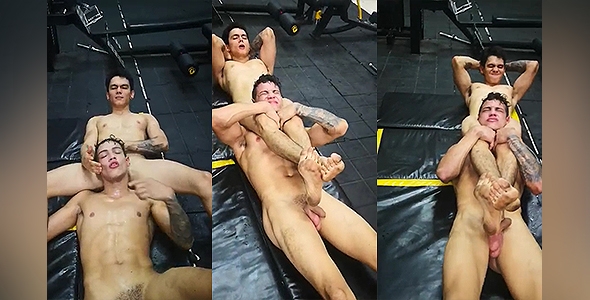 3 New Videos – These two bros show no mercy with headscissors as they wrestle on the mat. The dominant bro ignores all the tap outs and cries of his poor victim. See him lock his brother in some intense chokeholds until he passes out. In another new clip, the gym is closed, so Johan and Freed practice their wrestling at home. Both studs get down on the ground and practice various chokeholds, headscissors, headlocks, and more. See if this guy's younger bro can handle all of the intense chokeholds or if he blacks out. Another hot pair of guys team up for some muscle domination. Hot muscle dude Jake and his twink get together so that Jake can assert his dominance. Jake takes his time tormenting this twink, with standing headscissors and then a prolonged sleeperhold until he is out. Watch this twink endure hard abuse.
---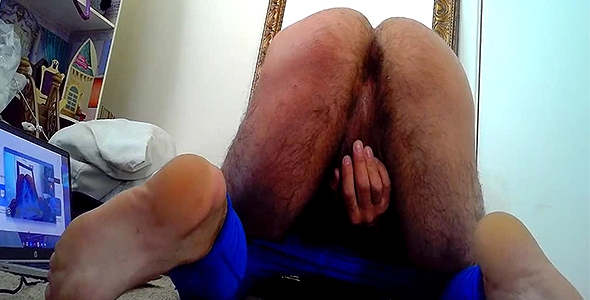 1 New Video – YoungNCharges makes you breathe in his farts in his newest clip. Farting and degrading is what this dom has in store for you pathetic ass sniffers. See a close up of this dom's ass hole and worship him as he lets out fart after fart for you.
---
4 New Videos – Wearing full leather head to toe, Master Michael makes you worship his Godly body. Wearing a leather jacket, boots, and a hood this dom will put you in your place. He later jerks his perfect cock and cums in a condom for you as a treat. In part 2, your leather cash master is showing off his massive cock. This leather dom is ready to abuse you and make you his property. At the end he busts a massive load.
Continuing the leather theme, Master Michael has his leather mask on while clad in all leather with a leather harness. Get on your faggot knees and obey this leather God. Crave his abuse and follow his orders as he shows you how he would use you. Part 2, MasterMichael is fully leathered and blows smoke in your face. Your new leather king demands obedience from you and wants you to worship every inch of him. At the end, you'll have to clean up his big cum shot.