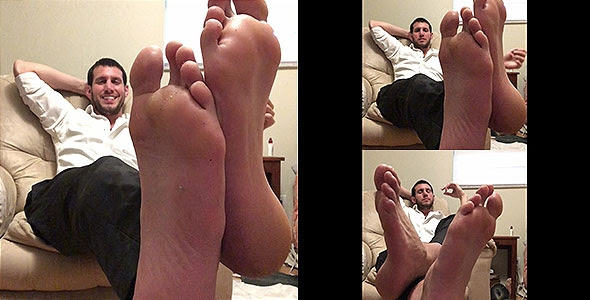 4 New Videos – This starts with Giant Christian Long walking in the front door after a long day of hard work. He sits down on the couch and props his HUGE SIZE 15 shoes on the table. Then he begins to remove the shoes while describing in detail how the job would be better done by you if you were with him in real life. He talks about the "pungent aroma" that fills the room and compares it to the locker room at the gym. After peeling the hot, moist socks off his huge soles, he can't help but moan because of how good it feels to air out his huge rank feet. He wishes you were there to smell it so he decides to give the full experience by shoving you into his dress shoe all the while calling you names and verbally degrading you for being so pathetically attracted to his huge straight male feet. After some camera angle adjustments, he kicks up his feet and shows off those jock soles.
This is a short bit of one of knight00wl's first recorded real-time sessions with the amazing, young, straight Master Rush. The video features Master Rush verbally abusing his slave and giving him commands while another submissive fag is watching them on the laptop and paying for the privilege. Master Rush uses his slave as a footstool, footrest, puts his socks in my beanie, makes me massage his feet, etc. Then after making him get on the ground like he deserves, he is forced to smell and lick Master Rush's feet clean. The real time session continues with a with a clip of Master Rush making knight00wl crawl like a pet on his fag belly to his master's feet where he is made to put $100 bills between his master's toes. After handing over the contents of his wallet, the slave is rewarded by being collared and leashed where he is made to worship feet and be humiliated.
The next video scene focus on macrophilia and opens with a view from the floor with the camera looking up at Master Rush's huge dirty shoes, legs, body, then face. You pick me up and bring me close to your face high up in the air. Master Rush has shrunken you down and no one knows where you are but you will soon just be another stain under this alpha's foot. While looking up at Master Rush, he proceeds to take his shoes off and wiggles his dirty socked feet at you before finally exposing his sweaty, dirty feet and commands you to lick the sweat and dirt off, clean between the toes, clean underneath the toenails. Finally Master Rush decides to stand up and stomp you out of existence like the barely visible bug you are to him. After hard stomping, Master Rush realizes it is not crushing you enough to extinguish you. So he has got a place to store you until he can figure out the next step.
---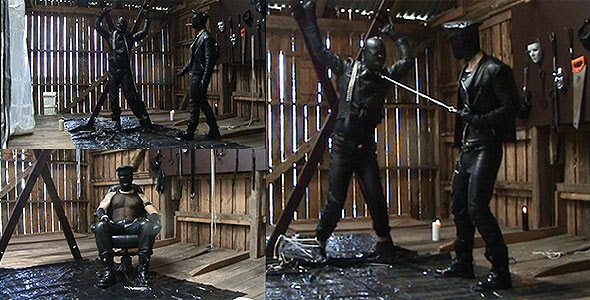 6 New Videos – In the first part of this slave abuse series, bvlgari13 locks a slave up in his abuse shack and the slave is used and abused hardcore by this leather dom. Horse whipped, slapped, punched, forced smoke intox and more happens to this bound slave. The next part continues the fag abuse while bvlgari13 enjoys a cigar during the session. The scared slave cries out as his neck is grabbed by his master's leather gloves and has a hand placed over his mouth. As the slave struggles for air, bvlgari13 lets go and punches the slave then proceeds to whip him. Bvlgari13 then decides it would be best to place a leash around the slave's neck to teach him who is in control. The leashed fag slave has his cock exposed and is beaten on more and more by this dominant leather alpha male. Bvlgari13 then asserts his dominance more by taking out a police baton for abuse to punish the weak slave more. The police stick is used to beat the slave while he's tied up and crying out in pain. Totally treated like how he deserves. The intense slave beatdown continues as he then gets hit with a horse whip, grabbed by the neck, and further abused. The slave's pain tolerance continues to be tested as he is treated the way a faggot slave deserves to be treated by his superior master. In the final part of this series, bvlgari13 gives the slave what he deserves with a final faggot slave beating and whipping. The slave is forever grateful for this experience and will crave it more and more for the rest of his life. Could you endure a punishment like this? Find out when you download all 6 parts of this beatdown series.
---
3 New Videos – Allow the young college fratboy Master Rush Corleone into your brain, as he uses his cunning wit, gorgeous aesthetics and perfect pits, feet and muscles to put you into a deep popper induced trance. He counts you down through 4 increasingly brutal rounds, showing more skin (and muscle) as the rounds grow tougher. His constant verbal abuse keeps things exciting as the rounds go by, ensuring that you remember exactly who you are when in the presence of such an alpha male. In another clip, Master Rush puts a faggot in check, after the homo calls and tries to speak sexually with the 22 year old Frat Boy Alpha GOD. Listen as the witty Master completely checks the slave on the phone, destroying him verbally and putting him down in extraordinary fashion for the faggots disrespect. This is a hilariously arousing video that you DO NOT want to miss. Then in another new video upload, Master Rush Corleone flexes his tight, athletic body built from a life of playing sports. He verbally abuses you as he shows off his muscles, pits and perfect face which will have you falling to your knees, knowing just how unworthy you are to be in his presence. You will be begging for more once you watch this short video clip. Master Rush Corleone lowered the price because this is the video that proves Master Rush Corleone is the most Authentic CashMasters in FinDom.
---
6 New Audio Clips – You're a loser. You already know that you're a loser, but you need Master Lucian to really drive it home to you. You're a loser, you'll always be a loser, and even your parents think so. Let Master Lucian remind you constantly of it in this audio clip. In another clip, Master Lucian goes into two tales of feminization in the workplace. Start your new job as maid Sandy in this scenario and don't let being a man stand in your way. In Maid Sandy 2: If you were humiliated and feminized on your very first day of work, why would you go back? Unless…you liked it. Two hot audio scenes from veteran Dom Master Lucian. Over 20 minutes total! After that series of feminization, Master Lucian knows what you truly want now. You want to be a bimbo from now on. Let Master Lucian help you become the dumb, sexy, fucktoy bimbo you need to be with his affirmations to get you there. Yet, don't stop there. Master Lucian an another affirmational file designed to make you a pretty sissy. A pretty sissy who craves men's attention. A pretty sissy who sucks, cock, gets fucked and lives for cum. It's not who you want to be. It's who you already are. If you're hesitant about any of this then it's time to finally let go. It's time to let Master Lucian take you on a journey into utter submission. Included in this particular clip are three versions of the file. Normal. Reverb effect and Echo effect. Pick a favorite or try all three. But wait a minute, are those poppers you have there? Those are the most powerful poppers in the world. Of course, they do have one little side effect. They make you very suggestible. But you can handle just a little, right? Go on, give them a sniff…