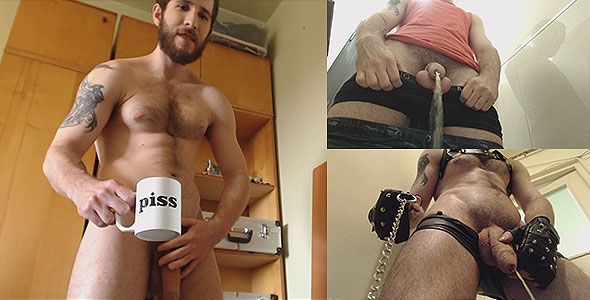 11 New Videos – Creatively sadistic, hairy, and aggressive alpha dom Transylvanian Wolf is new to In-Charge and has a ton of new videos for his loyal cash fags and new followers to enjoy. In one of his newest videos, Transylvanian Wolf has a 20 minute piss compilation which is his first ever piss compilation video. The compilation of this hairy master pissing features him in different locations: public toilet, outdoors, shower, wearing leather and more. This dominant hairy master pisses so much in one scene where he fills up 2 cups in one go for you to drink. Another view is him keeping you on a leash while he's clad in leather pissing down on you. For slaves who can't get enough of him pissing on them, Transylvanian Wolf has another piss video of him outside stomping, spitting, and pissing while humiliating you at the same time. It starts off with this master talking about how you've been locked in chastity for month, smelling like his dungeon, so he decides it's time to take you for a walk. Your pathetic faggot ass makes him angry so he has to resort to stomping you out with his dirty, muddy sneakers before ordering you to clean his sneakers. Like the subhuman you are under his shoes, you have to beg for mercy but all you'll get is this alpha's spit and piss to wash down the mud and filth. The dirty, filth humiliation continues when Transylvanian Wolf makes you worship his dirty socks and feet outside. His socks and feet are covered in dirt from the outside and it's your duty as a degenerate slave to clean them to perfection. After you finish off cleaning his dirty feet, lay back on the ground and take master's spit. Sitting down outside in jeans and dirty boots, Transylvanian Wolf will make you lay there with your mouth open to take gobs of his spit and thank him for each and everyone. Worship quickly because this might be the last time he let's you go outside when not inside his dungeon.
As far as compilations go, Transylvanian Wolf not only has a piss compilation but he also has a cumshot compilation featuring him delivering massive Earth-shattering cumshots. This uncut, big dicked master shoots his massive load anywhere he feels like it dropping his load. He busts a nut on the couch, in the shower, and even all down his mirror. Watch how a real man uses his cock for pleasure while you pray that he locks you in chastity. That provides a great transition to the next video where straight alpha Transylvanian Wolf locks you in chastity. Getting out his metal cock cage, this straight master remind you as to what it's going to be like when locked in his control, never being able to cum or get hard unless he gives you the key for your release. It's your duty to follow the instructions given to you by your master, whether that means staying locked in chastity or doing monotonous tasks. In this video clip, Transylvanian Wolf gives you some feet and cum licking instructions. Having already shot a load in a condom, this straight jock empties the load of cum on his massive feet and verbally berates you to come clean his feet. He'll make you lick the sweat off them from the gym while tasting his superior load of cum on his huge alpha male feet.
In another film, Transylvanian Wolf makes you lick his ass cream off of his hairy ass. Ass cream meaning whipped cream all over his ass. Fresh from the canister, he spreads the whipped cream all over his ass for you to lick off and taste. Then for fag slaves who need more of his alpha ass, Transylvanian Wolf will sit on your face and fart to dominate and use you more. In this POV film, you'll get a closeup glimpse of Transylvanian Wolf's hairy ass right in your face as he lets out farts to humiliate you for his amusement.
After all of that service, it's time for Transylvanian Wolf to beat your ass. He has a boxing match coming up but he needs a punching bag to practice on. What better way to train than to use your faggot body as a punching bag for practice. You're pathetic whimpering is disgusting and your hesitation inflames this alpha's anger. Transylvanian Wolf will hold you down, beat you with his boxing gloves, keeping you in a headlock and spit on your bruised body. He just loves using you for his sadistic desires. In the end, he spits his chewing gum on the ground and commands you to jerk off with it. Desperately you pump your tiny baby dick with it in hopes he won't beat you anymore but there's one last thing Transylvanian Wolf commands you to do…
---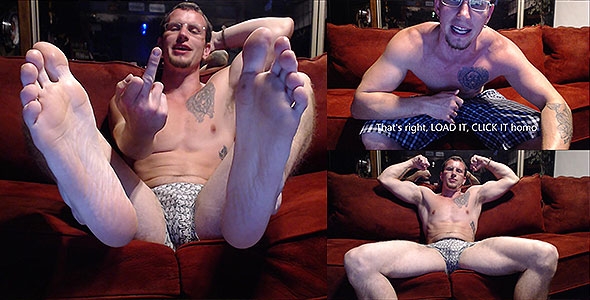 1 New Video – There is none better than Sir Kraze. Whether it's his muscles, pits, feet, bulge, alpha cock, or his attitude, every part is perfect and ready for worship from a pathetic sub faggot. In his newest video, Sir Kraze starts off in some cargo shorts and gives you instructions on how to sniff and inhale your poppers as he verbally abuses you. This is the abuse you seek from a real dominant jock, constantly craving this abuse. Sir Kraze then takes off his cargo shorts and shows his massive bulge through his tight underwear. Flexing, then sticking his feet up to the camera and flipping you off, Sir Kraze gives you everything you deserve for being a pathetic cash fag.
---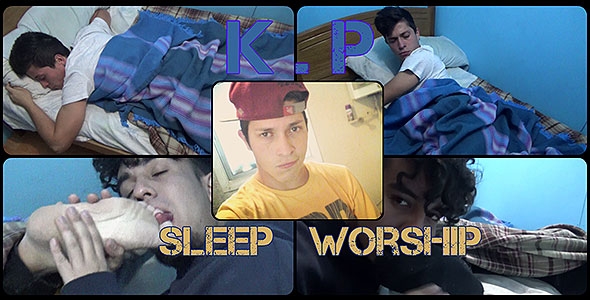 1 New Video – In this new, nearly 18 minute video from Master Dnero, one of his friends gets his feet worshipped as he sleeps. The making of this video was a long story. It started with a Facebook post from Lucky (Master Dnero's brother) who posted about getting money easily from cash fags. Their friend K.P. asked to join the group of masters but when K.P. arrived, he acted as if he was a star already even though he didn't prove himself. They decided to have K.P. relax and get comfortable and not before long, K.P. actually fell asleep. Master Dnero had his foot fag brother Lucky use his foot licking faggot tricks and suck K.P.'s feet while he slept. Once he woke, they had to lie and tell him that was the admission test as he woke up confused as to why his feet were wet. It was all a trick to get a free video out of K.P., but Master Dnero still might let him become a foot dom if slaves crave him enough.
---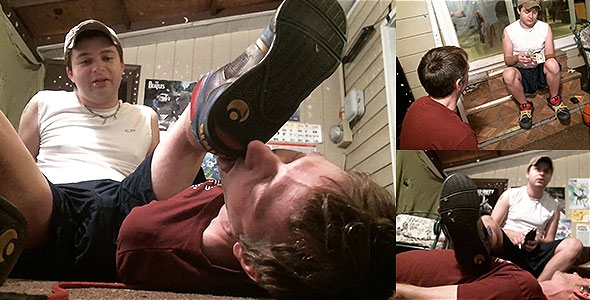 1 New Video – One of SkaterKrisHawks's most devoted fag slaves is actually a married man who can't get enough of his alpha feet. This married foot fag clearly has an addiction to him. He can't get enough of his foot master that he'll spend more and more on it resulting in his wife wondering where all of the money is going. Watch as SkaterKrisHawk empties this married foot fag's wallet, run up his credit card all while he takes his feet and pits right in his face. The look on his face is pathetic.