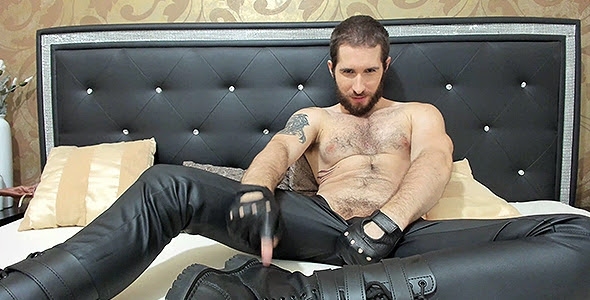 2 New Videos – Transylvanian Wolf knows your most well-kept secret. Unless you want him to expose you to the whole world for being a gay pervert, you will do exactly as he says to do. This alpha master has photos of you, and he's not afraid to share them online via social media if you don't comply with his blackmail game. From now on, you are his to use and you will crawl naked on your hands and knees to kiss his boots. If he is in the mood to smash your balls with his leather gloves, you will present them immediately. This master even has the perfect idea. He's going to pimp your horny ass out by putting an ad online and anyone willing to pay to use your mouth or ass will get the opportunity. This is your new life as his personal whore, pleasing gay and straight men that want to use you for their own wicked pleasure.
In his other latest film, Transylvanian Wolf turns your cash pussy into his slot machine. It starts by you entering his luxurious hotel room as he is counting all of the cash that he raped from his money slaves like you. The bed is filled with cash as he teases you mercilessly with his big feet and delicious toes. He then takes you on a tour of his perfect body showing off his hairy, manly, sweaty pits. Verbally humiliating and degrading you on the way as he does this. He even smothers your face with his feet but never forget that you can only cum when he says so and only after you have asked permission out loud. But the best part is at the end when this alpha master decides to use your ass as a slot machine by stuffing you full of dirty coins, one by one. Submit yourself to this alpha for the ultimate humiliation and dehumanization.
---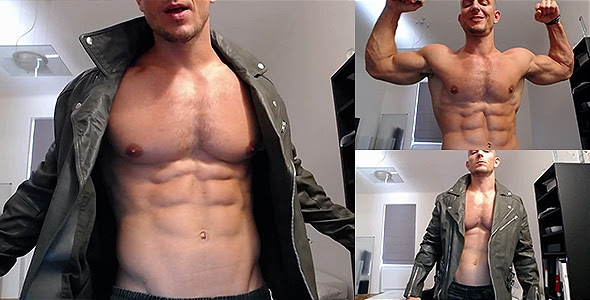 2 New Videos – In his latest film, Stefano shows you how he owns your life. Wearing a black leather jacket and showing off his strong muscles for you to worship, you will quickly realize how superior this straight alpha male is compared to your existence. Stefano makes sure you worship his muscles as he flexes, flips you off, and verbally abuses you. Throughout the verbal abuse, Stefano will train your brain to realize that he owns your life and that you are just an object for him to use. After you've come to the realization that you only exist for Stefano to use you and own you, get your poppers ready for some poppper intox. In this 8 minute video clip, Stefano will guide you through sniffing your poppers until your brain is fried. This fine dressed, muscle master enjoys fag slaves who are weakened and buzzed on poppers. The more fried your brain becomes, the weaker you become for him to exploit and use you. Add credits to your In-Charge account now and download this video to serve your master.
---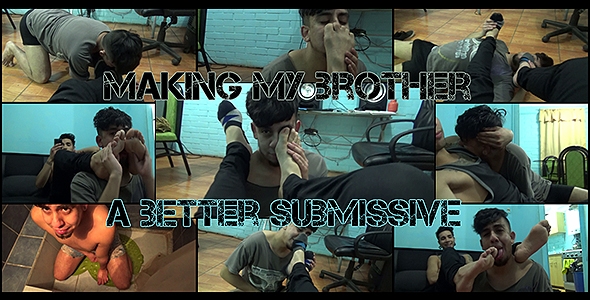 1 New Video – In his newest film on In-Charge, Master Dnero makes his brother into a better slave. It starts with him inviting you to imagine yourself as his half brother and have the opportunity to serve him day by day for your whole life because you are a pathetic trash fag slave. Your life's purpose is to endulge your straight brother as he conquers pussy and makes you worship his sweat and manliness. Imagine having the opportunity to wash his sweaty feet and armpits with your tongue after the gym, to prepare his food and clean his house everyday and even live as his urinal. You would be forced to get a job and hand over your paycheck to your alpha brother constantly. In this film, his half brother, Lucky does all of that and you should envy him. You should wish to be as lucky as Master Dnero's brother, who just happens to be named Lucky. Also as an exclusive, this is the first recording of pissing from MasterDnero and can only be found on In-Charge.
---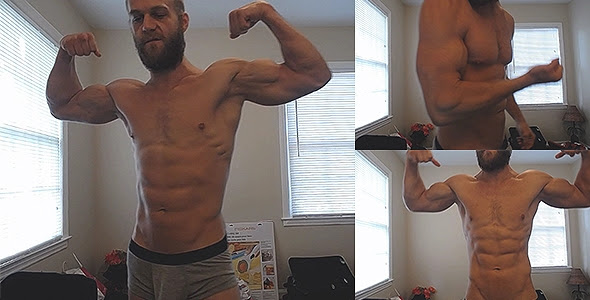 2 New Video – Back from the gym and fueled with testosterone and adrenaline, College Muscle is ready to make you worship his biceps. Master College Muscle (CM), makes little faggots like you worship his perfect alpha biceps again by forcing you to get on your knees and tribute for the chance. Reinforcing your place as an inferior faggot, Master CM reminds you that your only purpose in this life is to serve a real man like the pathetic fag you are to him. However, don't stop the worship there. Master CM then makes you serve a real man in his other newest film. Look up at this muscular alpha god and give up your fag cash to him as you assume your role. Master CM flexes and shows off his alpha muscles as he talks about his real life experiences of fags drooling over him constantly whether it's at the gym or the beach. It's amazing for his alpha being a straight, cocky, muscular superior male.