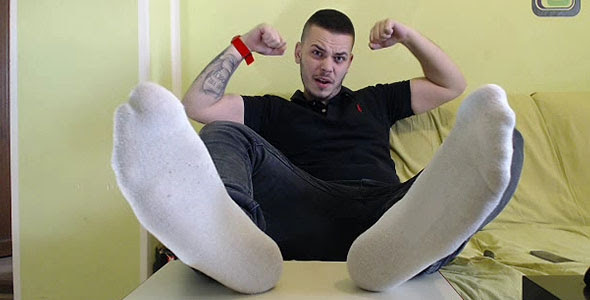 1 New Video – In this 8 minute video clip, MasterBraz95 puts you through rough popper training as you worship his feet. Getting very specific and detailed, MasterBraz95 tells you how you should sniff poppers while staring at his socks. This dominant alpha will command you to start sniffing, instruct you on how to breathe, and order you to stop when he feels is necessary. All of that while he also verbally abuses you and shows off his masculine white socks.
---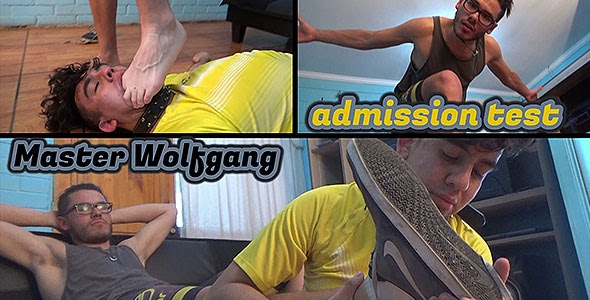 1 New Video – MasterDnero and Str8CrushFeet is proud to announce some great news. First, they have restructured their admission tests for news masters, which can be found at the end of their admission test videos. They have increased the difficulty of their admission tests by forcing alpha pledges to be more creative in their domination techniques to ensure they are allowing the most dominant masters into Str8CrushFeet. Secondly, MasterDnero proudly welcomes Master Wolfgang to Str8CrushFeet, his alpha score can be seen at the end of his video.
Wolfgang is dominant by nature and the first in Str8CrushFeet to exclaim that he isn't in it just for the money. Usually Wolfgang will dominate women during sex because he's straight but rationalizes that there isn't much difference for him since the power he feels over others is what gives him a mental pleasure. During this admission test, Master Wolfgang must prove himself by dominanting Lucky the slave. Lucky can sometimes be a bit bratty, but Wolfgang makes sure to put a stop to that so Lucky understands who is in charge. Wolfgang slaps Lucky in the face and chokes him out. Download now and see how well Master Wolfgang ranks with some of the top masters.
---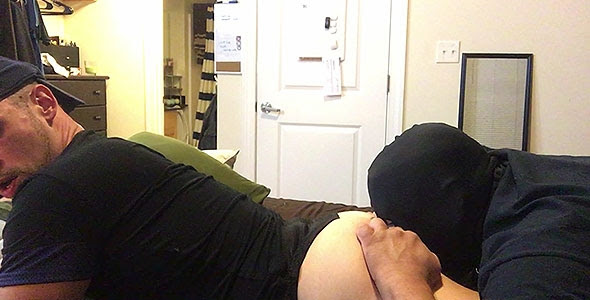 3 New Videos – Master Allen has even more videos this week for you to drool over. In the first of 3 videos, Master Allen gets his ass worshiped by a masked faggot slave. This pathetic sub dives face first between Master Allen's legs and worships his favorite, ripest ass on the face of the planet. The masked slave skillfully eats out his master's ass with his tongue, licking and sucking on his master's asshole. Giving his slave even more rewards, Master Allen lets the fag slave go from eating his ass to licking his balls. There's nothing this faggot slave loves more than burying his pig face in Master Allen's sweaty ball sack when he gets home from the gym. Watch the masked slave polish his master's alpha jock sack with his faggot tongue. Master Allen makes sure his cash fag sops up all of the delicious scents and flavors that cling to his King balls. In his final act of service of these 3 videos, the masked fag sucks his master's toes. The foot fag worships Master Allen's jock toes by going to town on them with his tongue out, licking every part. As Master Allen sits back and watches, the masked sub sucks all of the foot jam from between each toe. At one point the fag stuffs his mouth full of toes, literally.
---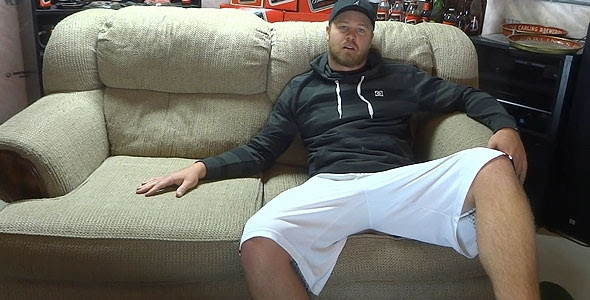 5 New Videos – Well known alpha master Henderdong is ready to make you submit to him completely. Get dominated for nearly 13 minutes while Henderdong dominates you. With his own form of verbal abuse and foot worship, Henderdong refers to this as Henderdomination. It includes you submitting yourself to him, enjoying his feet, and experiencing his God like attitude to the point that you realize who is in charge. Craving more from him, you'll find yourself praying to Henderdong's feet. Placing the camera at the bottom of this sofa, Henderdong plants his feet right up to the camera so you can see how massive his alpha feet really are in size. You'll begin feeling the urge to worship his shoes, socks, and feet while watching this clip. As a reward, you may get to clean his alpha feet with Henderdong's own holy spit as you bow down and pray to his feet. However, Henderdong may be giving you too much attention as it might be time for Henderdong to ignore you while you worship. With his big alpha feet shoved in your face again, both socked and barefoot at different points in this video, you'll devote yourself to serving his feet. Henderdong won't give you any attention though because attention from a foot king is earned and not given so easily.
Joining Henderdong in this two part video series is his foot master prodigy. Worship these alphas as they peel off their socks showing their superior straight feet. Both foot doms will ignore you but throw out some verbal jabs to keep you on the right path of service and to feed your cravings. In part 2, not only do the socks come off but the shirts come off too. Now that you're worked up and can't contain yourself anymore, you can treat yourself to part 2 of this foot worship series. Stay on the floor to worship these four perfect jock feet and make sure to pick up these alphas' socks.