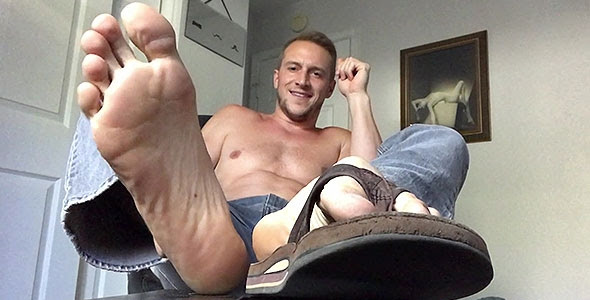 1 New Video – Got something that makes your loins burn when you see a hot jock barefoot in some flip-flops? Something that makes you feel weak? Like the feeling that you need to drop to your knees and worship those feet in any way you possibly can? Then look no further; this is the video for you. In this 10 minute video clip, Taylor bosses you around, telling you what he wants you to do to his perfect jock feet. With his feet right in your face, he has all of the control now. He wiggles his toes and relentlessly teases you. Prepare to have jock toes stuffed in your mouth and have your face smothered! Admire and worship at Taylor's command.
---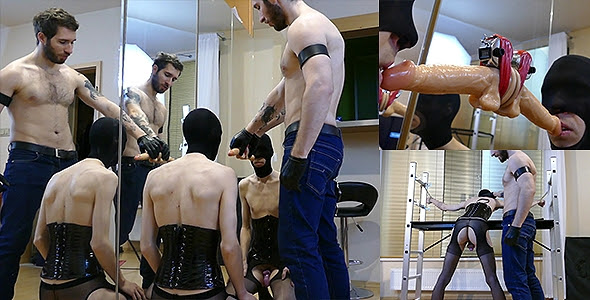 2 New Videos – Transylvanian Wolf is ready to put this crossdressing sissy fag through some deepthroat training in this real time session. Starting off by forcing this sissy fag to his knees, TransylvanianWolf has a dildo suctioned to a mirror for the fag to practice his deepthroat skills. To make sure the fag doesn't cheat, this master placed a clicker at the base of the dildo. It clicks each time the fag deepthroats the dildo far enough that his nose presses the clicker button to add a number to the tally. Clad in a leather corset and stockings, this sissy fag does his best to deep throat this rubber cock as far as he can all while Transylvanian Wolf whips and beats him with a belt. After the fag has successfully deepthroated enough to his master's pleasing, he gets bound and tied up for a whipping. Shackled in place, Transylvanian Wolf beats this sissy fag's ass until the sissy fag's dick is dripping cum through his chastity device.
For the more perverted and sick faggots, Transylvanian Wolf has something to satisfy you too. Prepare to be a human toilet for piss and farts from this alpha male. Transylvanian Wolf starts off the video with him pulling out his uncut cock and releasing a warm stream of piss into the toilet for you to drink up. Place your face in the bowl and drink this master's golden essence. Afterward, you can worship his hairy jock ass as he farts directly in your mouth like the perverted sick faggot that you are to him. As a final reward, you can clean this master's toilet brush with your mouth. You're already filth and now it's time to prove it by being a complete toilet for this alpha.
---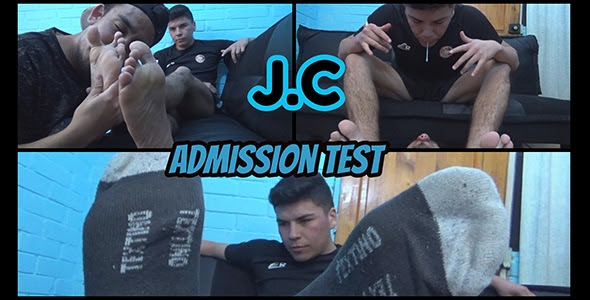 1 New Video – Str8CrushFeet is proud to introduce their newest member – Jean Crush. This dominant alpha is the captain of a sports team, and let's be honest – what sub hasn't fantasized about licking the feet of the captain of a sports team? Imagine all of the testosterone flowing through his body at any given moment. A submissive fag like you would melt by watching him score points in his games and you would feel happy just by giving him water and drying his sweat. Imagine yourself licking his feet after a game with all of that macho sweat running through your taste buds. With enough cash and some luck, maybe Jean Crush will put you in your place like he does the foot fag in this video clip. Dynamic, cocky, and sexy, Jean Crush is an alpha by nature and is the type that would lock nerds in his locker. See how dominant Jean Crush can get with a faggot in this real time foot worship session.
---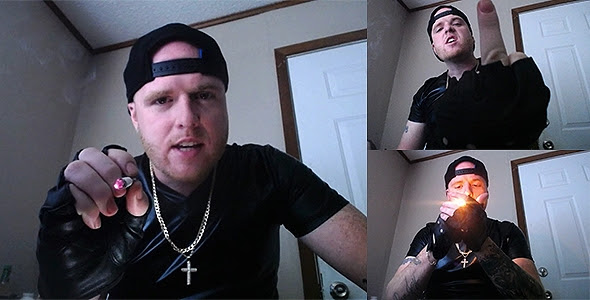 1 New Video – Wearing full leather from head to toe, KingGinger will quickly put you in your place throughout this extreme verbal humiliation session. This alpha master kicks back and smokes a cigarette as he humiliates you for being a pathetic faggot. You are merely a wallet to him to empty and drain. With each puff of smoke from his cigarette, you can feel your cash burning away as you worship and serve this leather master. KingGinger even wears a gold chain around his neck which was most likely bought and paid for by the previous fag slave that he cash raped and now it's your turn to hand over your cash to this superior alpha male.
---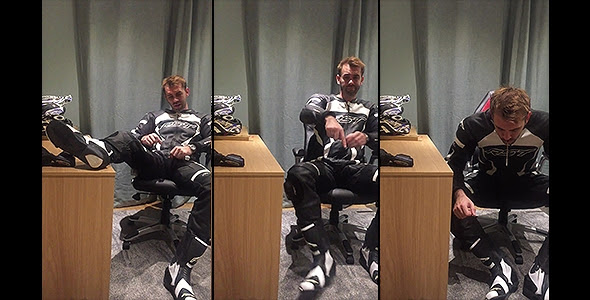 1 New Video – New to In-Charge is MasterAJ, a self described findom biker lad. This alpha is into abusing weak slaves while wearing his biker leathers, boots, and other leather gear. His first video on the site shows off his biker leathers. While wearing his RST biker leathers, bought for him from some slave, MasterAJ gives you the verbal abuse that a loser like you deserves. As he commands you to get on all fours, you'll beg to lick the spit gob off of his boots. Know your place and submit to a fit, alpha biker lad.