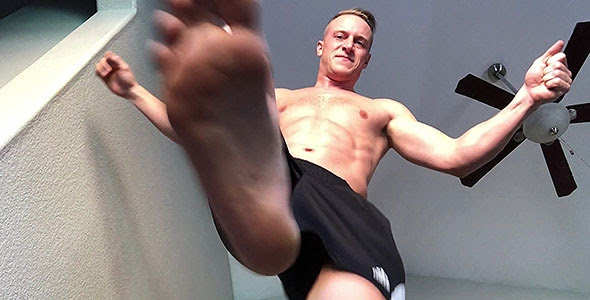 2 New Videos – Enjoy being in close quarters with Taylor? Start off with a friendly one-on-one wrestling match that turns into something much more kinky. In this 5 minute video clip, Taylor busts your balls from your POV. To get started in this wrestling encounter between you and Taylor, this alpha male starts to play dirty and grinds his elbow into your balls but realizes you are starting to enjoy it. So Taylor stands up, holds your legs, and grinds, stomps, and smashes your cock and balls until it makes you cum from the extreme ball busting. Enjoy the heavy taunting and dirty talk in this hot video. Looks like this match turned out to be a different type of wrestling match. In his second video update, Taylor discusses tickling and having his feet tickled while wearing gold toes sheer nylon socks. First, Taylor talks about being tickled as a kid by a friend which made him realize just how ticklish he was. Then Taylor talks about how his brother and dad used to hold him down and trade off tickling Taylor to the point of tears. Finally, Taylor realizes that, for once, he would like to be the tickler. Look out as Taylor is now asking you if you are ticklish and he's coming for you.
---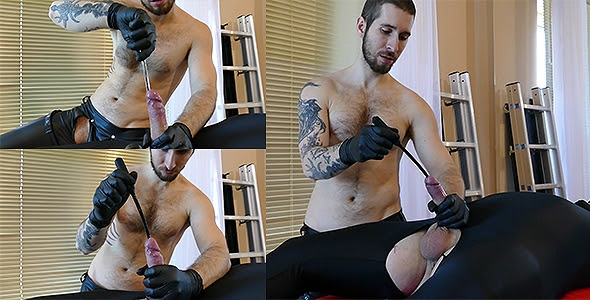 1 New Video – Fucking your ass and mouth is not enough. Master Alex is going to fuck your cock and pee-hole as well. Master Alex orders his slave on the bed and starts to slap his horny dick to make it hard. Once the slave's pathetic dick gets hard from the pain alone, it's now time for Master Alex to administer some cock sounding. The silicone urethal tube enters the slave's urethra then comes the thick metal one to penetrate and fuck the slave's cock deep. Putting a vibrator on the slave's balls and the long tube inside his urethra, Master Alex wants him to cum while having his cock fucked. But the torment of the long silicone tube makes it impossible for him to spurt, so Master Alex starts to slap his cock in anger. He edges him and just when he's about to orgasm, Master Alex hits that cock, literally slapping the cum out with each hit.
---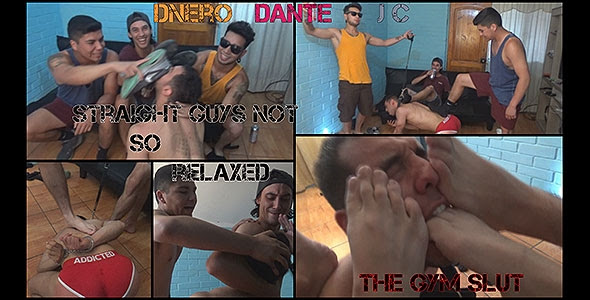 1 New Video – Master Dnero and his buds are back to dominate a foot fag in this 43 minute video clip. The group of straight guys and Master Dnero have one of their loyal gay foot fags come over to worship their alpha feet. The pathetic foot fag strips to his underwear and proceeds to sniff everyone's sweaty and smelly sneakers. Master Dnero puts the foot fag on a collar and leash to drag him around like a dog while one of the straight alphas kicks him around. They then handcuff the foot fag's hands behind his back and make him lick and suck everyone's toes. Pulling the slave up to his knees, they make him lick their armpits too before finally jamming all of their feet in his face. The foot fag is in heaven when all of these straight alpha males make him lick and serve their feet.
---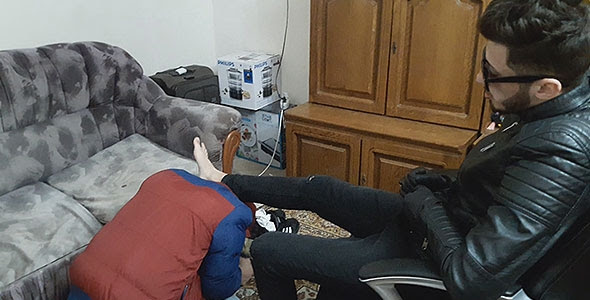 1 New Video – In this 4 minute video clip, a stupid faggot slave shows up to MasterF's door because he badly wants to serve his superior alpha master. MasterF demands to know how much cash this fag brought with him for the session and when the cash fag presents an amount lower than what MasterF was expecting, this cash fags gets humiliated by MasterF. This dominant alpha master humiliates the fag and finds more cash hidden on him which he takes. All throughout this video clip, MasterF, while clad in a leather jacket, humiliates, smacks, verbally abuses, and beats this slave as the slave worships his master's feet.
---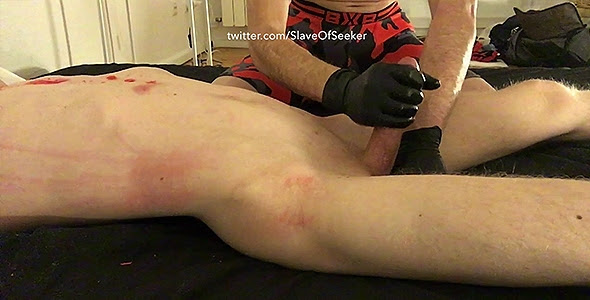 1 New Video – Seeker's Property is the name of one of SlavesSeeker's loyal fag slaves. This fag slave uploaded a video of his experience as SlavesSeeker's property. After two weeks in chastity, SlavesSeeker allowed his slave to meet with a friend for an hour of satisfying and cruel edging and abuse. Finally the slave is allowed to shoot his big load.