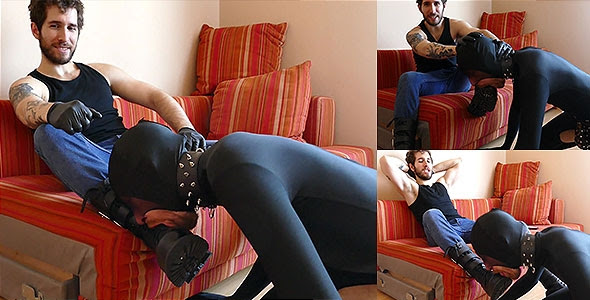 3 New Videos – These 3 new videos from Transylvanian Wolf features him in three different real time meets with his loyal slaves. In the first video, Transylvanian Wolf needs his boots to be cleaned. Who better to clean them than his loyal Slave Shine. There's a reason this slave earned that name, obviously. Slave Shine needs to worship his master's shoes and feet more than he needs air. The fag slave crawls on his hands and feet, opening that hungry mouth in hopes of tasting his master's boots. While Transylvanian Wolf relaxes on the couch, his slave shines and shines, never stopping to catch his breath. This alpha dom uses a leash on the slave's leather collar and watches the fag's cock struggle against the chastity belt. Transylvanian Wolf orders him around, uses him as a footstool and enjoys being serviced by this hungry, boot-loving slave.
In a followup real time session, with what appears to be the same fag slave, Transylvanian Wolf spanks his slave into submission. Clad in tight black shorts, black leather boots, and a leather harness, Transylvanian Wolf takes his leather paddle and teases his sub's ass with it. Making his slave bend over the couch, it doesn't know when to expect it's master to spank it. Transylvanian Wolf doesn't hold back and lays into his fag slave with each spank of the leather strap. You can tell Transylvanian Wolf enjoys dishing out the punishment to his obedient fag slave with each smack. In his other most recent real time session video, Transylvanian Wolf has a different slave to torment in this agonizing CBT session. The slave wearing a black lycra jumpsuit has his cock and balls exposed. His cock and balls are tied up ready for the torture session. Just like he paddled the previous slave's ass, Transylvanian Wolf paddles this slave's balls and cock as it cries out in pain. Making this submissive fag into his bitch, Transylvanian Wolf takes total ownership of this fag's balls as he continues to torture and torment them for his own amusement.
---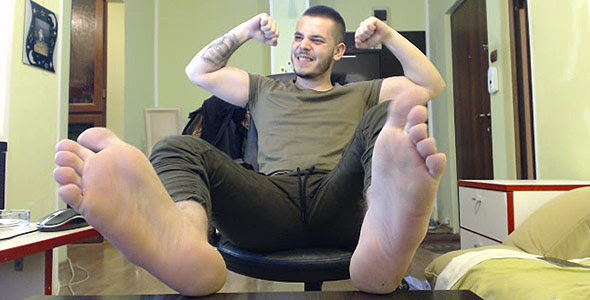 3 New Videos – In one of the rare videos from his collection, MasterBraz95 is ready to put you in your place while he makes you worship his big alpha feet. This video is rare because MasterBraz95 rarely decides to show his feet. Flexing for the camera, MasterBraz95 plants these massive feet up to the camera to make all of the foot fags drool over them. Throughout this nearly 12 minute video, there are plenty of moments to worship this alpha's feet and endure his verbal abuse while he smokes his cigarette. However, it doesn't stop there as MasterBraz95 has more for you to drool over. In this leather worship video, MasterBraz95 will weaken you with his leather gear. Clad in leather gloves, a leather jacket, and big leather boots, MasterBraz95 will brainwas you into understanding that your place is as his slave. Your rightful place is to the slave to a straight master's feet. Endure this master's leather boots, verbal abuse, smoking, and spit all wrapped into this video.
Picture a normal working day for yourself. You probably get up early, rush to get dressed, eat a shitty breakfast, rush to work to slave for hours making a wage that barely makes ends meet. For MasterBraz95, a usual "working" day consists of making faggots sniff and drool at his white socks while making tons of money. He sets his own rules and you are to follow them. Grab your poppers and cash to sacrifice for this intense popper intox training session.
---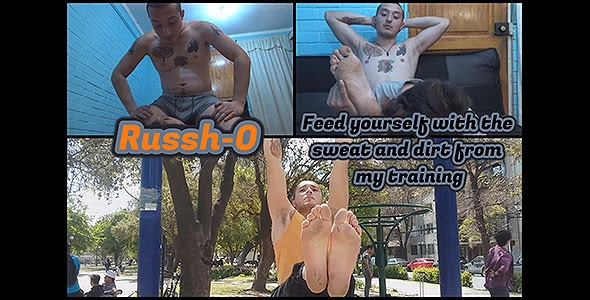 1 Video and 1 Photoset – Master Russh-0 was given a slave to do the cleaning of his home. However, he would be in charge of feeding this slave, just as if it was a pet. The difference is that this pet is a faggot with a lot of money. Russh-0 decided to feed this fag pet only with his sweat and soil from his feet after an intense gym workout. Unfortunately, no one can live simply off of foot sweat and foot dirt, not even a pathetic slave. What will Russh-0 and the Str8CrushFeet guys do with this fag pet? After watching this video, you'll crave to clean and lick some alpha feet. MasterDnero has the perfect gift for you – a collection of 45 dirty feet pictures for you to worship. Download this photoset and start cleaning MasterDnero's dirty, Godly feet after his workouts.
---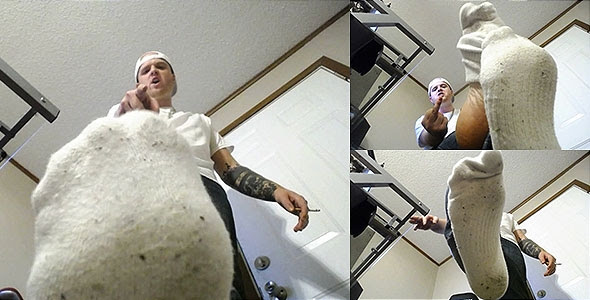 1 New Video – KingGinger is ready to give all of the foot whores out there an intense verbal bashing. Standing over you to establish his dominance, KingGinger verbally lays into you to remind you of how fucking pathetic you are to him. Weakening you with his socked feet, you'll quickly learn your role is to be at the bottom of this alpha's feet. It isn't before long that KingGinger takes off the dirty white socks from his feet to reveal his big alpha feet. Tongues out and wallets open because you're going to serve these feet.