3 New Videos – Continuing his abuse of MexSlave, MasterJax makes his pathetic slave place cash between his toes before he straps his shoe to the faggot's face. At this point the fag slave has no choice by to inhale his master's intoxicating foot scent through his sneaker. Punishing him more, MasterJax stomps on the slave's face and neck. Imagine yourself being as lucky as this foot slave and serving MasterJax's feet. Although it doesn't stop there with the abuse of MexSlave. In the third part of this series, MasterJax shoves his socks in the fag's mouth and eventually forces him into the bathroom to do something particularly humiliating. This foot fag can't get enough of the opportunity to sniff MasterJax's socks, feet, and sneakers while enduring his abuse and humiliation. MasterJax gets more intense as he steps on his slave to abuse him more. While relaxing on the bed, MexSlave dutifully cleans MasterJax's sandals while licking the sweaty insides clean. MasterJax then proceeds to step all over this slave's faggot face.
---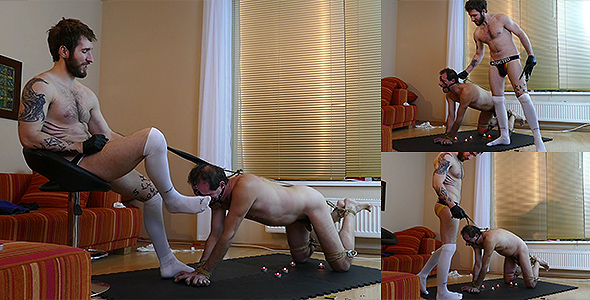 3 New Videos – Get ready for some sock worship and extreme bondage as Master Alex punishes another real time fag. In this video, Master Alex wears his jockstrap and long white soccer socks while dominating the hell out of his slave, who is tied up and helpless at his master's feet. This is part two of how Master Alex met slave Faco. In this part, Master Alex puts his fag in an extremely difficult bondage scenario. Ring gag opening the slave's mouth for Master Alex's big alpha feet, candles underneath the slave's chest and cock, the slave experience Master Alex's full abuse from belt whipping, candle dripping, predicament bondage, and socked feet worship and domination.
Slave Faco gets even more vicious abuse when he endures a hard electro milking from Master Alex. The focus of this video is all about edging and pushing a huge load out of the slave's cock. Master Alex milks it hard, using electro torment, cock slapping and kicking, nipple pulling and total control to establish his dominance over this fag. Master Alex handcuffs slave Faco and spreads his legs while attaching electrodes to the slave's nipples and cock. To stop the slave's loud moaning, he takes off his long soccer socks and gags the fag with them. In the end, using his leather gloves and intense vibrator, Master Alex milks every drop of cum out of that horny, throbbing cock on this pathetic slave. After he dominates this fag during the electro torture session, Master Alex covers the slave in piss in the shower. Putting his slave in the bathtub, Master Alex gives the fag a bath he'll never forget when he drenches him in his warm piss. Master Alex unleashes his golden nectar all over the slave's body and leaves him there with the bathtub plugged. Master Alex will return later to piss on him again until the slave takes on a full bath in nothing but his master's piss.
---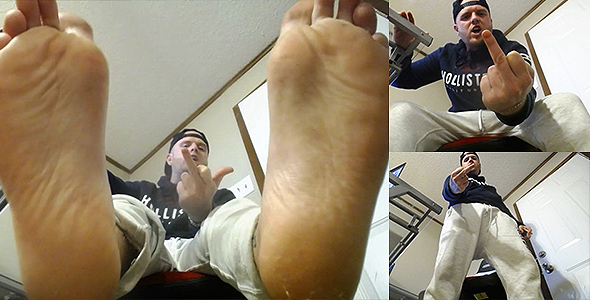 1 New Videos – King Ginger delivers an extremely verbal fag bashing in this barefoot worship video. Sitting at his computer, King Ginger takes a break from cash raping fag slaves to deliver some intense abuse to a slave like you. Placing the camera on the floor, King Ginger stands tall over you while flipping you off and stomping his feet right into your face. King Ginger will remind you of your place in this world which is to serve straight alpha men and fork over your hard earned cash to make King Ginger's life even easier.
---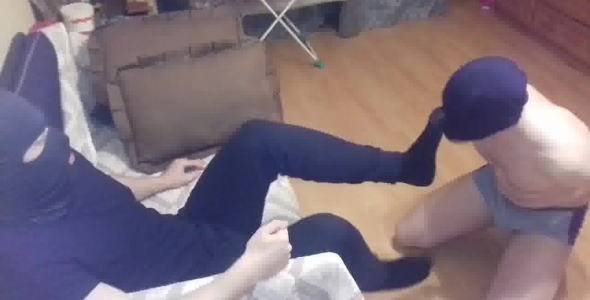 1 New Videos – New to In-Charge is MasterDominator, a muscled Russian master who enjoys putting pathetic cash faggots in their rightful place. In this 18 minute video clip, MasterDominator dominates and punishes a faggot slave by forcing him to sniff his sweaty socks and lick his barefeet in this feet fag humiliation session. The fag slave receives MasterDominator's spit in his mouth whenever he worships his master's feet wrong. MasterDominator loves teaching bitch slaves how their lives will change as his personal foot fag. Letting the slave sniff and lick his feet, MasterDominator also lets this masked fag worship his ass and balls with his tongue. This is the definition of real domination.