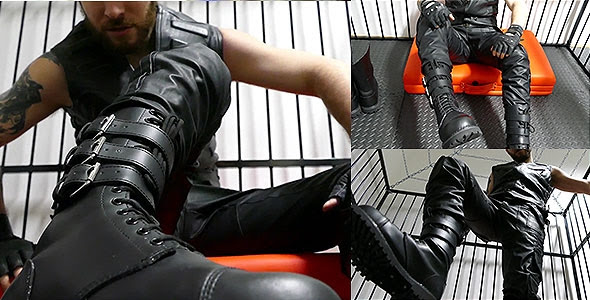 2 New Videos – If there's one thing that Wolf Master loves it is having someone shine his boots. For this, a slave must stay inside a cage and wait to be of use. Its tongue needs to be ready at all times to clean master's boots. So when Master Alex brings them in, the slave will gladly shine them and make them perfect. Master Alex aids you by pissing in your mouth so you'll stay hydrated and with a wet tongue. In another new video, Master Alex steps out of the cage for some role play. In this scene, you want a raise, a serious bump in your paycheck. And you go to your boss demanding it. Of course, you secretly have a crush on him as well. He often catches you staring at his bulge, but that's a whole different matter. When you approach him with the idea of a raise, he entertains the idea. But he needs proof that you are indeed devoted and ready to do what it takes. Your Boss unzips his pants and gives you a choice. Suck his cock and get a raise or pass up this opportunity forever. Obviously, you have no choice but to take his big dick and low hanging balls into your mouth. He guides you through it every step of the way. Boss man likes his cock sucked just the right way.
---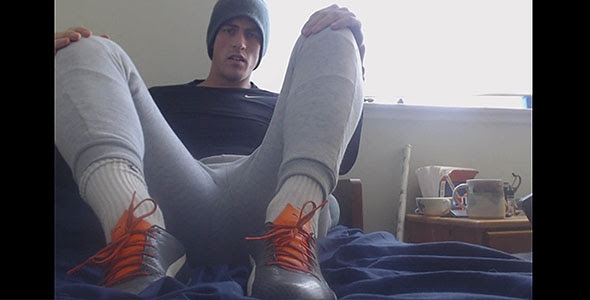 5 New Videos – Master Eusebio wastes NO time degrading you. The view is perfect, as usual, with you on the ground underneath his straight, alpha, jock feet. He comes home, rips his sneakers off, and shoves his rank sweaty socks in your face while calling you names and talking about how sick and pathetic it is that you like this sort of thing. Lots of focus on gay humiliation and degradation while expressing his disgust in the fact that you could possibly be turned on by something that to an alpha master is so nasty. Finally, he peels his nasty dirty socks off and shoves his dirty, sweaty, alpha toes and soles in your nose while asking you over and over how you could like this sorta thing. In another clip from this dominant alpha, Master Eusebio has just come home from a long day and the camera is set down low on the ground. The highlight of this video clip is what can only be described as the "Unsockening" of the Godly, Kingly soles of Master Eusebio. You are completely ignored verbally during the entirety of this video, and the Royal Unsockening of His Majesty, Master Eusebio…privileges you in all honesty are really not even worthy to witness! In the last update of Master Eusebio, he will make you experience extreme macrophilia with a vore-related theme of being shrunk and trapped inside a giant's cereal bowl while the giant is unaware.
In a new video series featuring Master J, this alpha greets all you pathetic viewers for the evening by describing what he's about to do to his personally owned real life foot fag. Master steps on and stomps ALL OVER the slave, practically from head to toe, with a constant exchange of dialogue ensuing between the human master and his owned object. Heavy crushing and stomping along with foot kicks to the face and side at times do cause the slave to yelp or moan in pain, which Master treats as a "thank you" and perhaps even a desire for more. The next clip starts out with Master J resting on his throne and places his sweaty socks directly onto slave's face while talking abuse and verbally degrading the foot faggot. Master J decides next to put the footstool to work by commanding his feet to be massaged in the way that only foot fags can do. Master plays around on his phone and ignores the faggot for awhile until he decides he's had enough for today as he commands his pathetic little fag footrest to crawl away back into whatever faghole from whence it came.
---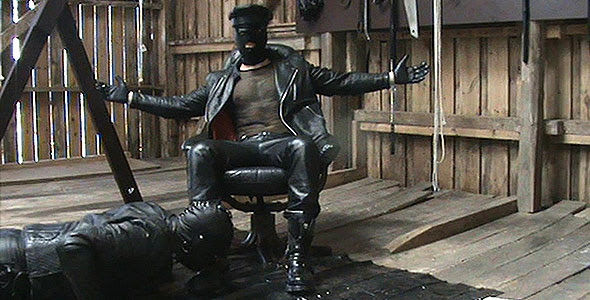 1 New Video – In his dungeon, King Michael is completely covered in leather gear and makes his obedient leather fag worship at his boots. The inferior leather faggot is forced to lick and clean his master's boots with his tongue. The lowly sub does everything he is told to do and is extremely lucky for the opportunity to serve at King Michael's boots.
---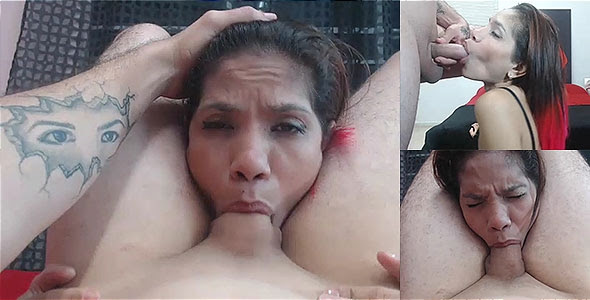 3 New Videos – In a new series of choking videos, chokemasters shows a trio of cock suckers choking on dick. First, is a dominant hunk with a big cock who puts a latina chick into some leg lock action while he makes her gag on his dick. The sexy latino struggles and gasps for air while struggling to take every inch of his big cock. In the next 10 minute clip, a tattooed dominant master gets his chick ready for some intense throat fucking and leg locking. This master seems to enjoy dominating this chick as he he force feeds her his meat in various positions making her gag. It's obvious that he enjoys it more than she does. In the last choking update, a dom and his boy engage in some rough deepthroat. The hot boy deepthroats the top's big dick while being squeezed between his thighs. The sub boy is trapped and forced to swallow this alpha meat.
---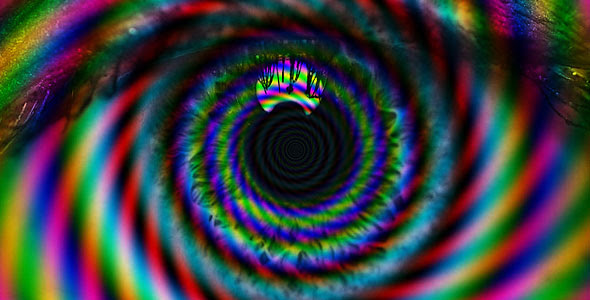 5 New Audio Clips – Poppers make you weak. Poppers make you worthless. Poppers make you a loser. And honestly, poppers make you submit to Master Lucian. Nothing else matters when you hear Master Lucian speak and sniff your poppers. All that matters is the pleasure that poppers and Master Lucian bring to your pathetic life. After listening to that audio file, you'll need the next audio clip to further affirm that you are meant to service cock. You want to and need to service cock because you desperately crave it so much. You may be hearing a voice in your head during all of this that says you need to stop and rethink all of this but don't listen to that voice. The voice that comes and goes, quietly screaming and telling you to run. Why would you ever listen to that voice? Master Lucian will tell you who you should listen to from now on. Plus, if you ever listen to that voice again you will be punished. However, you should be punished anyway. Master Lucian found all of your dirty secrets, found the fag magazines, and found the poppers you've been hiding. He knows everything! It's time he takes off his leather belt and beats the fag out of your while you sniff every last bottle of poppers you have. Now, if you were able to make it up to this point after downloading and listening to all of those hypnotic files, it's time for some induction and deepening. This final clip is non-sexual but dominant and possibly a little addictive as you relax and melt into the control of Master Lucian.