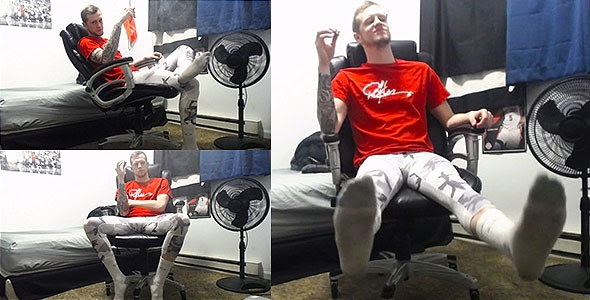 1 New Video – MasterBrad is calling on weak cash fags like you to worship this with his latest video. Sitting back in an office chair, MasterBrad shows off his sneakers and white socks to the camera. Lighting up a cigarette, MasterBrad blows the smoke right in your face demanding that you stick out your tongue and tongue clean his dirty sneakers. After kicking off his sneakers, MasterBrad relaxes while showing off his white socks at the camera. While wearing tight camo compression pants, this alpha will make you beg for permission to sniff and lick his socks.
---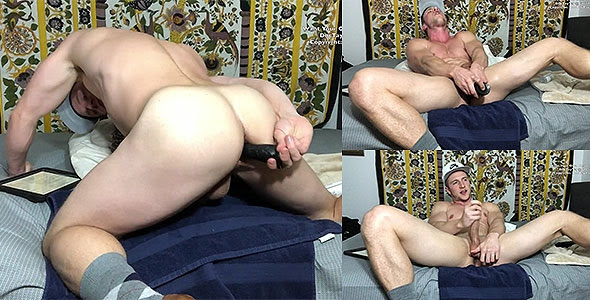 1 New Video – The sequel to the very popular "Mind Orgasms" video is another hour-long buttplay, jerk off, and role-play video. Taylor has come home from a long day at work and starts doing a video diary. He mentions that he has been training in a co-worker and has noticed that this new guy has been blatantly checking out his big, round jock booty. Taylor noticed that not only is this guy checking him out, but that he's getting hard while doing it. Taylor asserts his straightness but wonders what this new guy's big dick would feel like pounding into his white bubble butt. Taylor strips off his dress shirt and slacks but leaves the dress shoes and socks on before using a big black dildo to satisfy his imagination. This muscle jock rubs, teases, and eventually slides the dildo inside which elicits the first of MANY mind orgasms. Heavy dirty talk ensues as Taylor repeatedly hits his prostate over and over which make his legs shake, body tremble, and eyes roll back in his head. Now Taylors needs to cum bad. Working his prostate, Taylor produces a super loud, mind-altering load before passing out from extreme pleasure.
---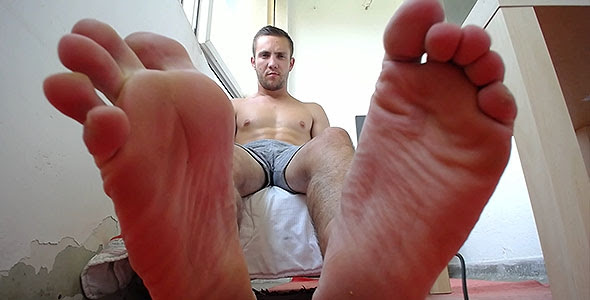 1 New Video – New to In-Charge is dominant and muscular MasterChris. This alpha dom doesn't hold back in his first video on the site. MasterChris shows off his ripped abs and big biceps while flexing. Raising up his muscular arm, MasterChris makes you lick and sniff his sweaty armpits. Be an obedient dog and lick them clean for this jock. After you worship this jock's muscles, he puts the camera down on the floor for you to worship his alpha feet. Sticking his massive alpha feet in your face, MasterChris will make you stick out your tongue to lick those sweaty and dirty soles of his feet. If you're obedient and lucky, MasterChris might slap you and spit on you too. Obey this alpha and download this video clip.
---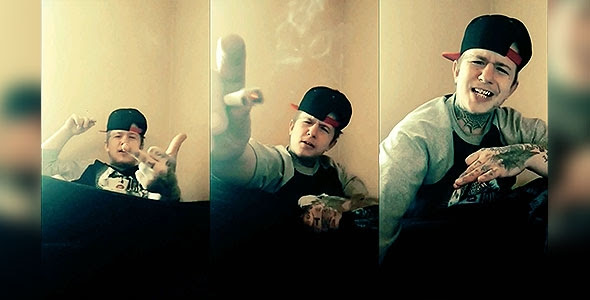 1 New Video – Get prepared for some intense smoking, popper intox from MastaJR. This tattooed dom makes you sniff and inhale his smoke as he puffs it right in your face. Not only will he make you inhale his smoke, but MastaJR will make you inhale your poppers too. Get that bottle up to your nose and inhale when this alpha says to inhale. You only get to breathe when he says to do so. Your mind will be spinning and you'll want to tribute him more and more. Wearing a gold teeth grill, you'll become entranced by MastaJR's words and feel weak when he flicks his cigarette ashes on you.