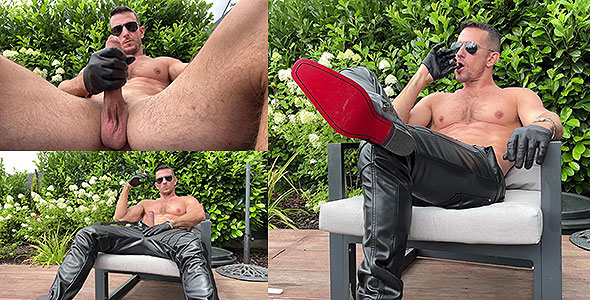 3 New Videos – Stefano wears a pair of leather pants while smoking a cigar and stroking his cock. With his leather gloves, he pumps his massive cock while verbally dominating you. Prepare to be verbally abused and bossed around as this muscled alpha shows off his huge meat that you should be worshipping. After stroking outside, Stefano comes inside to blast another load of cum. This time just wearing a leather jacket and leather boots, Stefano shows off more of his perfect Godlike physique. Look up at perfection while Stefano gets off. Finishing up his newest clips for the week, Stefano then spits on you while clad in more leather gear. Filmed inside his luxury car, Stefano berates you some more verbally while treating you like trash. Your existence is nothing more than spit to Stefano.
---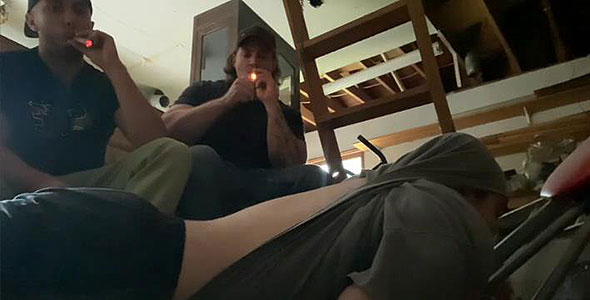 3 New Videos – MasterUltimateGod and dom buddy dominate a slave while smoking cigars. This dom duo make the slave service their boots as they blow smoke in his face. The obedient slave is nothing more than an ashtray to these dominant men while on his knees. Things get more brutal the next day as this duo busts the slave's balls outisde in a public park. The fag slave gets his nuts crushed, punished and stoned by MasterUltimateGod and another dom as they laugh at his pain. The reason these doms want to punish this slave is for the fact that he exists. The slave gets degraded further as he's treated like a cow by being forced to eat grass and moo. The doms get creative in other ways as they degrade and humiliate their fag slave out in the open. There also is plenty of physical abuse as they kick, punch, and smack around this slave.
---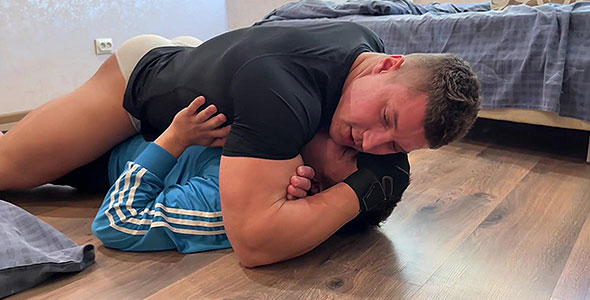 4 New Videos – Nikcy gets dominated by Big Alpha once again while being locked in a front chokehold. Big Alpha practices his reverse chokehold on Nicky for over 20 minutes in this clip. His huge biceps engulf almost all of Nicky's entire head. Big Alpha gets in more choke domination as he dominates another victim in Gio. Gio walks in on Big Alpha as he's working out. Big Alpha then proceeds to choke Gio into submission with his hands and exercise equipment.
Victor is a muscled Jiu Jitsu boy and so is his younger bro. Victor and his bro decide to practice their submissions on each other in this wrestling clip. The two brothers battle it out for dominance. In a similar match up are two Colombian bros who have a choke battle. Johan plays around with some chokeholds on Fred until Fred is tapping and begging for mercy. Johan gets so caught up in the thrill that he doesn't want to stop.
---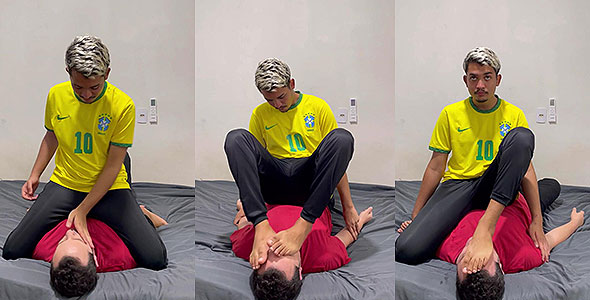 5 New Videos – Master Ch meets up with Slave Matt to slap him around and spit on him. Slave Matt serves as Master Ch's victim while opening his mouth for spit. When he's not getting spit on, Master Ch is smacking him around for his amusement. Things get more intense when Master Ch moves up to punching his slave. With Slave Matt pinned to the ground, Master Ch proceeds to deliver some face punches to this weakened slave. The slave simply accepts the beatdown from his dom bully. Master Ch gives Slave Matt a small break from the beatings as he chokes his slave. Slave Matt is choked between Master Ch's legs with his face pressed agains the dom's ass. Slave Matt gets to smell this dom's butt while he's gasping for air.
The choking gets more severe as Master Ch chokes his slave from behind. With his legs wrapped around Slave Matt's body, Master Ch wraps his arms tightly around the slave's throat. Slave Matt cannot pull away from this tight vice-like grip. In their next real time meet up, Master Ch chokes his slave some more and sits on his face. Slave Matt is totally degraded when this dom puts all of his weight on the slave by sitting on his face. When Slave Matt whines too much, Master Ch proceeds to choke him some more.
---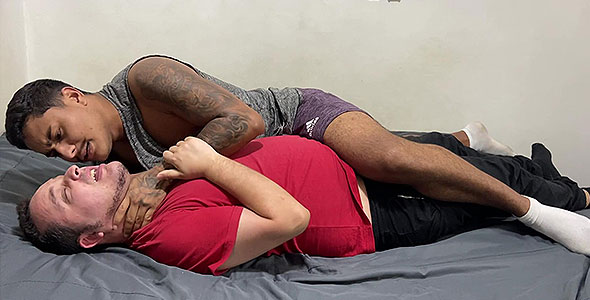 5 New Video – Master Daniel bullies his slave into submission. Slave Matt gets choked out and overpowered by this alpha. Master Daniel doesn't hold back when he gets right up in his slave's face while putting his hand around the slave's throat. Afterwards, Master Daniel proceeds to trample the slave while standing over top of him. Slave Matt is pinned down to the ground as Master Daniel treats him like a doormat. The slave feels the full weight of Master Daniel standing on his back and head throughout this clip.
If you more slave choking then check out the next clip as Master Daniel wraps his legs around the slave's neck. While playing video games, Master Daniel chokes Slave Matt with his strong legs. When Slave Matt whimpers and moans, Master Daniel just laughs and ignores him. The slave gets his master's full attention in the next clip as he's locked in a Jiu Jitsu hold. Wearing full Jiu Jitsu uniforms, Master Daniel shows this slave how much experience he has as a fighter. Slave Matt quickly taps out and is overpowered. Master Daniel switches things up and goes solo for the next spit fetish clip. Looking at the camera and holding a glass, Master Daniel fills the glass with his alpha spit. Imagine being the lucky slave to receive this alpha's spit.