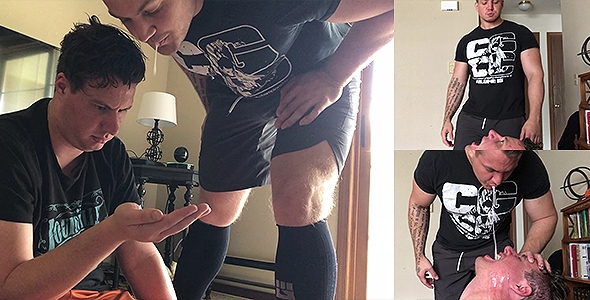 5 New Videos – Fag butler is forced to get on his knees as MasterUltimateGod and an alpha friend spit all over this loser. Watch as these two alphas force him to endure getting spit on and accept his fate as a lowly faggot. The culmination is the fag drinking his master's mouthwash as MasterUltimateGod spits directly into his mouth like the loser he is to him. In another video clip, the fag butler is crushed under his master's ass. The fag learns to experience what it is like to be a carpet underneath his master as well as the cushion he sits on. This supreme alpha walks all over this faggot and dominates him the way a fag should be dominated. The crushing continues as MasterUltimateGod crushes the faggot under his feet. Standing on top of and jumping on the faggot, this weak slave squirms and cries out as his master stomps all over him. This is a macro lovers wet dream.
Fag butler is in for a treat with the next video. He is ordered to clip his master's toenails and eat them. The fag can't get enough of his master's alpha feet. As a reward he is given this delicious treat from his king. The fun rewards stop there as in the next clip Fag Butler endures some shock therapy. This bitch can't seem to get his most basic tasks accomplished and must be punished the hard way. More brutal humiliation, degradation, and shock collar abuse for this lowly faggot.
---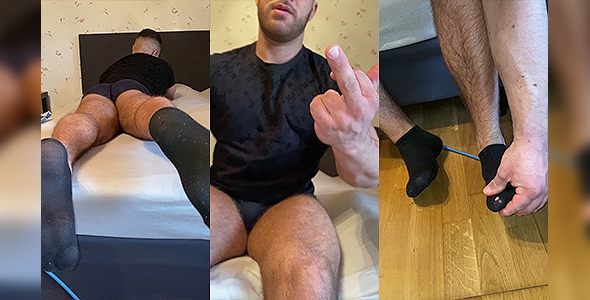 3 New Videos – Get your bottle of poppers out as you worship Flexgod's ass and feet. Wearing black ankle socks and dark colored briefs, Flexgod makes you worship his superior muscles as you huff and huff that bottle of poppers. After you've done that and your brain is fried, then you can worship this stud's muscles. Worship at this muscular master's holy feet and drool over his muscles. After you've obsessed over his muscles then you can clean his alpha feet. In this 10 minute video clip, Flexgod flips you off and sticks his feet in your face while you continue to waste brain cells on that bottle of poppers for your slave training.
---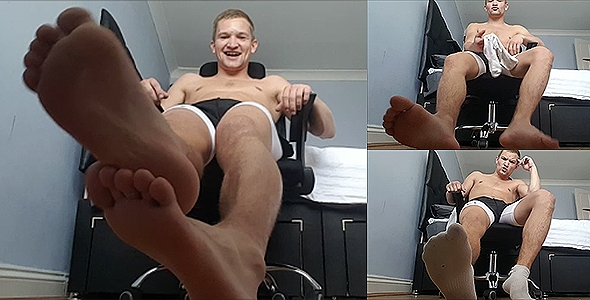 3 New Videos & 1 New Audio Clip – Get your gas mask, a bottle of poppers and get on your knees to worship Master Gary's feet and socks. Sitting in front of you with the camera on the floor, Master Gary places his feet in your face. First you are to worship his socks before being allowed to serve his barefeet. Stay in a trance and sniff those poppers while you edge to this hypnotic video. MasterGary shows clips of himself with written commands on the screen as to how he wants you to sniff and when to sniff those poppers. Edge your cock throughout like a horny little faggot. Keep stroking that tiny prick like a stupid fag when you worship master's white socks in the next clicp. Worship everything about this verbally abusive dom. By this point your head should be swimming from all that popper sniffing. If you need to have some hypnotic audio from MasterGary then check out this 420 edging trance audio to play on repeat. For the smokers, light your joint and get mesmerized into getting higher and higher for the alpha of your dreams.
---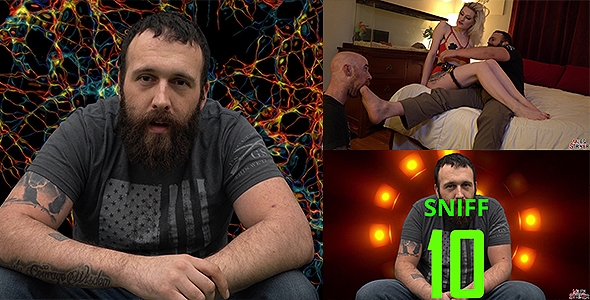 2 New Videos – Miles Striker wants you to get ready for some hypnotic popper instructions. This verbal dom will guide you through this session but requires total obedience of you. This will implace in exactly what you have known deep down inside your whole life. Who you really are and what you're looking for. What you crave. This will be an intense session for session number one. They say everyone is happier once they realize their purpose. Relax in your chair as Miles Striker take you to pure faggot bliss. Intensify the experience by watching this video with noise cancelling headphones in a dark room.
What are you doing during this time of public unrest? Maybe Miles Striker has been too soft on you faggots lately. Should he remind you of who and what you are? It's time for this dom to once again remove the gloves and put you in your place. There are normal people then there are things like you. We all have our places during this coronavirus pandemic. Miles Striker is done coddling you and going easy on you. It's time for the cold hard truth, faggot.
---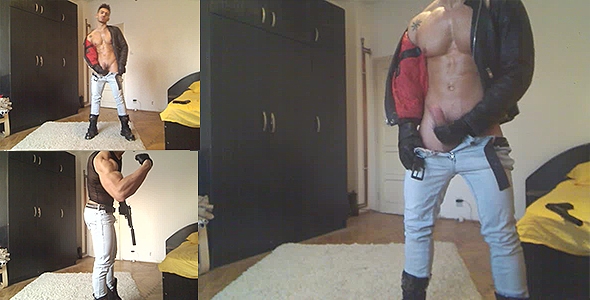 1 New Video – Get on your fag knees and worship a huge alpha cock. Wearing tight jeans, a leather jacket, leather boots, and leather gloves, King Michael pulls out his massive dick for you to worship. Get down and look up at his hung cock and pray for his cum.