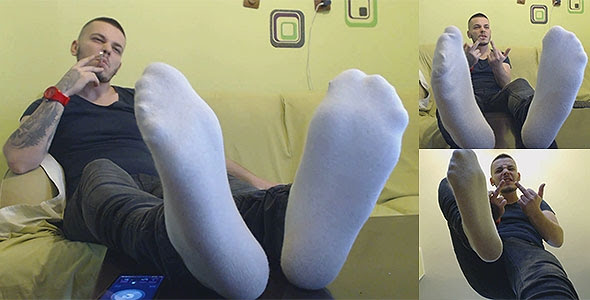 1 New Video – In this nearly 11 minute video clip, MasterBraz95 makes you sniff his alpha feet at his command when he says to do so. With his socked feet up to the camera as he sits back smoking a cigarette, this alpha master will make you fry your brain with poppers while he hypnotizes you and brainwashes you to be a mindless foot fag. His hypnotic feet are known to be money makers. As one fag wrote in the comments on the video, "MasterBraz95 is one of the best popper trainers". Submit yourself and bring a bottle of poppers when you download this video.
---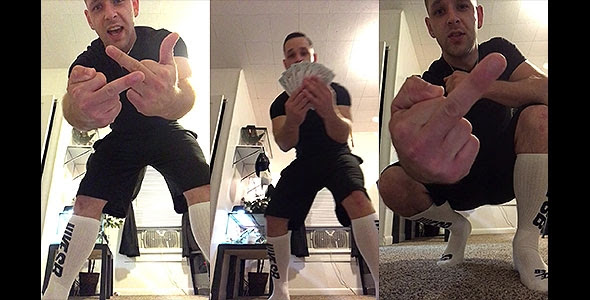 2 New Videos – MasterBigg demands that you hand over your hard earned cash because it doesn't belong to you. All of it belongs to an alpha that will completely dominate you. In this video, MasterBigg talks about how he'll slap you around, spit in your face, and piss all over you. One fag even rated this as a 5-star video because he knew his place after downloading it. It's time to get on your knees and worship Master Bigg. But don't stop there, download Master Bigg's second newest video from this week and worship his boots as he stomps on your and verbally wrecks you. Your faggot face is nothing but a stomping ground for Master Bigg. Lay yourself under his superior boots and feel his wrath as he stomps a hole in you.
---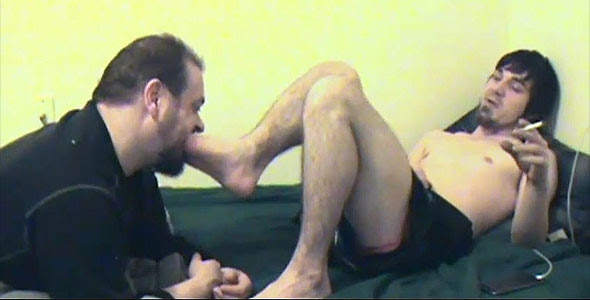 7 New Videos – Master Red is only wearing his stinky shorts and boxer briefs that he's been wearing for 10 days straight. They are extremely ripe and ready for his fag slave to sniff them as he worships his master. The pathetic homo fag sniffs the crotch and ass part. Master Red strips to his boxers then sits right on the fag's face with his asshole right on the fag's mouth for the fag to suck his master's smell right out of them. His own personal fag slave can't help but to worship his master in every way even when Master Red allows the fag to lick his ass clean or as the homo fag slurps up his master's cum.
Continuing to obey his alpha master, this nasty happy homo worships every inch of his master. The cash fag starts by worshiping his master's shoes as he gets verbally abused and told to clean them good. After that, the fag has to sniff and worship his masters's extremely stinky black socks and feet by sucking his toes and choking on his feet. Happy homo can't get enough and rubs his face into his master's sweaty well worn boxers and sucks on all of the stains in the boxers to amuse his master. Master Red then makes the fag lick his asshole clean until he jacks a load of cum into the fag's sperm hole of a mouth. In the next few videos, Master Red makes sure to torture his fag by making him sniff his farts as the fag is forced to experience ultimate humiliation. Master Red ensures that the fag performs lots of ass sniffing and licking. However, evil college boy Red loves to facefuck his pig during worship sessions but what he loves the most is to push out stinky farts into his faggot's mouth. As a reward for taking on the fart humiliation, Master Red rewards the homo with a load of cum to eat.
In his final newest upload this week, evil college boy Red rapes his fag's hole with a black dildo. Master Red starts by showing his ass and telling all of the faggots watching to shove their dildos up their ass while they stare at it. After that, he gets his pig slave and does just that with a black dildo. The fag slave is restrained to the bed and soon gets facefucked and forced to lick the sweat from his master's ass.