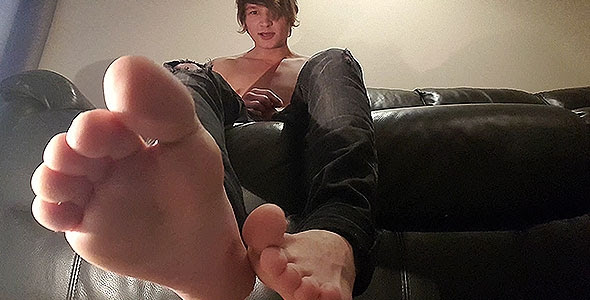 2 New Videos – Do you crave to be a footstool for Master Gary? Now is your chance to this cash dom's personal foot stool. In part 2 of Master Gary's foot worship video series, he places you right where you belong – on the ground at his godly feet looking up at him. Master Gary knows that you a little inferior foot slave and this is what you were meant to do. You belong at Master Gary's feet. After you are done worshipping his barefeet, you can then worship his perfect male body as this cash dom verbally abuses you and makes you submit to him. Master Gary orders you to submit to his true perfection and to worship every part of him like the superior alpha male that he is to you.
2 New Videos – SteveMyer has 2 new hot videos featuring more college guys. In one of his videos, Steve Myer recruits Dean, who replied to an ad to do a solo film. However, Dean was nervous and brought along his roommate Ben because Ben had done porn before. Things changed once they arrived because Dean and Ben revealed to Steve Myer that on the car ride over, they decided they'd be interested in doing a scene together. They had been roommates for a while and joked about messing around but never acted on it until now. Steve says how fun it was watching the two of them mess around. Dean has a huge cock and tried topping Ben but Ben is so tight, so they flip fuck. These two hunks sucked, fucked, and then Ben shot a nice load of jizz all over Dean's face. This 42 minute scene is defnitely one of Steve's hottest. Although, if you rather watch some straight porn action then you'll want to watch this 18 year old muscular twink fucking a black girl on camera. Steve's friend Cash is an 18 year old who loves fucking and showing off. Cash convinced a black chick to do a scene with him on camera. Cash starts off wearing a condom but ditches it and rails this dirty black slut bare. She was so horny that she didn't even care, she just wanted to suck and ride a big white cock. This video is a whopping 43 minutes long of pure white on black fucking.
1 New Video – As we mentioned previously, if farting is your fetish, then you'll enjoy this video too. Hailing from the UK, Master Sherman just uploaded a brief fart fetish video. Just like he blows away your cash, Master Sherman blows out a fart in his sweat pants on camera. Master Sherman thinks of you as a pathetic cunt and thinks of nothing you deserve more than to smelly his stinky gas and inhale his farts.