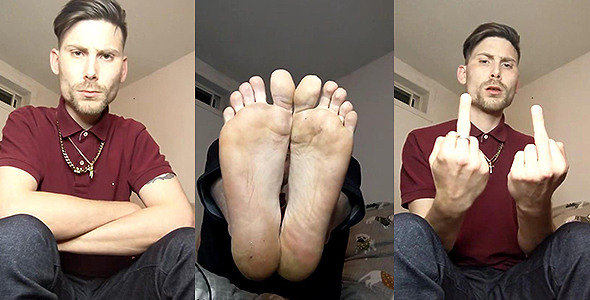 2 New Videos – Sit down like an obedient pig and endure some extreme verbal abuse from CashMasterTrey. This alpha dishes out intense smack talk since he's in an extra aggressive mood while filming this. Serve CashMasterTrey as his verbal punching bag. Later, CashMasterTrey answers some slave questions that many of you have always wanted to ask. Get a deeper look at CashMasterTrey as he answers all of the frequently asked questions from his cash piggies. Afterwards, this findom gives a harsh dose of exactly what you desperately want from him, that's more verbal abuse.
---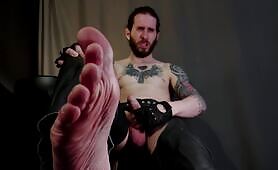 1 New Video – You're a good cock locked sissy for your master and understand that your clitty belongs in a chastity device while your ass is plugged with a big butt plug. The only thing to make all of that more complete is to sniff from fresh poppers. With one sniff of that magic juice, Master Alex can make you do anything he desires. Obey this alpha more with every sniff as you then are ordered to sniff his ripe and sweaty ass and feet. There's nothing this master enjoys more than a willing cock locked slave that happily takes his torment.
---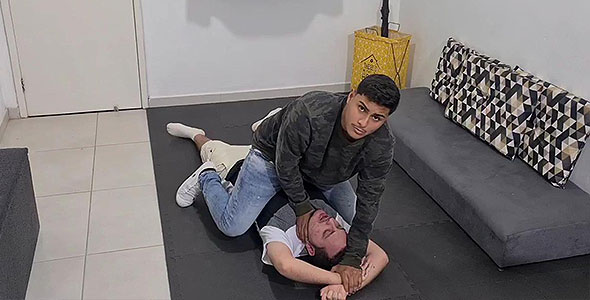 5 New Videos – Master Daniel pins down his slave and chokes him out on the ground. Master Daniel gets very aggressive in these chokeout sessions with his slave Ikagura and loves locking inferiors like him in brutal headscissors until they tap out. Watch how intense Master Daniel gets when he wraps his hands around this slave's throat. The slave choking continues when Master Daniel grapples more with this slave. Throwing the slave to the ground, Master Daniel locks his bicep around the slave's neck and laughs as this slave struggles. Master Daniel doesn't offer any mercy to this slave and just continues to punish him more.
In a separate session with Master G, slave Ikagura finds himself trapped between his master's legs. Master G uses his Jiu Jitsu fighting skills to squeeze Ikagura's head like a grape. Ikagura struggles for air while in this vice tight grip locked on by Master G. In the next real time session, Master G gets rougher when he wrestles his slave on the ground. Master G quickly jumps into various Jiu Jitsu holds on this slave. Ikagura gets his legs and arms twisted all about in a variety of intense submissions from his dom. Shifting gears from the usual, Ikagura allows his two doms to meet up in a alpha dom fight. Master G and Master Daniel meet to grapple with each other in a friendly fight. Things start to get really rough at the end with some hard takedowns and slams between these two doms.
---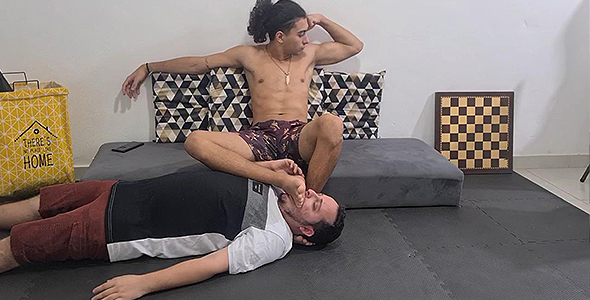 1 New Video – Master G turns his slave into a human footstool. This foot slave lays on his back and looks up at Master G as this foot dom chokes the slave with his feet. Master G gags this foot slave by jamming every inch and every part of his foot in the slave's mouth.
---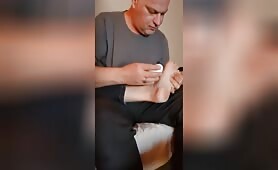 3 New Videos – MasterBerlin's foot fag is tasked with cleaning his master's feet. This obedient foot fag scrubs the soles of his master's feet and licks them clean. The foot fag is totally obsessed with his master's feet and toes. To humiliate the slave some more, MasterBerlin makes this slave eat from his feet. The hungry foot slave gladly eats biscuits from MasterBerlin's smelly and sweaty feet. To add to the humiliation, MasterBerlin spits down on the foot stomped food for the slave to eat that as well. Continuing with the humiliation, MasterBerlin serves the slave more food from his feet. The foot obsessed fag chews and eats anything from his master's foot.