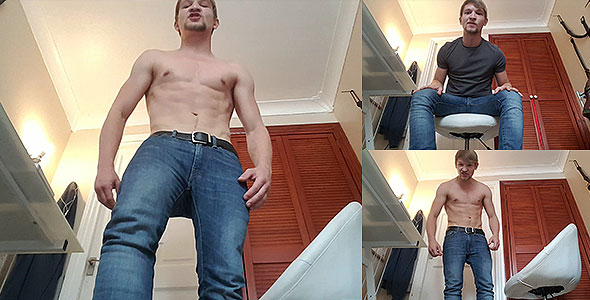 2 New Videos – MasterGary is ready to put you through an extreme humiliation session in his latest video. You'll need a rubber outfit and ideally a tail to plug your faggot hole with, if not something else. In this latest video, MasterGary towers over you, showing off his lean, fit body while wearing jeans. From there, this dominant findom will order you to sniff poppers and intoxicate yourself hard. Afterward, MasterGary will order you to piss all over yourself like a pathetic little faggot. Following this humiliation session, MasterGary is ready to put you through a forced workout. During this video, MasterGary will give you non stop commands to exercise for him as you are verbally degraded and assaulted the entire time. You'll never be as fit or as lean as MasterGary but that doesn't mean you can't put yourself through an intense workout session for his amusement. Be prepared to go through an exercise boot camp for this alpha while he degrades you verbally.
---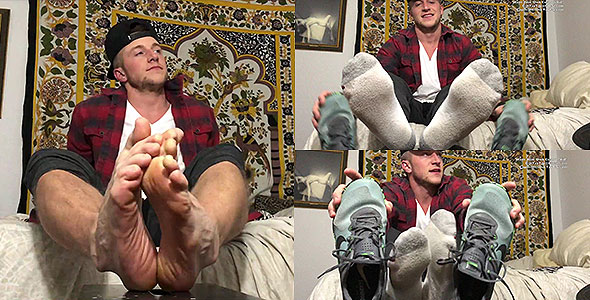 1 New Video  – Are you a slave for Taylor's perfect feet? Willing to do anything for them? Are you hypnotized by them? Feel helpless and weak just by the sight of his might soles? Then search no further because this is exactly the video for any loyal foot / cash slave. Take in nearly an hour replay of a live cam show, shot in HD, which Taylor had with one of his foot / cash slaves. Experience what it's like to simply hand over your cash as Taylor kicks back and reaps the rewards. His smooth, relentless, manipulating dirty talk will have you eating out of the palm of his hand in no time.
---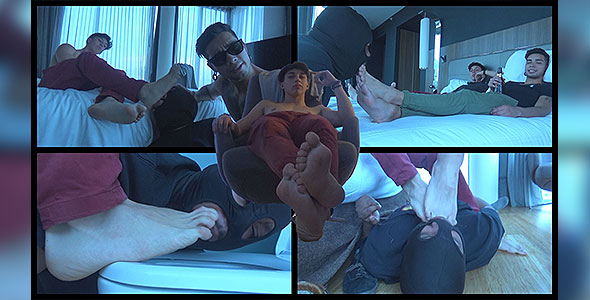 1 New Video – A black nigger slave decides to visit MasterDnero from the United States all the way to Chile to serve these foot masters. MasterDnero and Master Kayser team up on this nigger fag to teach him where blacks truly belong – on the floor eating the feet of superior races. The doms at Str8CrushFeet have fulfilled the fantasies of many foreigners who have traveled for the honor of meeting them. Now is your chance to get a first hand look at how Master Dnero and his dominant friend treat foreign slaves who beg for the chance to serve them like gods.
---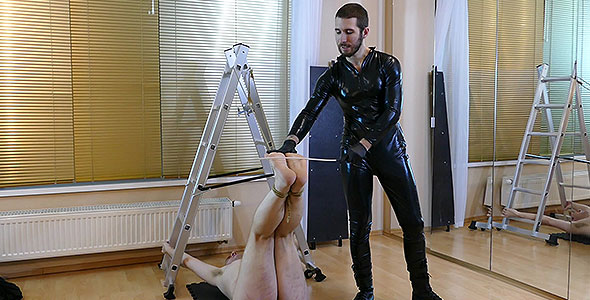 1 New Video – Slaves and bottom boys always think that a foot caning is a walk in the park. They say things like "it's just on your foot, it can't be that bad". Well, MasterAlex and his rattan cane beg to differ, especially in this short bastinado and foot whipping torment session. MasterAlex unleashes a volley of hits so hard that not only the slave's limits are pushed but so is the very fabric of the cane. From the intensity of the hits, the cane shatters, flying off after a powerful hit. Unluckily for the pain slut, MasterAlex has his riding crop and cable whip nearby to continue where he left off.
---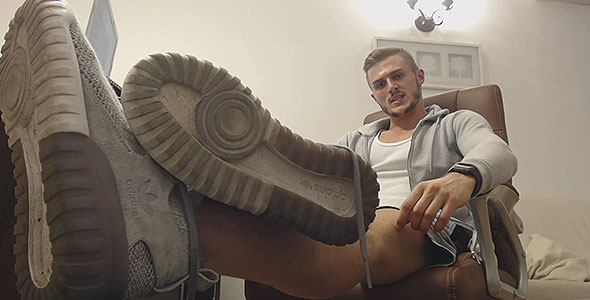 2 New Videos and 1 New Photoset – New to In-Charge is MasterGhal, a dominant muscular alpha who enjoys making his slaves obey and serve him. In his first video on In-Charge, MasterGhal tempts you into some sneakers and socks worship. After relaxing from a gym session, MasterGhal places his big alpha feet up to the camera for you to worship his grey gym sneakers all while verbally dominating you. Once this muscular alpha feels you earned a reward, he takes off his shoes to show his white ankle socks. Sniff, worship, and serve this alpha's feet. Continuing with the foot worship theme, MasterGhal then lets you worship his barefeet. Learn your place and your role, which is to serve the feet of alpha men like MasterGhal. This dom continues with the verbal abuse, putting foot faggots like you in their place. That place is on your knees serving as a foot rest or licking alpha feet. If you still can't get enough of MasterGhal's alpha feet, then check out his photo set of barefeet photos for you to drool over.