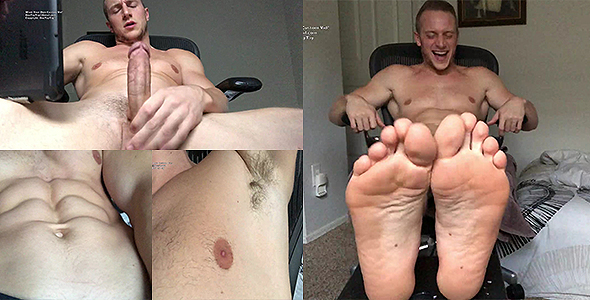 2 New Videos – Taylor is about to give Dan a surprise visit. Dan is a super fan, so he wanted him to experience what it's like to worship him for real this time. Casual conversation with an old and loyal friend leads to dirty talk, flexing, stripping, teasing, body and armpit worshiping, and even a bit of tickle torture. Taylor gets tickled so hard it gives him hiccups in this 32 minute video! Finally, it's time for Dan to taste the dick he has been fantasizing about for so long. Taylor helps him out and jerks off along the way until he lays a hot load in Dan's mouth. Just imagine what the real thing would be like!
In his second newest video upload, Taylor is just hanging out when he gets a phone call from his stepbrother. The stepbrother tells Taylor that he found out about some stuff he did and threatens to tell their dad. Taylor knows he will be in some deep shit if his dad were to find out, so he begs his brother not to tell. However, the stepbro agrees to stay quiet under one condition…Taylor has to have phone sex with his stepbrother. This is all very strange to Taylor but he realizes he has no choice. Taylor's stepbrother makes him strip down to nothing but his socks and hump the bed while he talks about a time he fucked a girl. Next, he wants Taylor to start playing with his cock while describing the size and shape of it over the phone. He even makes Taylor recall a time when he was caught jacking off by another guy. Eventually Taylor becomes flattered when his stepbrother says how much he is attracted to him as things begin to get a little weird and very sexual between the two. The dirty talk on the phone continues until Taylor squirts cum everywhere.
---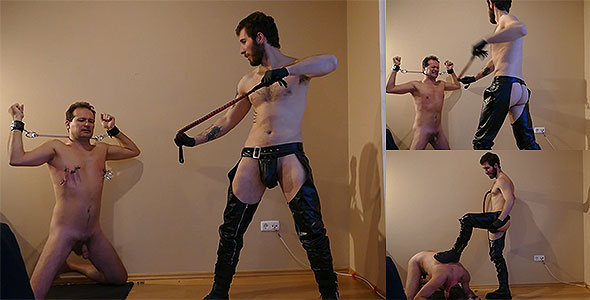 2 New Videos – While spanking a slave's ass is more than enjoyable, tormenting his nipplesbrings out the cruel Master in Transylvanian Wolf. Maybe it's because he can hear the slave's screams and watch him struggle to take the pain. In this video clip, Transylvanian Wolf (Master Alex) puts clothespins on his slave's nipples and all around the skin surrounding the nipples. As the weak slave cries out in pain, Master Alex brings out the whip and uses the fag slave's chest as target practice. Since this slave can't take any CBT, Master Alex whips him on his cock and balls just to see him squirm. The fag's nipples and chest take a good whipping even before his master brings out the riding crop. Master Alex twists, crops, and torments those fag nipples until they are so sensitive that even a light breeze makes him shiver.
For years, slave Faco has been posting nasty comments on all of Master Alex's videos. Saying things like, "Do you even lift, bro?" and worse. To teach this mouthy faggot a lesson, Master Alex pays him a surprise visit to overpower the fag slave. Putting him in a headlock, Master Alex makes this disobedient fag smell his sweaty armpits and then spits in the slave's face. Wrestling him and taking control, Master Alex abuses the fag slave more by pulling his nipples and spanking his ass so that he knows who is the boss and who is in charge. The pathetic slave tries to resist but you can see that his cock is hard as steel throughout the whole thing.
---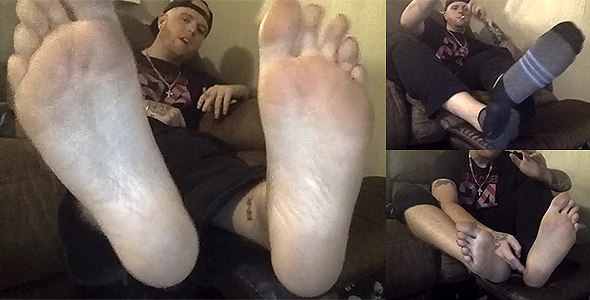 1 New Videos – Alpha master KingGinger loves to brag about his big alpha feet. In this 7 minute video clip, KingGinger shows off those massive alpha feet and brags about them while making you crave the chance to worship his feet. Showing his socked feet and barefeet, KingGinger plants those massive alpha feet up to the camera for you to sniff and lick as you worship him through your computer screen. Obey this dominant foot master as you get on all fours with your tongue out to worship his barefeet.
---