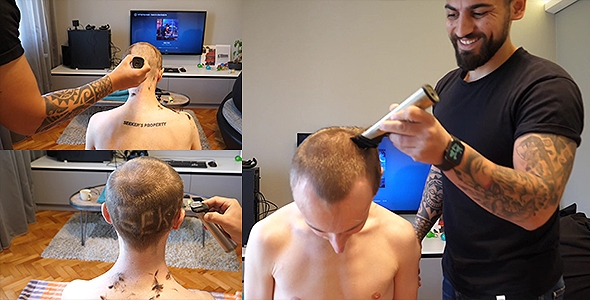 1 New Video – SlavesSeeker's slave completely submits to his master and shows his true devotion. For this alpha's amusement he cuts his slave's hair. The sub is willing to degrade himself all for his beloved master and is willing to put full control in his master's hands. At one point, SlavesSeeker buzzes his name in the slave's hair before shaving it all completely off devoiding the slave of any personality and leaving him empty and bald.
---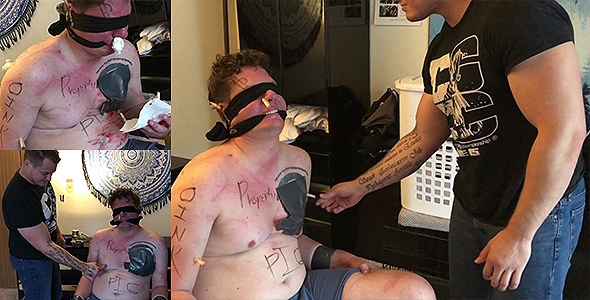 5 New Videos – This pain session with Fag Butler and MasterUltimateGod is very brutal. The bitch slave is tied to the torture chair for some extreme brutal abuse from his master. While bound, the slave is blindfolded and gagged by his master's long compression socks. The fag panics not knowing when he'll be whipped and beaten as he's sensory deprived. MasterUltimateGod gives the slave a bloody nose after he beats him with one of his alpha shoes and laughs at the slave's pain. Pain pigs will love this one. For foot lovers, MasterUltimateGod puts on his jock gear and has his fag butler worship his alpha feet in long compression socks. This findom wore them to the gym, sweating up a storm before giving his slave the honor of sniffing them. The fag continues with more sock worship in another real time session. After some brutal fag abuse, the foot faggot is allowed to worship his master's socks and feet. Sock action in this video only but with lots of abusing the fag butler's face and bullying by his alpha.
MasterUltimateGod then displays his strength and power as he stomps on the fag slave. Fag Butler begged his master to go shirtless in this video with him. Being the benevolent master he is, he obliges, but the faggot couldn't of expected to be stomped on this much. The fag gets crushed even more in the next alpha male face sitting video. This muscular and straight alpha male stomps on and sits on the faggot's face. Lying down on the hard floor, MasterUltimateGod puts all of his weight on top of the weak faggot slave.
---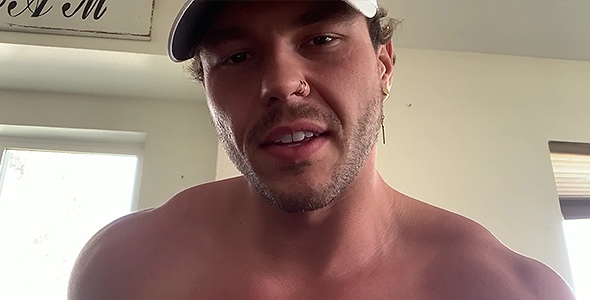 1 New Video – AlphaDerek is ready to give you some intense popper intox in this session. Grab that fresh bottle of poppers and prepare to go completed mindless as you huff for this muscular superior. Follow his instructions and give into anything he says like the weak popper fag you are to him.
---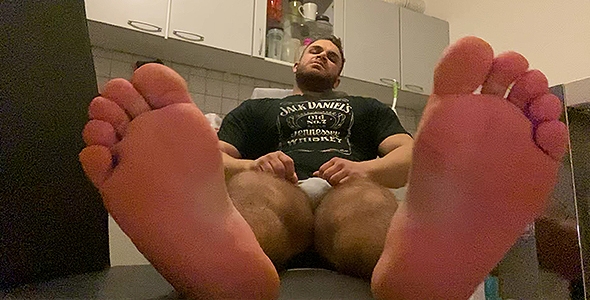 2 New Videos – Stare at these superior German feet while you submit to this muscular alpha. Master Flexgod plants his huge barefeet in your face as you stare up at him begging to lick, worship, and serve his huge jock feet. Afterward, get prepared for 10 minutes of hardcore faggot verbal abuse. Throughout this 10 minute clip, Flexgod flexes and shows off while humiliating and verbally bullying you. Bow to his superiority.
---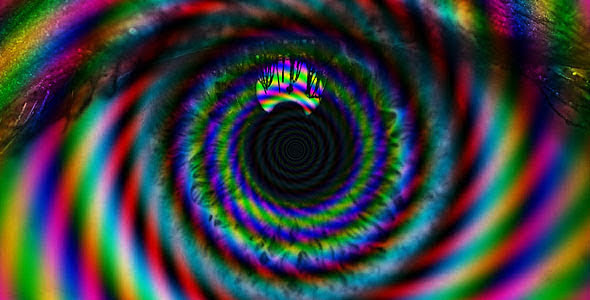 3 New Audio Clips – Stay home and listen to Master Lucian as he makes you stay home and goon. Follow every command this verbal superior gives to you. You have your orders, now follow them while you're stuck at home. While you're stuck at home, times are hard. It's so hard to let go. A mind can be a terrible burden these days. Why not let Master Lucian take your cares, fears, and worries away as you go mindless. While you're at it, let's just take your mind away completely. Sometimes outside forces can help you go mindless like poppers or some mary jane. Embrace mary jane as it's time to let a certain plant along with Master Lucian's voice make you weak, empty, and moldable for Master Lucian.