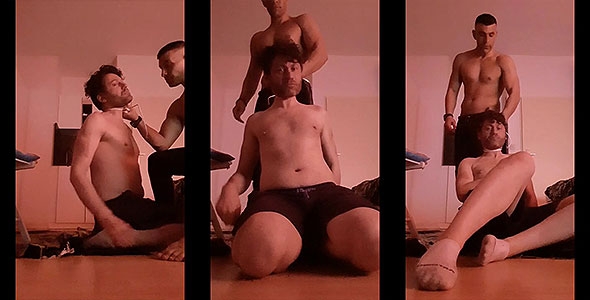 3 New Videos – King Luca treats this real time cash fag like a piece of property in this brutal real time session. The drugged up faggot is choked until his wind pipe is nearly smashed by King Luca's belt. All throughout this 23 minute video clip, the faggot gladly endures the high level abuse and humiliation given to him by King Luca. King Luca then tests the faggot's devotion even more as he suffocates the fag by placing a plastic bag over his head. This dominant alpha doesn't hold back and shows you that his fag idiot will do anything for him. After suffocating the fag a bit, King Luca sits on his face to smother him some more in this brutal session. Finally it culminates with intense strangulation as King Luca finds some rope and tightens it extra tight around this fag's throat. The faggot gets off on erotic asphyxiation while King Luca shows his pure hatred of fags toward this pathetic slave.
---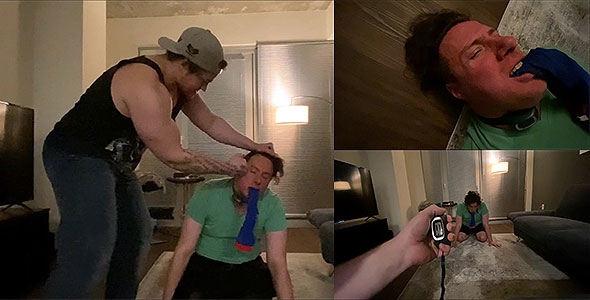 5 New Videos – Fag Butler is put through a quick round of shock collar training. MasterUltimateGod gives the fag the option of doing hard, humiliation, and often physically taxing tasks or experiencing the pain from the shock collar. Each time, the fag has to decide what form of pain he gets to experience. The final choice leaves the fag with a nasty black eye. The punishment continues under MasterUltimateGod's alpha feet. You pathetic fucks seem to love seeing him in pain. Watch MasterUltimateGod beat this fag's balls with my alpha jock feet. MasterUltimateGod humiliates and degrades the fag as it writhes on the floor in pain. Unfortunately, this seems to hurt more than with the shoes, so sucks for the fag.
MasterUltimateGod uses a new faggot who is too scared to show his face…so the bitch is nicknamed the Masked Fag. In jeans and work boots, watch MasterUltimateGod smother this fag under his alpha ass. Almost choking the fag under his heavy weight, MasterUltimateGod smothers the queer as he squirms wanting out from under his master's dominant weight. Eventually, the fag sits on the ground and is turned into a fag chair. The faggot's face becomes the cushion for his master's alpha ass. For those of you who love seeing MasterUltimateGod punish Fag Butler, he too is in for some punishment. Fag Butler lays down on the couch as he is crushed under his dom's alpha feet. After a little bit of stomping on the queer, MasterUltimateGod crushes the fag's balls. Next, this alpha sits on the fag's pathetic face, making sure his nose is directly up, so this alpha can crush it under his ass. How many of you want to trade spots with these faggots?
---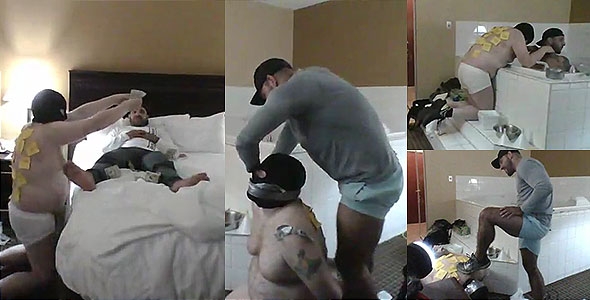 1 New Video – YoungNCharge brings you along to watch him abuse this faggot for 2 hours. Yes, the video is 2 hours long! This masked faggot endures all of the abuse YoungNCharge can dish out as this powerful findom forces the faggot to put a funnel in its mouth and drink his superior piss. Later, this cash master spits on the faggot and forces it to worship his alpha male feet. Tons of verbal abuse, alpha ass worshiping, hot tub massages, and foot worship. This lengthy real time session concludes with YoungNCharge getting showered in cash on the hotel bed.
---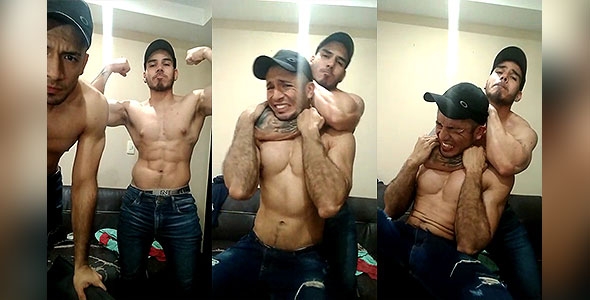 1 New Video – Chokemaster Chris is ready to choke out his friend Andre. These two lean muscle studs flex for the camera and show off how cock they are in front of an audience. Afterward, Chris begins to choke Andre out. Andre taps out several times but ultimately Chris finishes him off. See how long Andre can endure these chokeholds.
---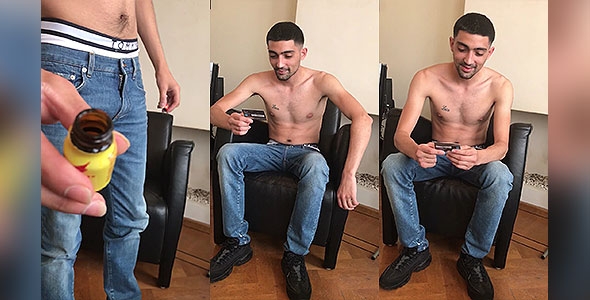 2 New Videos – Turkish Satan takes shows you how he would take you credit card and get you intoxicated on poppers. This arrogant cash dom holds the bottle of poppers up to your nose to get your head swimming. Afterward he snatches your credit card and gets you to give him the PIN during this session. After you've given into this dom, it is now time to worship his sneakers. Turkish Satan gets his sneakers right up to your face and orders you to lick the soles of his sneakers. After he thinks you've done a good enough job, then you'll be permitted to sniff and lick his black socks like an obedient foot fag.