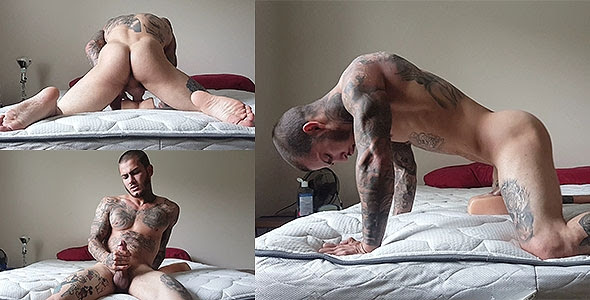 1 New Video – This is the second film which Michael Hoffman recorded of him fucking his rubber pussy sex toy. The 21 minute video starts off with Michael Hoffman waking up in bed as he pulls the blankets off himself, showing his ass (he apparently sleeps completely naked). After he gets up out of bed, he starts stroking his cock to get it bigger and harder berfore he destroys his tight toy pussy with his big cock. Putting lube on his cock and the rubber pussy toy on the bed, Michael Hoffman pounds this tight pussy. Lots of camera angles show his ass and feet. Finally at the end, Michael Hoffman pulls out of the rubber toy pussy and shows a POV camera angle as he jacks off a load of cum on his abs.
---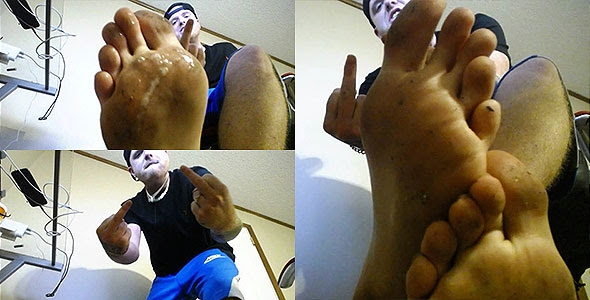 3 New Videos – KingGinger has 3 new videos of him delivering hardcore verbal abuse. Beginning with brutal verbal bashing, KingGinger forces you to sniff his raunchy socks that he wore tot he gym. KingGinger peels off these nasty, filthy socks and rings them out over your mouth like a dirty wash rag. While this dominant alpha spits in your face and lets you know how much of a faggot you are to him, you'll obey his instructions as he tells you how he wants his feet cleaned. King Ginger then squats down and farts in your face to remind you of how weak you are to him. The entire time, he shows off his 9″ cock bulge, reminding you that you're a little dick bitch who serves alpha men.
Continuing to put you in your place, KingGinger sits back and relaxes in this film while you worship his barefeet. KingGinger will completely ignore you in this video and make you crave his attention even more. As he talks to a hot chick on the phone, you'll lay on the ground and worship his alpha feet. Lick, suck, and sniff these superior feet. After your devotion and worship, KingGinger is finally ready to give you some attention. Prepare for a brutal fag stomping like the foot slut you are. This dominant straight alpha is ready to let out some aggression from a testosterone fueled rage. Rated 5 stars from one fag, you'll quickly see why KingGinger is truly an alpha male. Submit yourself to his extreme verbal fag bashing, stomping, and spitting.