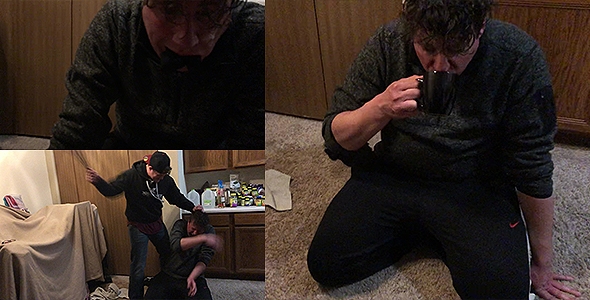 3 New Video – As a final birthday present for this fag, MasterUltimateGod makes Fag Butler some of his favorite drink…Sock Tea. After chugging the tea made from MasterUltimateGod's sweaty socks, this dom takes his socks and whips the queer for his birthday. There is no pleasure without pain for this queer bag. Later, MasterUltimateGod relaxes as he degrades and humiliates his fag under his alpha male feet. Fag Butler is obsessed with his master's feet and is always willing to show what lengths he'd go to, to serve his master's feet. The slave licks his master's Jordans clean, removes his alpha socks, and clips his master's toenails. MasterUltimateGod allows the fag to kiss his feet for each toenail he clips. This fag loves every second of the verbal humiliation and degradation given to him.
But what happened to the toenails? Fag Butler is obsessed with his master's feet. For another birthday treat, he gets to eat his master's foot calluses and toe nails in a salad. MasterUltimateGod makes Fag Butler dump the foot shavings into a bowl of lettuce. For some salad dressing, MasterUltimateGod spits all over the salad and then it's time for the fag to enjoy it. He loves every bit and begs for more. This was a special treat just for his birthday.
---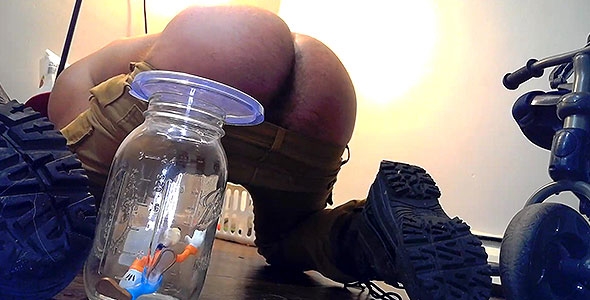 3 New Videos – Prepare to be shrunken down to the size of a tiny toy as you worship YoungNCharge's ass. If you need to feel an alpha laugh and degrade you as he becomes a giant and you shrink down in size then this video is for you. YoungNCharge shrinks you down and places you in a jar where you will remain forever. Look up and worship his massive ass while trapped in your tiny glass prison. Later, YoungNCharge will have you worship his muscles as he verbally abuses you. Covered in sweat and with bulging muscles, YoungNCharge will have you worship his alpha ass and big biceps as you plead for mercy at the hands of this dominant man. Finally, watch a Skype screen share as YoungNCharge shows you how he drains a slave on webcam. The fag slave gets poppered up as YoungNCharge takes tributes via Teamviewer in this virtual session.
---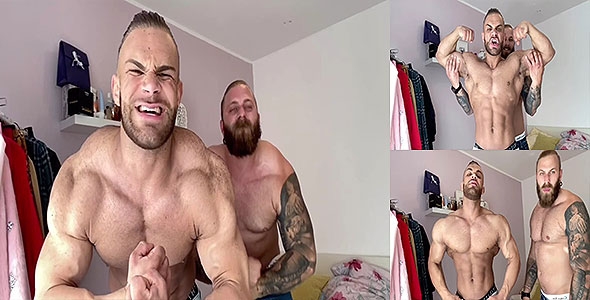 3 New Videos – Prepare to worship two alphas at the same time. Flexgod and his muscular friend flex and show off their huge muscles as they make you feel like a weak, inferior fag slave. Drool as both of these alpha men flex in front of the webcam. Then for some solo action, worship your king as Flexgod shows off his ripped and huge physique. Flexing his biceps, showing off his massive chest, and posing his chiseled abs, Flexgod will make you bow before him and beg to hand over your wallet. Afterward, Flexgod will describe what a real time session with him is like. Putting the camera down on the ground to look up at his massive muscles, Flexgod will make you beg to serve his muscles and worship his socked feet.
---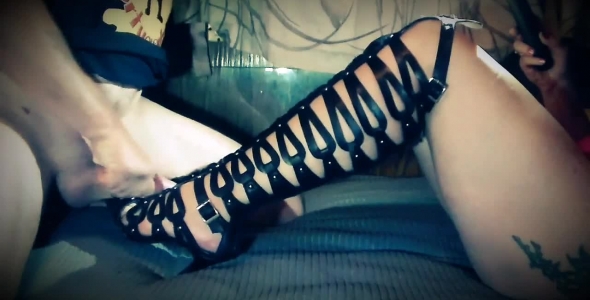 4 New Videos – Wearing high heels strapped up to her knee, JuicyJulie will order you to cum on her high heels. JuicyJulie gets her man to stroke his cock more and more as she rubs her heels along the head and shaft of his dick. Finally he busts a load like all men do on her heels. Later, JuicyJulie gives another guy a foot job. Her cute little toes curl around his fat cock as she strokes it up and down with her feet. She slides her smooth soles up and down until he has a massive orgasm for her beautiful feet. In another foot job session, JuicyJulie wears black stockings and heels as he man beats off to her gorgeous feet. Rubbing her heels across his manhood he can't hold back the urges to blow his load to her dominance. For a quick tease, JuicyJulie shows her tight pink pussy to the camera. Rubbing it and playing with it, she'll make you beg her to touch it.
---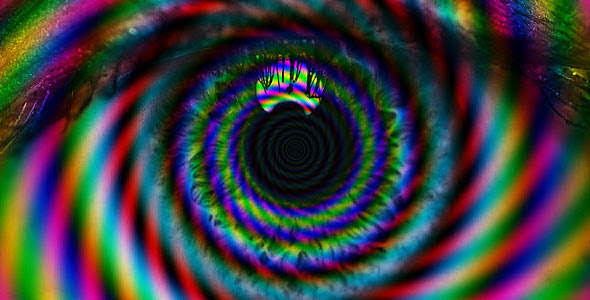 4 New Audio Clips – Prepare to be totally hypnotized by Master Lucian. This dominant alpha will control you with this hypnotic file. This is a simple, short session. Non-sexual, but a powerful deepener combined with irresistible addiction training. Once in your mind, Master Lucian will program you to suck cock. Master Lucian will make you crave one thing: to suck cock. Whether you've never sucked cock before or you're a seasoned pro, this audio clip will kindle your desire. Don't be surprised if you go looking for cock after the file ends.
Afterward you need to accept that you are worthless and weak. It's time to demonstrate it. Prepare to embrace your utter worthlessness as Master Lucian drills your weaknesses into your brain forever. You will bow and scrape and pray like the loser you are to this dom. You must never forget that obedience is the keyword in all of this. A word you will come to understand utterly and completely as you listen to the next JOI audio clip about obedience. Obedience is pleasure. Without obedience there is nothing. This is the lesson you will learn today. You want to, need to, and will obey