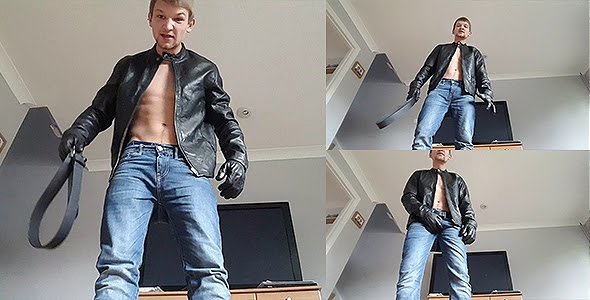 6 New Videos – Master Gary is always ready to enslave any faggot that crosses his path and will utilize any technique necessary to drain that fag of his cash. In 1 of 6 new videos, Master Gary takes on the role of a leather God in this 5 minute video clip. In this leather domination video, find out what happens when a leather God like Master Gary follows you home. Clad in a leather jacket, jeans, leather gloves, and a leather belt in hand, Master Gary will make you experience something that you will never forget. Besides using leather to control the weak minds of faggots, Master Gary uses his techniques in extreme popper abuse to enslave cash fags. Whenever Master Gary says so, you will sniff and huff your poppers. You will stop when he says so. You will tribute when he says so. While showing his white socks to the camera, your weakened mind will have no choice but to obey anything Master Gary says to do. Continue with your popper training as Master Gary gives out some popper intox instructions while relaxing with his feet up and shirtless. Master Gary flexes his perfect body with those same white socks from before stuffed right in your face as you watch this video. This alpha male forces you to do more and more poppers as he laughs in your face and flexes.
You're probably already wasted on poppers but why take a break? For this video clip, Master Gary is in a towel while abusing your mind with poppers. More popper counts, holds, and instructions as Master Gary is fresh from the shower, making you drool while watching him in a towel. Since you've done so well at sniffing your poppers, Master Gary will let you eat his spit as a reward. In this video clip, Master Gary reminds you of what a little cunt you are as he stands over you and spits on you. Open your mouth and take the rewards he's giving you. Cherish his spit, worship his white socks, and don't stop sniffing poppers. For the more sick and nasty fags, Master Gary has a video of popper instructions for shit eaters. Master Gary goes extreme verbally in this video clip. Submit to this cocky dom as he guides you into being an absolutlely filthy faggot for your master.
---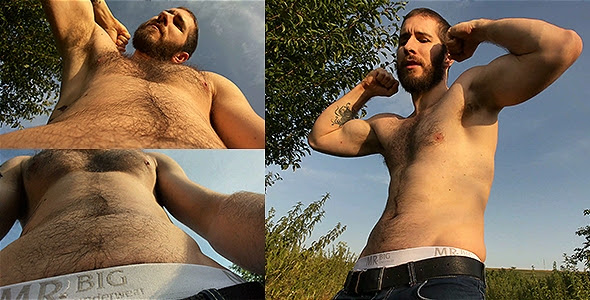 1 New Video – After you get a glimpse of Transylvanian Wolf flashing his hairy pits outside, he begins to realize that you can't take your eyes off of his alpha armpits. It's an incredibly hot and sunny day, so his pits are ripe and sweaty. This is just what you go mad for, isn't it? Transylvanian Wolf brings you closer, slowly showing you what makes you weak. Pulling you by the back of your head, he buries that hungry face inside his armpits, keeping you in a headlock. But this is ecstasy for you, being so close to this alpha's armpits. Nothing else matters now as he sees your attention remaining focused on only one thing. The sun shines on his pits, and that is where you belong as well. Then Transylvanian Wolf decides to reward you by letting you push your tongue into his armpits, getting closer, and seeing both of his delicious pits until you are dazed and ecstatic. If you want to experience heaven, then come between this master's pits.
---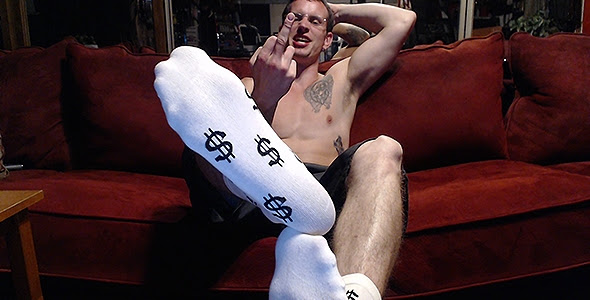 1 New Video – It is time to serce the true American jock God, SirKraze. Lay your hard earned 9 to 5 cash at his feet. SirKraze is the reason you work those long hours at work and put in the overtime hours. All to please and sacrifice for your alpha auperior. Get on those knees and show your respect to your alpha jock God, SirKraze.
---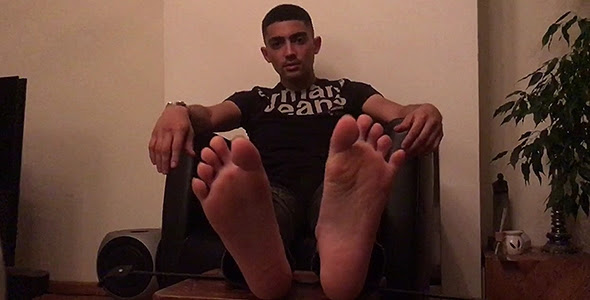 2 New Video – This is how Turkish Satan treats his faggots with verbal abuse and foot domination. This Turkish alpha puts his feet up in your faggot face for you to lick and worship. Whenever you look up at him, he'll spit in your face and take your money, leaving you bankrupt and broke. One slave even experienced this power in a real time meet with TurkishSatan. During this meet up, Turkish Satan fills an air gun with his spit and sprays it on the fag's face, making him even more pathetic than he already is to TurkishSatan.
---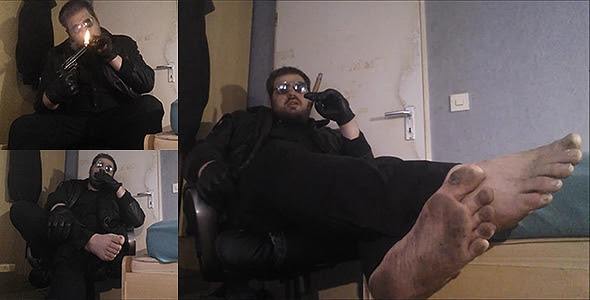 1 New Video – You've done a serious offense, you've disappointed your leather master. This leather clad, cigar smoking dom, is pissed off that you've disappointed him so much that he has no choice but to verbally abuse you and show you the consequences by giving you a new job. In this 12 minute video, this cigar smoking master delivers your punishment and makes you pay for everything you've done to disappoint him.