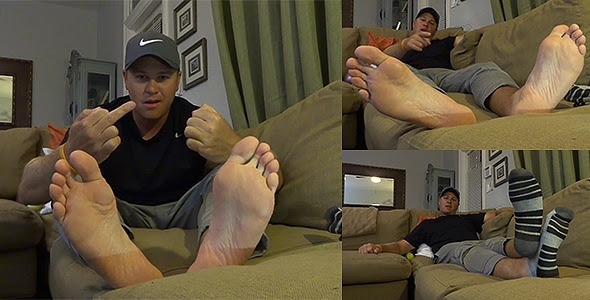 1 New Video – Are you ready to become Henderdong's slave? Step-by-step, you can slowly learn how to be molded into a worthy Henderdong slave when you download this video clip. You will get Henderdong's instructions to be a mindless human ATM for this alpha master. Henderdong purposely priced this video low because after he infects your mind, the return for him will be 100 fold as he molds you into his wallet and retrains your brain to his control. Submit to Henderdong and serve at his feet.
---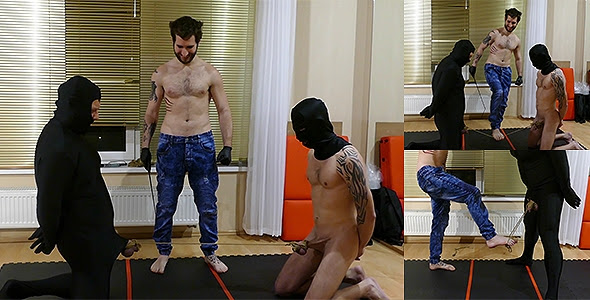 1 New Video – Muscle twink Slave Damien is competing against fat Slave George to show their devotion to Master Alex in this game of slave tug of war. A rope is tied around their cock and balls and the slaves must put the other one over the designated line marked on the ground. To make sure they are properly motivated, Master Alex uses a real horsewhip on their backs. The fag slaves pull and experience pure agony as their private parts are being tormented like hell. Seeing how Slave George is losing, he gets the most motivating strikes of the whip, yet he still manages to lose – mainly because he was enjoying it too much. Master Alex is not pleased with the poor performance as he wanted a close game so he puts Slave George through the paces and brutally punishes him. Master Alex twists, slaps, and kicks Slave George's cock and balls as punishment as he uses the rope like a leash to pull him around like a pet. Ball-busting follows and Slave George is trained to take some serious CBT. Next time he will know not to fail his Master.
---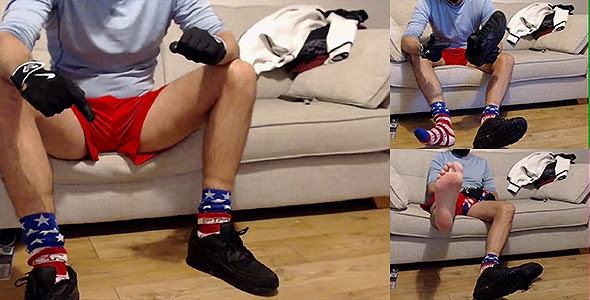 3 New Videos – Prepare for hardcore verbal abuse from MasterAJ while wears his Nike AirMax sneakers. Quickly you'll realize that your rightful place is to bow down before this rugged master and crawl to him on your hands and knees with your wallet in your mouth. Showing off not just his Nike sneakers, MasterAJ also makes you worship his feet and American flag socks like an obedient foot fag. For the fag slaves who love his biker leathers, MasterAJ has another video of him changing into bike leathers and motorcross boots. Stay on your knees and worship as this leather master gives your life a purpose. That purpose is to fork over your hard earned money so he can live the life. Fully clad in bike leathers and flexing, MasterAJ will fulfill your leather fetish. Listen as you hear the sound of the leather creeking all over his body as he squats over you. Wearing his leather gloves, MasterAJ is ready to take from you what is rightfully his to own.
---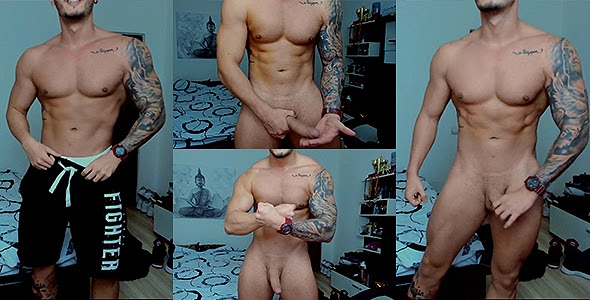 1 New Video and 1 New Photoset – With the body of a Greek God or Roman soldier, JacquesHunk will weaken you while he flexes in a jockstrap and jerks his massive alpha cock. This 21 year-old bodybuilder isn't afraid to show off and exudes pure masculinity and superiority. Tattooed and smooth, JacquesHunk is the type of guy you see in the gym but are too intimidated to approach but now is your opportunity to serve a muscle hunk. JacquesHunk even has more for you to worship with a complete photoset of him showing off his muscles, feet, and smoking.
---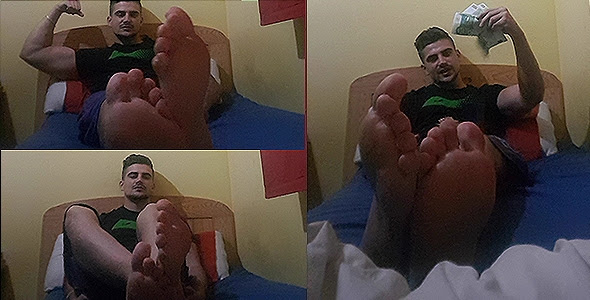 3 New Videos – Foot fags, get ready for total feet humiliation from MasterJordi. Showing off his massive jock feet, MasterJordi gives you what you've been craving. While verbally abusing and humiliating you, MasterJordi will command you to lick and worship his big feet like an obedient foot slave. However, the worship doesn't stop there because MasterJordi wants you to worship his feet and legs as he towers over you. Making you look up at him, MasterJordi seems like a giant as he stands above you to remind you of how superior he is to you. Be careful to not get stomped on as you're down there worshipping this foot master's feet. But a worship session isn't complete without some muscle worship. Pumped up from the gym, MasterJordi demands that his muscles get worshipped and massaged. Get ready to give this pumped up jock the worship he deserves while you drool over his godly body.