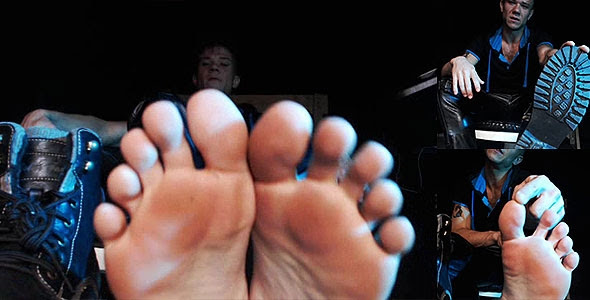 7 New Videos – New to In-Charge is straight alpha dominator Master Phoenix. This cashmaster prefers loyal and long term cash fags who will do anything he requests. In his first batch of videos, he gives his cash slaves a preview of what it's like to serve him. In his first upload, Master Phoenix does some roleplay where he kidnaps his slaves and forces it to worship his feet. In this nearly 15 minute video, Master Phoenix has caught you staring at him in the locker room and decides it's time to take control of a faggot like you. MasterPhoenix drags you to his dungeon to put you in your place as a foot fag. While clad in leather with leather boots, MasterPhoenix helps you realize what a lucky loser you are to serve at the sole of his leather boots and at his barefeet. If you need a taste of the real thing then watch MasterPhoenix own a real time foot fag as the fag shines MasterPhoenix's boots. Another loser slave in MasterPhoenix's prison camp dungeon gets the honor of shining his superior's boots. After shining them and making them clean, the foot fag gets the opportunity to massage his straight master's feet while a leather clad MasterPhoenix counts his fag cash. The slave even gets the chance to rub his master's barefeet in exchange for a huge fag tax. Continuining on the leather / dungeon theme, MasterPhoenix offers some sweaty leather domination. What more needs to be said? In this 10 minute video, MasterPhoenix commands you to worship every inch of his sweaty, muscular body while he verbally abuses and threatens you. You'll feel right at home as this all takes place in MasterPhoenix's dungeon with him starting off the video in a cut-off and blue jeans with leather gloves before showing his designer underwear for you to worship his body.
Changing it up a bit, in another new video from MasterPhoenix, he delivers some popper instructional abuse. This cash dom knows how you fuck up a popper pig like you and it's time to let MasterPhoenix instruct you on how to use your poppers. Follow MasterPhoenix's leather gloves and his commands as he holds the bottle of poppers up to your nose and fucks your brain up all while smoking a cigar. Still smoking his cigar, get ready for some cigar and muscle worship in another of MasterPhoenix's latest videos. After MasterPhoenix strips out of his bike leathers in this 12 minute video, he enjoys a huge cigar – it's almost as big as his alpha cock that you only get to dream about. MasterPhoenix shows his bulge through his leather pants before he reveals a black and white Diesel jockstrap. You get to worship every part of MasterPhoenix in this video from his leather gear to his feet to his ass and ultimately his bulge. By this point you're thinking of MasterPhoenix as a God and in his blasphemous popper instructional video he fashions himself as a God. Go on a mind fuck, kneel, and pray to this alpha God. You'll worship the temple of his glory as he commands you on how to sniff your poppers and give yourself to a God like him. If you just need a taste of MasterPhoenix then check out his dungeon intro video. Filmed in MasterPhoenix's Prison Camp, this cash dom tells you just what he thinks of you. Hear his words, as you worship his body, his leather, his strength, and his ferocity.
---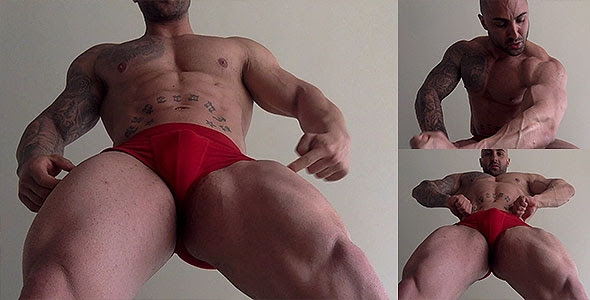 2 New Videos – Another newbie to In-Charge is MuscleGuyCam. This massive bodybuilder could easily crush any little slave boy that crosses his path. MuscleGuyCam has uploaded 2 videos this week and in the first, he shows the true meaning of muscle domination. MuscleGuyCam flexes over the camera showing his massive size while wearing red boxer briefs showing his massive bugle. His tattooed body and muscular legs could make any slave feel little. Watching him flex would make muscle worshippers fall to their knees and hand over their wallet to his muscle god. Continuing with more muscle flexing, MuscleGuyCam puts on a muscle flexing show. This is just a sample of what a muscle flexing cam show would be like with this muscle dom. In this 10 minute video, MuscleGuyCam starts off in a sports jersey and basketball shorts before stripping down to reveal his tattooed muscular body and bulging biceps. Worship this bodybuilder's muscles now by downloading his videos.
---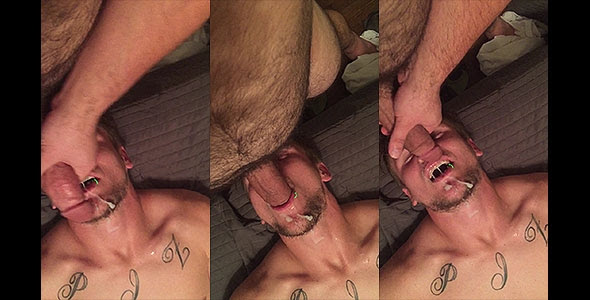 2 New Videos and 3 New Pictures – Another new guy to In-Charge is Bottomboy0024. It's obvious from his screenname that he's a bottom boy and that's evident from his self titled video Bottomboy0024 where he gets a cum facial. In this short video clip, BottomBoy lays on his back with his mouth opened after a hook up session ready for a warm load to shoot on his face and in his mouth. He sucks the top's dick right after he cums. From that same hookup session, BottomBoy films a portion of his bareback fuck session. He also has 3 new XXX photos showing everything from his ass to his hard cock.
---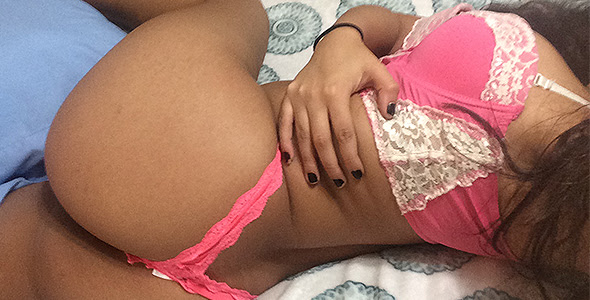 4 New Photosets – InterracialDomCouple has uploaded 4 new photosets. In these photosets, the sexy girl shows off her black thong. It includes 11 photos showing pussy, breasts, and ass along with her sexy black thong. Foot fans will enjoy seeing her pedicured toes photoset which shows her nice smooth and soft feet and some ass pics too. Check out her portfolio for more.