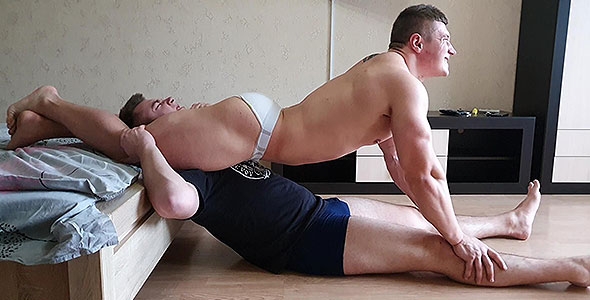 3 New Videos – Big Russian muscle dom Dennis crushes a slave with his muscular legs. The weak sub is pinned between this powerful doms strong legs and has his head squeezed. Muscle dom Dennis uses his strength to make this slave cry out in pain from the intense headscissors hold applied. In another clip, Dennis locks a slave in a sleeper hold until the slave blacks out. The weak slave is no match against this strong, muscular alpha. Dennis puts this slave to sleep twice throughout this clip as he locks him in tight with his massive biceps. In the last muscle domination clip, Dennis does total headlock domination on a slave. Crushing bicep power and intense leg locks as Dennis traps the slave in his grasp. Dennis is a total muscle beast throughout as he traps the slave between his powerful legs.
---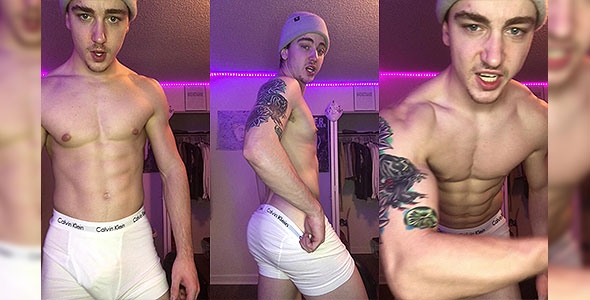 3 New Videos – Submit to white power as this white jock delivers some intense verbal race play for being a weak pathetic black faggot. This ripped and tatted alpha stud confronts you for pretending to be straight when all you are is a weak submissive faggot to white men. Bow to BWC and eat this alpha jock's white ass. The verbal abuse continues with another alpha degrading you for being a dumb nigga faggot. This super straight alpha also shows you his ass and makes you crave the opportunity to eat his hole. You won't ever get that chance. Instead get on your knees and endure intense verbal abuse as this alpha blows smoke in your face. The racial abuse doesn't stop there as another straight alpha cash master degrades you for being an inferior black faggot piece of property. Wearing boxer briefs, this straight stud shows off his huge white bulge and bubble butt as he reminds you why you were put on this planet to serve his superior race.
---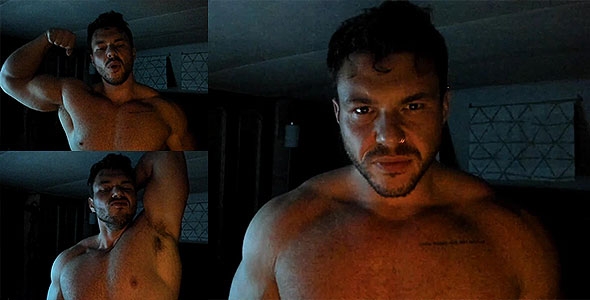 2 New Videos – Grab those poppers and sniff like the obedient faggot you are. Alpha Derek will give you an intense popper countdown as you fry your faggot brain like an obedient mindless drone. Flexing and verbally abusing you, Alpha Derek will quickly remind you of why he is so superior to you and you are just a piece of property to him. Don't put that bottle of poppers away just yet though. Alpha Derek has another popper countdown video for you. Lose control of yourself and go mindless as you sniff endlessly for this dominant cash dom in this 6 minute clip. Alpha Derek will get deep in your mind as you lose all inhibitions from sniffing your faggot juice out of that bottle. Open your wallet and lose your mind to Alpha Derek.
---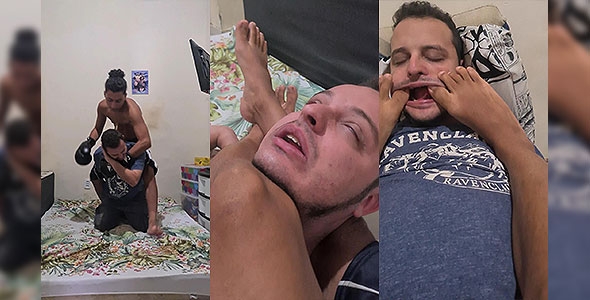 4 New Videos – This faggot slave endures complete domination as he submits to his powerful master. This real time encounter starts with this athletic alpha beating down his slave with face punches and kicks. The weak fag slave quickly begs for mercy but this dom doesn't give any. He locks his slave in a headlock and then later stretches the fag's mouth with his feet. Later the weak slave gets beat down and knocked out. The jock dom locks his obedient faggot slave in a series of headscissors, leg locks, and headlocks until the slave passes out in his dom's power. The slave literally submits himself completely to his master throughout this 11 minute clip.
The slave still must endure more punishment as he gets choked out by his master. Locking the faggot in a side headlock, this lean alpha shows his weak pig how powerful he is to him. The submissive slave then begs for his master's mercy but instead just gets spit on by his master. In another real time encounter between these two, the slave gets put into total KO domination. The out of shape slave gets choked out by this dominant fighter. No amount of tap outs or begging will stop this findom from letting up. This cash master wants his faggot to know that he is serious about making this fag totally submit to him.
---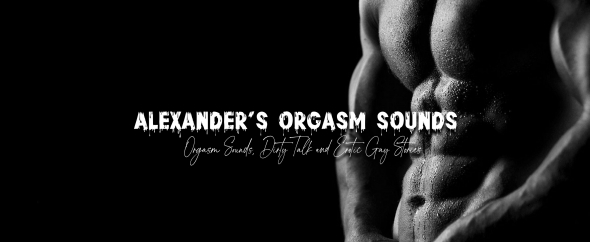 3 New Videos – Master Alexander smokes and wanks in his newest clip. Showing off his big, hard Irish 8″ cock, Master Alexander gets a fleshlight and milks his huge dick until he busts a big load. At the end, Master Alexander even gives you a slow motion playback of his intense orgasm from fucking the fleshlight. In another clip, Master Alexander has even more fleshlight fun as he pounds the fleshlight full of his fat, thick cock. Edging and stroking hard, Master Alexander blows a massive load in slow motion at the end. Watch his thick white ropes of jizz shoot out of his alpha dick. Then for the popper pigs, Master ALexander sniffs poppers before stroking his fat prick. Watching him whip out his big Irish cock and slamming it into a fleshlight will make any faggot's mouth drool. Sniff your poppers as you watch this cocky alpha get off.