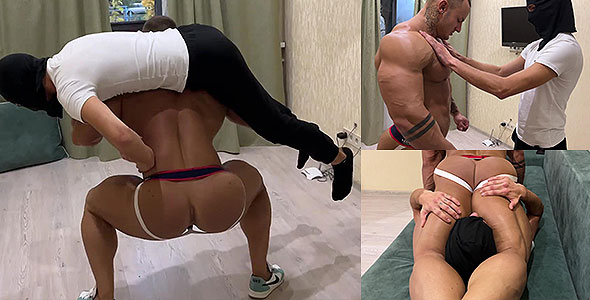 4 New Videos – The Punisher loves to be worshiped and he finally has a dedicated admirer to worship all his muscle. The Punisher wears a jockstrap showing off his huge muscle ass as he dominates this scrawny muscle admirer. The Punisher dominates the weak boy in many different wrestling holds using his brute muscle strength. In another muscle worship and domination video, Big Alpha gets his muscles worshiped this time. The scrawny admirer rubs his huge alpha muscles before getting dominated and used by Big Alpha. This muscle beast locks his muscle worshipper in a variety of submission holds.
Big Alpha loves being a muscle bully to all those that he encounteres. In this next clip, Big Alpha bullies a boy with some nose grabbing, gut punches, squeezing bear hugs and more. The boy is too afraid to fight back due to the sheer muscle and dominance of Big Alpha. Things get more intense in the next clip when Big Alpha abuses the boy with various submission holds using his huge muscular arms and legs. Wearing tight green compression pants, Big Alpha shows how muscular his legs are when wrapping them around the boy's neck to choke him out.
---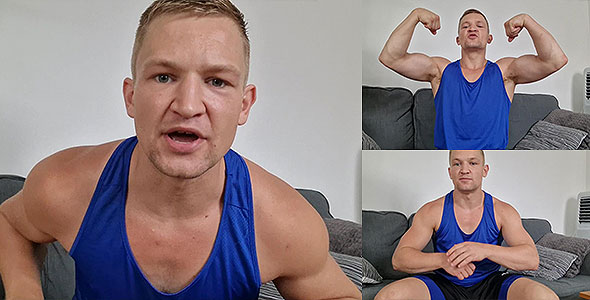 2 New Videos – Master Gary has a new popper trainer video for all of the popper addicted gooners. Follow MasterGary's commands as you use that fresh bottle of poppers and turn yourself into a human wallet. Submit and obey to the onslaught of verbal abuse MasterGary is about to dish out. The popper intox continues in the next clip along with edging instructions from this cocky, scally master. MasterGary wants you to be a mindless drone ready to obey every command given to you by him. Follow his orders as you sniff poppers and edge your pathetic slave dick to his commands.
---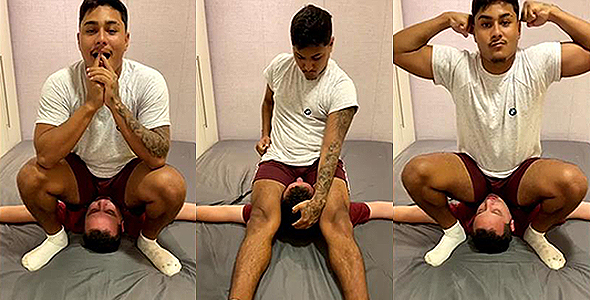 4 New Videos – DanielSlin invites over his loyal slave for a facesitting session. This slave lays on his back as Master Daniel sits his jock ass on the slave's face. Pinning him down, Master Daniel flexes for the camera and shows off his arrogance. Later, things get more intense as Master Daniel locks the slave in a figure 4 headscissors. The slave struggles and begs for mercy but Master Daniel offers no reprieve from the abuse. This slave must learn to fully submit to his master no matter what.
Master Daniel then shows off his jiu jitsu moves on this slave by choking him out some more. The slave gets thrown into various chokeholds and submissions in a split second with no escape. This slave gasps for air and begs Master Daniel to ease up on the intensity. The jiu jitsu fighting continues with more intense chokeholds. Master Daniel loves making this slave tap out and submit. The more the slave submits to his master, the more easily he'll learn his place in life compared to a true alpha male.
---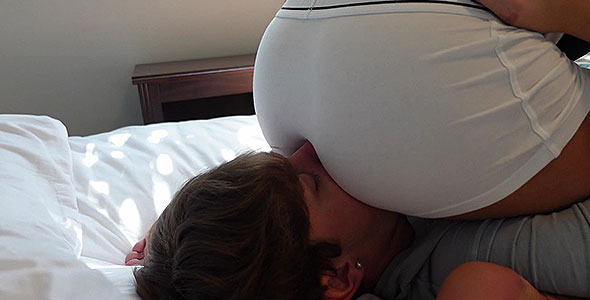 New Videos – Master Jase loves having his ass worshipped. Inviting over a buddy, Master Jase puts on some white boxer briefs and proceeds to sit on this young slave's face. Master Jase's 18 year old slave is pinned under his sexy ass to a hot facesitting session. In a different video clip from BadBoyMasters, Master Shaun has some fun facesitting on his slave as well. Master Shaun uses his full body weight for some intense facesitting, trampling, jumping, and stomping on the slave. Later, Master Shaun spits in the slave's mouth and orders it to worship his feet.