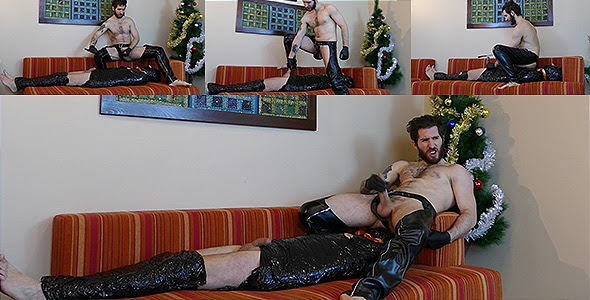 1 New Video – For those of you still in the holiday Christmas spirit, Transylvanian Wolf has a holiday inspired video for you. Wrapped up like a gift, except for part of his face, cock, balls, and feet, Master Alex plays with his slave like he's a gift by sitting on the slave's face and using his riding crop on him. Escape and resistance are impossible as the slave is totally controlled and dominated in this real time session. Master Alex grinds those big ass cheeks up and down on the slave's face while he's tied up. As he beats the slaves balls and nipples, the slave struggles to get air, but all he gets is either that ass or huge hanging cum-filled balls slapping on his face. Then, Master Alex stands up, trampling the slave's cock while playing with his own monster meat. This is a holiday gift this slave will remember forever.
---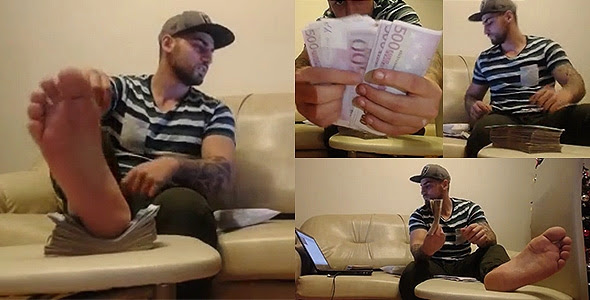 2 New Videos – SlavesSeeker never stops getting cash tributes from worthless losers and shows off his cash collection in this cash counting video. Showing his barefoot to the camera, SlavesSeeker pulls a massive stack of cash out from an envelope and counts it all on camera. It appears to be several thousand in cash that SlavesSeeker casually throws at his feet as he puts the heel of his foot on top of the stack of bills. Even with all of this money, it's still never enough for this dominant alpha. In his second newest upload, SlavesSeeker allows you to sit in on a Skype session where he makes his slave do some poppers training. In this 10 minute video clip, SlavesSeeker makes the pathetic, low testosterone looking faggot sniff his poppers while getting verbally abused hardcore. The cuck looking slave, who looks like he should be a writer for BuzzFeed or some gay blog, follows every instruction given to him by his master. SlavesSeeker then orders the weak faggot to show off his cock cage. As this fag stands up to reveal he's not wearing pants or underwear, he shows that his cock is caged and locked up just as ordered by his master. Learn how a real master treats a weaker male in this popper training session on Skype.
---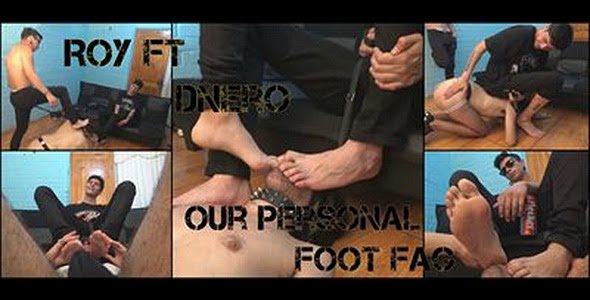 1 New Video & Video Sale – A month ago, Draven became an official slave of Str8CrushFeet which means he must dedicate his life to MasterDnero and his gang of masters. At a moments notice, slave Draven must serve these alphas whenever they want whether that includes exposing himself for laughs, getting spit on, or licking feet. Right now is one of those times for slave Draven to worship those who are his superiors. Master Dnero and Master Roy use slave Draven as their personal foot fag in this 32 minute clip. The pathetic foot fag gets humiliated by his masters and learns the natural order of things. The natural order is that faggots exist to do anything their masters demand and that means anything. These straight alpha males have absolute power as they force this foot fag to do as they demand.
Also, don't forget that MasterDnero has slashed the prices on nearly all content within his portfolio. Discounted prices are reflected on the website. These heavily discounted prices are for a limited time only and won't last long. Fulfill the experience of being a real time foot fag for this alpha dom and his buddies. MasterDnero showcases all of his real time sessions with slaves and video tapes the initiations of other dominant masters into his tribe known as Str8 Crush Feet.
---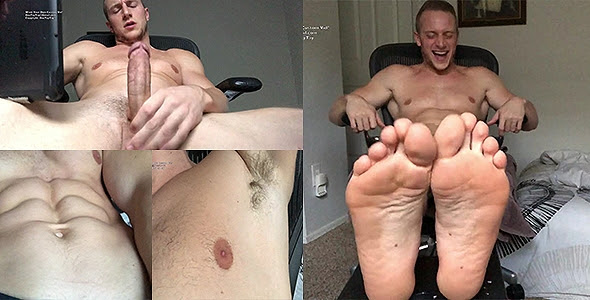 Video Sale – 60% Off – DocTayTay is running a 60% off discount on all of his videos. Discounted prices are reflected on the website. Live out your fantasies with his multitude of videos ranging from any fetish you could desire such as roleplaying, ass worship, armpit licking, live sex shows, or verbal humiliation as DocTayTay forces you to do anything he demands for his own amusement and pleasure. Give yourself to this straight, muscular alpha and open your wallet to serve him.