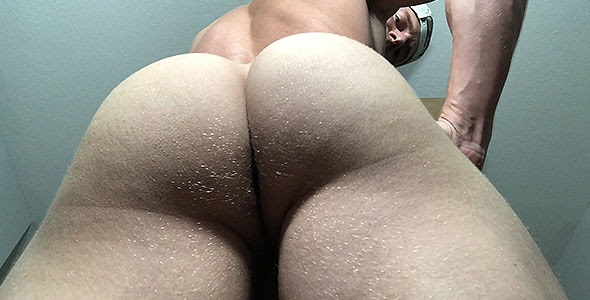 1 New Video – Prepare to be dominated by alpha Taylor as you sit at his feet and feel small before him. Taylor pours on the dirty talk and bossy demeanor as he sits on your chest and rips some loud farts from his huge muscle ass. Not only will he be owning you with his shit talking and ass ripping farts but he will also force his dick down your throat, slap it across your inferior face, and shove your nose up his ripe huge ass. For those of you looking to be dominated by everything alpha, then this is the video you need now.
---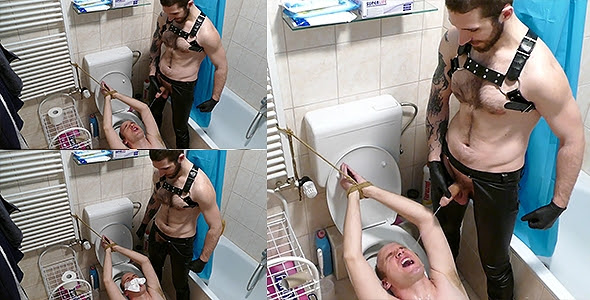 3 New Videos – Master Alex's water bill has been huge lately so he decided to install one of those multipurpose slaves. This dominant master ties his slave to the toilet and every time he needs to piss, he just uses his slave as a human urinal. No need to flush and it's eco-friendly. The slaves hands are tied over his head, face lodged on top of the toilet seat and mouth ready for Master Alex's warm piss. Lucky slave get some spit in his mouth as well. A glorified human toilet is all he is and he will be used. Back in the bathroom, Master Alex makes you inhale his farts in this smelly video with tons of farts, piss, and some belching (burping) as well. Master Alex's stomach is about to explode from the pressure that is building inside. It must be unleashed and you are the lucky slave who is going to get all of those fart explosions blasting on your horny face and up your nose. How about some warm piss to wash it all down? Suck it, swallow it, and inhale your master.
In another new video from Master Alex, this dominant alpha puts his real time slave through a merciless thrashing. The slave experiences some serious corporal punishment from Master Alex as he uses a horse whip on the slave's back, ass, and legs. Master Alex is weearing his shiny black bodysuit and boots while he shows no mercy to his male sub. Hands tied and nowhere to go, the slave is beaten and made to endure the hard punishment. He struggles desperately; raising his legs to shield or escape the whip, but the dancing struggle only amuses Master Alex which brings out his inner sadist from within. The slave's back bears the red mark of every hit of the whip and there's barely an inch of flesh that remains unmarked after the long torment.
---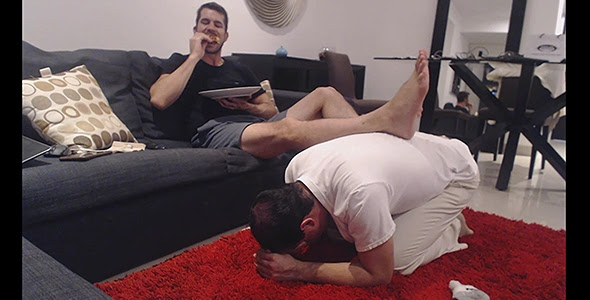 5 New Videos – Continuing with his slave abuse from last week, Master Jax starts off this domination session by eatin a pizza while using his dumb faggot as a footrest. For 12 straight minutes, the faggot must remain motionless and silent while supporting Master Jax's giant legs and feet. Master Jax doesn't like to eat the pizza crust, so that can become the slave's dinner. The next part begins with the faggot continuing his tongue cleaning of Master Jax's shoes. During the process the doorbell rings and the faggot must go answer the door with "Slave" written across his forehead. The faggot pays for the pizza which Master Jax immediately takes. The scene cuts while Master Jax eats his pizza and picks up with the slave being instructed to eat the pizza crust which Master Jax feeds the faggot with his toes. This is exactly how a faggot should be fed – eating food from his master's feet. Master Jax sits back and enjoys shoving his old pizza crust into the eager mouth of MexSlave. Just like nature intended, faggots pay for the pizza, Masters eat the pizza, and faggots get the shit that's leftover.
Part 14 and 15 are the finale of Master Jax's visit with Mex Slave. This video is shot from the angle that shows the fag pathetic slave faggot eating a jelly filled doughnut after MasterJax smashes it with his huge feet. Licking the mess off the floor and off MasterJax's feet is heaven for the slave, but wait until you see what will happen next. For dessert, Master Jax takes you into the bathroom where he pulls out his huge cock and fills a coke bottle with his special surprise. Then MasterJax delivers the warm full bottle of piss to his loyal slave to gulp down. Part 15 shows another angle of the same awesome footage of the fat pathetic fag eating his jelly doughnut after it's been stepped on by MasterJax's feet. Mex Slave must then wash down his dessert with Master Jax's godly alpha piss.
---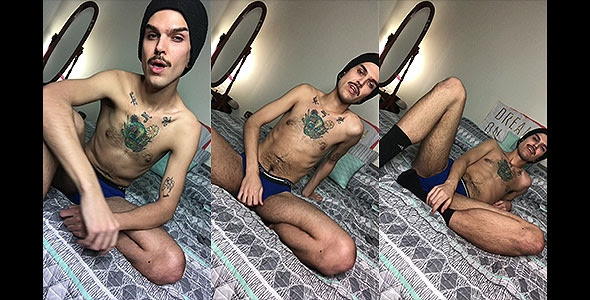 1 New Video – AidenPrettii laughs at you as you oogle over his perfect blue briefs. Hypnotically, AidenPrettii will destroy your life as you watch his perfect alpha cock packed away in his tight briefs. Staring at his package, he will control your every throught, bank account, and basically your entire life. Submit it all to this master and his briefs. His briefs are blue like your balls will become when he doesn't permit you to cum.