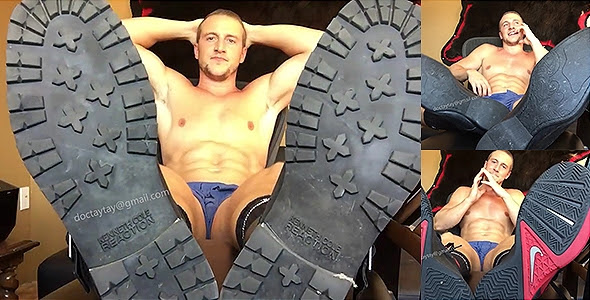 3 New Videos – Taylor knows how pathetic you really are considering the fact that you'll pay him to see his feet. Taylor likes money and like degrading you so it's a win-win for him. In this 20 minute video, Taylor delivers lots of trash talk and teasing while he tries on 3 pairs of shoes for his fag slaves. Taylor has the attitude of a bully or that of a mean / abusive boss while he lets you know just how desperate you are when seeing his shoes and feet. You are his slave now though, and you can't seem to look away as he forces your face and nose down a pair of his boots, dress shoes, and high-top basketball sneakers. Finally, he lets you see him sockless and makes you wonder what it would be like to feet his feet all over your pathetic body. In his next video, Taylor orders you to worship his feet. Taylor just got home from work and his feet are killing him. Luckily, his foot slave, Matt, is there to take care of his feet for him. Taylor insults his fag slave while he wiggles his toes and teases his slave with his sweaty feet. He calls his slave a faggot and tells fag slave Matt how he'll shove his dirty socks in Matt's mouth. Try not to become mesmerized by Taylor's dominant ways when you download this video clip. Finally, in his third latest video upload, Master Taylor is feeling very comfortable today and he wants his slave to know it by rubbing it in their face. This alpha dom will degrade you, call you a faggot, and make you feel like dirty while reminding you that your life sucks. To add more insult, Taylor points out how small your dick is compared to his massive cock. He thinks you "stub" of a dick is hilarious. At the end, he strips down and shows you what a real man's cock looks like.
---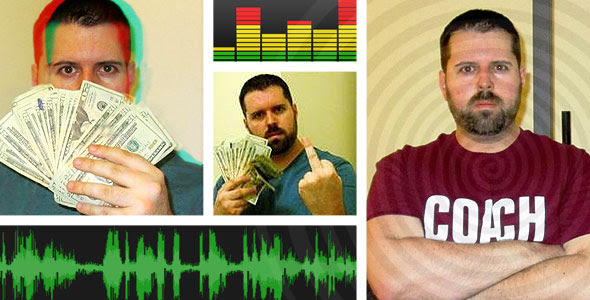 2 New Audio Clips – Do you have an Alpha jock persona inside of you, ready to take over? Whether that is a muscle jock, a country jock, a dumb jock, or any other kind of jock, you want to feel that power taking over you, making you more confident. In this stroke training session, you will want to feel that jock taking over more with every stroke until you are that jock, ready to dominate in the gym, with sex, and in all other areas of life. This audio clip features workout motivation and suggestions to not care so much what others think about your transformation because it is what you have wanted deep down and what makes you happy. Jack off along to the file, then feel yourself transform as you cum at the end to this 23 minute clip. Don't stop with just that transformation, you will also need muscle transformation. Are you the type of guy that loves the idea of muscle growth and bodybuilding to the point of getting huge? This stroke training file helps you let go of what anyone else might think about your size, because for you, there is no such thing as "too big". Imagine your biceps, pecs, quads, and the rest of your physique getting bigger as your body releases more testosterone and muscle growth hormones. This file will make you feel pumped up for the gym and your next workout, but be warned it may also contribute to being even more obsessed with muscle.
---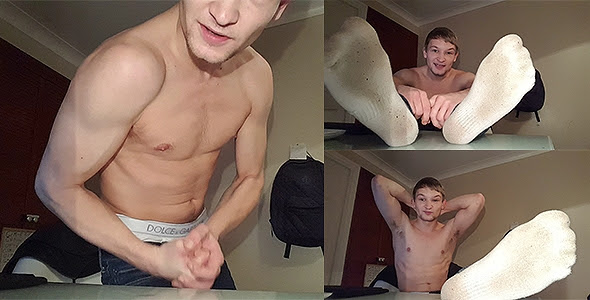 1 New Video – Sniff your poppers and get intoxicated as you worship Master Gary's biceps. In his newest video clip, MasterGary gives you several countdowns as you inhale your poppers and fry your fag brain for him. Inhale every time you see his jock arms and worship them with a perfect view of his pits. MasterGary also shows off his socked feet when he puts his sweaty, dirty socks in front of the camera. Submit to this alpha male as he screws up your mind with poppers.
---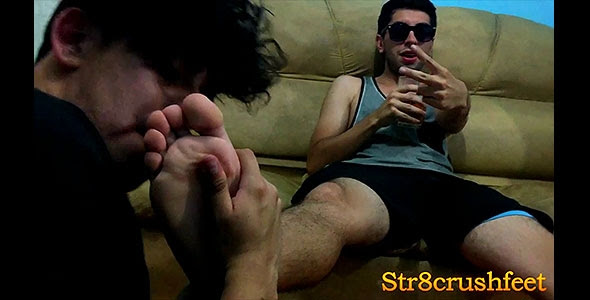 4 New Videos – The following videos are the first tests which masters must take to join the group of Straight Crush Feet school of masters. The first test consisted of Master D-Hunter using a faggot. Master D-Hunter was recruited by Straight Crush Feet for his huge ego which he showed along with cockiness and verbal abuse while using this foot fag. This particular foot fag was bullied in his teens and Master D-Hunter helps this slave relive those fantasies. The next master to go through initiations is Master Red. This alpha dom degrades 2 foot fags at the same time. Master Red was chosen by Straight Crush Feet because of his massive size 10 feet. One year ago, MasterDnero's step brother helped Master Red with a college final and now he's worshipping Master Red's feet. Although, MasterRed doesn't just have one slave at his feet, he invited along the slave's ex-boyfriend to serve and worship him as well. The third master to go through his initiation is Master Danthe who was enlisted by another slave who got the chance to lick his feet once. Master Danthe has smelly feet which smell so bad that Master Dnero had to wear a gas mask while filming this video clip. As this alpha male sits back and relaxes, his disgusting foot fag worships his foul smelling feet to please his master.
In the final newest video from MasterDnero, he introduces soccer player Master Jako. MasterDnero's step-brother, Lucky, found a complete stranger in the street and offered him money to lick his feet. This alpha male Master Jako took him up on the offer because he has such a big ego and enjoys to humiliate foot faggots to impose his alpha abilities further. Master Jako forces this foot fag to sniff, lick and worship at his feet all throughout this 17 minute video. He makes the foot slave suck on his toes while he establishes his dominance.