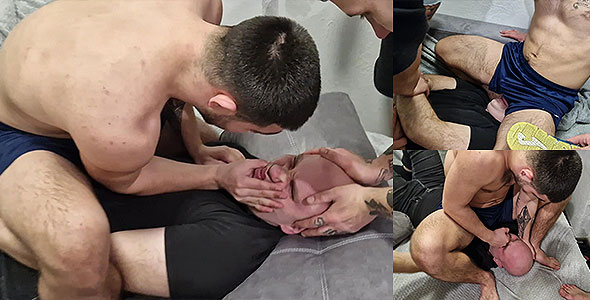 4 New Video – Masters Hunter, Joe, Nevil, and Ritchell go looking for their slave to torture him. The masters give this slave some face sitting torture, squeezing his head between their muscular legs, and making the slave lick their feet all while laughing at him. The doms then make the slave sniff their nasty smelling sneakers before making the slave lick the sweaty insoles of the shoes. In their next real time meet up, Masters Nevil and Hunter use the slave as a human footrest. Mocking their slave while resting their feet on him, the masters kick, slap, and spit on this pathetic slave. They even crush up chips with their sneakers and make the slave eat them for further degradation.
This slave then is subjected to more group punishment as he worships the feet of Mastes Nevil, Hunter, Joe, Robert, and Basford. The slave lays his body under a bed so his head sticks out enough to service all of the dangling feet from atop the bed. Master Basford flicks the slave's ear as he's licking feet to torment him some more. This slave is then instructed to not move as everyone smother's the slave's face with alpha male feet. Master Basford, Robert, Hunt, and Nevil get this slave to sniff and lick their sweaty, smelly feet. The masters laugh at the immobilized slave as the slave is trapped between the master's legs and feet while worshipping.
---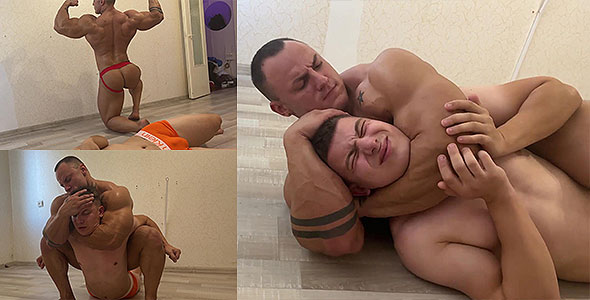 4 New Video – The Punisher locks this boy in multiple chokeholds in this 15 minute clip while wearing a jockstrap. Squeezing this boy tighter and tighter, the boy struggles to escape. The Punisher uses his gigantic biceps, that appear bigger than the boy's head, to lock in these tight chokeholds. Then in another clip, it's Big Alpha's turn to dominate a weak boy. Big Alpha once again dominates this boy in several different bearhugs. Later he locks in a headscissors before finishing with another bearhug.
Big Alpha's dominance continues as he challenges Gio to a wrestling match. Wearing a singlet with his ass exposed, Big Alpha beats down and punishes weak Gio. However, Big Alph may have met his match when he squares up against muscular King Romeo. The two muscle studs go at it, especially when King Romeo locks on a tight full nelson on Big Alpha. But Romeo ultimately ends up submitting this time against Big Alpha.
---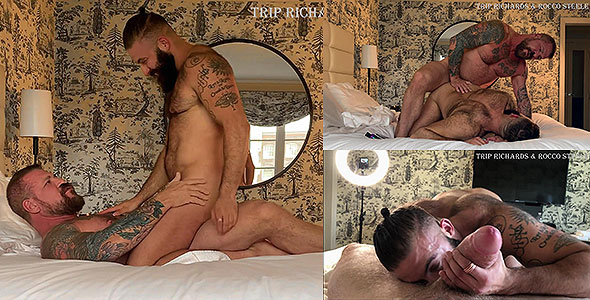 4 New Videos – TripleXTransMan takes every inch of Rocco Steele's huge cock. This is Rocco Steele's first time fucking a FTM performer, let alone his first ever time fucking a pussy. TripleXTransMan experiences pleasure and pain from the massive length and girth of Rocco Steele's huge cock. At the end, Rocco Steele erupts a big load of cum deep in TripleXTransMan's gaped open pussy. For some solo fantasy, TripleXTransMan has a cuckhold roleplay clip for you. TripleXTransMan is tired of the relationship with you and invites over a new BF (a dildo). Your job is to just sit there and watch him squirt all over his new lover's cock while you jerk off in the corner.
TripleXTransMan then wants to humiliate you some more with some small penis humiliation. Your cock is so small it can't even be located and when it is found, it's laughable. TripleXTransMan mocks your tiny cock as being even smaller than a trans cock. After you've been thoroughly humiliated, you can then get some jerk off instructions. Stroke your hard cock on command as you listen to TripleXTransMan's voice. Focus on all of the sensitive regions of your cock with varying stroking speeds. At the end, TripleXTransMan will order you to explode a load of cum on your face.
---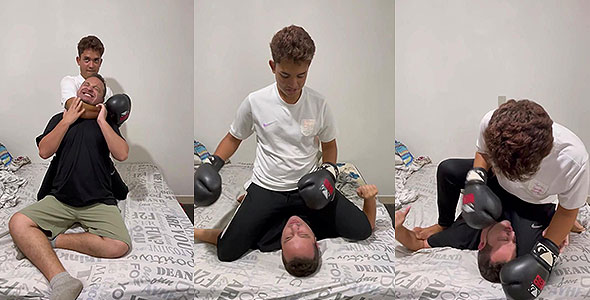 5 New Videos – Master CH turns his slave into a human punching bag. Master CH gets his boxing gloves on and lands a variety of body blows to this slave. Punching him all over, the slave takes a tough beatdown. Days later, Slave Matt then worships Master J's feet. Master J smacks Slave Matt around with his foot and orders the slave to service his feet. This slave feels at home under a dominant alpha's feet. Once Master J is done smacking the slave with his foot, he then chokes the slave between his legs. Slave Matt gets on the ground and is locked between Master J's legs as he's choked out. When he's done choking the slave, he orders Slave Matt to lick and gag on his alpha male feet.
The choke domination continues as Master J chokes out his slave hard in another real time meet up. Master J wrestles Slave Matt and asserts dominance over him as he locks him in a variety of chokeholds. Master J then uses his legs to choke out his slave. Master J wraps his legs around Slave Matt's throat and makes him struggle. Slave Matt writhes around and begs for mercy but Master J just ignores his cries for freedom.
---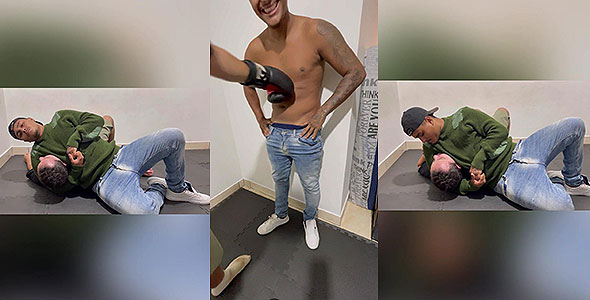 2 New Videos – Master Daniel shows how much he can take from gut punching as he has Slave Matt put on some boxing gloves and punch his abs. Afterwards, he then proceeds to choke out Slave Matt on the ground for his own amusement. Slave Matt struggles on the ground under the raw power and dominance of Master Daniel. If you want to worship Master Daniel some more then watch him perform 140 calf raises. Master Daniel loves challenging himself and working his body to become even better. Drool over this dom's calves while also intently watching his white socks.