How Can I Make the Most Money on In-Charge?
Good question. After looking through the website, I've noticed several people aren't doing their best to increase their sales. Below are some tips to help increase anyone's sales and to make more money on In-Charge.
1.    Complete Your Profile
To complete your profile, use the Settings option under your username in the top right of the website. Make sure to upload an avatar and a banner image. The admin will add photo effects to your banner image if you email him (this can make your profile look more professional). Also when editing your profile, select an item to be your featured item from the menu options.
Fill out your profile in detail. Tell the members about yourself by explaining why you're on In-Charge, what you are looking for on there, what you specialize in, or what makes you unique. Don't try to fit in with everyone. Stand out from the pack.
2.    Post a Variety of Content to Your Portfolio
Some people only post a handful of pictures of themselves and expect that to sell. The members of In-Charge who browse content would prefer to see a variety of pictures AND videos. Post items that would appeal to various interests. For example, some people are into muscles, feet, domination, athletic gear, lingerie, and many other categories. So try to post an item focusing on various interests and whatever you're comfortable with posting.
Videos tend to be the biggest sellers. Make a variety of videos for the users. Once a member buys your video and likes it, that member is more likely to buy your pictures and become a loyal follower.
You can even post audio clips on In-Charge. If you're up for doing that, try it out and be creative with it.
3.    Promote Yourself
In-Charge offers a promotional image which you can place on your personal blogs, profiles, and websites to bring your visitors to your portfolio.

Simply save the above image and put any link you want on it, then post it online. You could link members to your portfolio or to a specific item. If you don't like our button, make your own. The admins of In-Charge do their best to promote the website but cannot promote everyone all at once. So take it upon yourself to promote what your selling. If no one knows you're selling anything, they won't know to buy your stuff.
4.    Use the Collections Feature
If you go to your portfolio and click on one of your items, on the right there is a box that says "Bookmark This" or "Create a new collection". Click create a new collection and you can create a Collection to store your items in which will appear on your profile and in the Collections tab. Make sure to make to check the Public View box so your Collection is made public.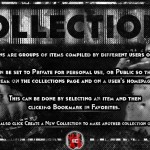 Collections are groups of items compiled by different users on a theme. You could make the themes anything you want. If you have some flexing videos in your profile, you could make a Collection called "Flexing Videos" and group those videos into this Collection. This will help users find your content faster rather than sorting through your portfolio to find it.
5.    Post Regularly
The most recently posted items always appear on the home page. So to stay in the front, you would want post new content regularly. This would help with members who have bought your previous items and would like to see newer pictures or videos of you.
6.    Refer a Model to Us
If you refer a model to us and we approve him / her, you will receive 10% of all sales which that model makes during his / her first 4 weeks selling on In-Charge. Imagine if you referred 10 models, who each sold items totaling $1000 in their first month. That would be $1,000 for you for simply getting someone to sign up. No work required beyond that step. To learn more about the referral program visit our website.

With more models and content on In-Charge, that means more money for you as a model. This is because it will increase member traffic resulting in you having a greater chance of having your content purchased.
All of the above were 6 easy suggestions on making the most out of your portfolio and on making the most money on In-Charge. The models who have been most successful so far on In-Charge have done almost all of these suggestions.