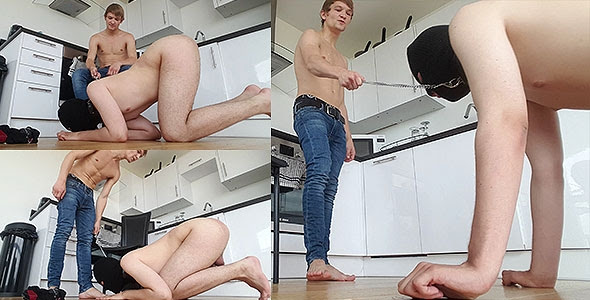 5 New Videos – MasterGary has a new set of videos just uploaded to his In-Charge.net portfolio documenting his latest real time session with a loyal cash fag. In the first, MasterGary collars his fag slave and keeps it on a leash. In this video clip, MasterGary takes command of his cash slave in the kitchen by putting a collar and leash on the slave and then spanking his slave and hitting him all over with his leather belt. The slave is then lucky enough to crawl to MasterGary's feet and kiss his alpha male feet. Continuing this real time session, the slave worship MasterGary's feet. Being a lucky cash bitch, this fag slave gets the privilege of licking his master's barefeet and toes. While barefoot and clad in blue jeans, MasterGary rewards the slave by spitting all over him and dominating the foot fag like he deserves to be treated. The slave buries his face right into MasterGary's alpha feet and shows his appreciation by licking and sniffing his master's superior feet. The third video from this real time session in the kitchen concludes with MasterGary trampling his submissive bitch slave and demonstrating his control. MasterGary tramples his submissive little bitch and continues to make him worship his feet. Getting right in the slave's face, beating him and kicking him, MasterGary shows this cash fag why he's in control. Download all 3 of these clips to watch how MasterGary puts this cash fag in his place.
Changing settings and continuing the real time abuse, MasterGary delivers some toilet humiliation to his fag slave. While keeping the slave on a collar and leash, MasterGary forces his submissive cash drone to lick the toilet seat clean. The pathetic toilet slave follows his superior's orders and just continues to lick the toilet seat clean to please his master. MasterGary then flushes the fag's head multiple times in the toilet. Moving the action to the outside, MasterGary enjoys a smoke while the cash fag worships MasterGary's feet on the balcony. The loyal foot fag just can't get enough of MasterGary's feet and continues to worship his master's feet like he's a God while MasterGary takes a break to enjoy a smoke after using and degrading his cash faggot.
---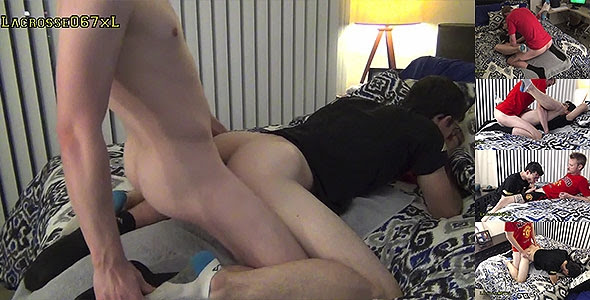 2 New Videos – Lacrosse67 has some new athletic gear and love the way they feel. The cotton and nylon against Owen's cock makes him hard and increases his urge to fuck Calvin. In their latest film called Barcelona BJ, Calvin and Owen start off with some oral before they get into fucking while wearing their sports gear. Owen pounds Calvin's hole so hard that he shoots a massive load at the end all over Calvin's ass. In their 2nd latest video upload, Owen tests out using a cocksleeve for some cocksleeve fucking on Owen's ass. Calvin wears his Fatboy Cocksleeve and steel cockring to pound out Owen's ass while Owen wears a red jockstrap. Owen's hole takes a hard pounding in this 12 minute video clip as Calvin's cocksleeve stretches out Owen's hole.
---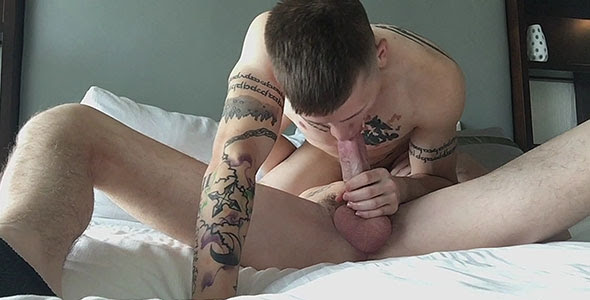 1 New Video – While Dillon Anderson was visiting Vegas, he met a fellow porn performer named Damien who was just as horny as he was at the time. Dillon Anderson sucks his huge dick before he rides his cock. After Dillon Anderson rides him, Damien puts Dillon on his stomach to drive his cock deep into Dillon's hole. Afterward, Damien shoots a huge warm load deep inside Dillon's ass at the end of this nearly 12 minute video clip.
---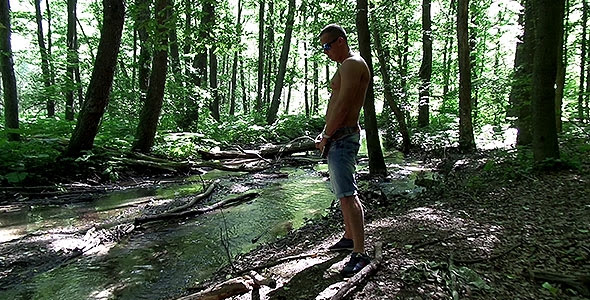 2 New Videos and 1 New Image – New to In-Charge is dominant muscle master ZeusXxX. In his first video on In-Charge, ZeusXxX pisses in public while taking a hike through the woods. This cash dom pulls out his dick and let's out a warm stream of piss for the camera as he pisses all over the ground and into the nearby lake. Imagine receiving this alpha's piss all over you. In his 2nd newest video, ZeusXxX shows of his riskier side while continuing his hike through the woods. ZeusXxX strips naked in public while enjoying some outdoor fun. There's a certain amount of excitement about the fear of being caught while doing sex acts in public which seems to excite ZeusXxX. While he's out in the forest, stripping down, he also enjoys a cigarette as he strokes his cock. If you can't get enough of ZeusXxX then check out what he describes as a hot pic which you can download and save.
---
1 New Video – Taking what is rightfully his, MastaJR has taken thousands of dollars from cash fags and continues to do so. Watch as MastaJR counts his cash and lets it fall to his feet. While wearing skater sneakers, MastaJR lets probably thousands of dollars of fag cash fall to his feet just like you should be doing. A cash slave like you should be falling to your masters feet and laying there just like that pile of cash.
---
1 New Video – While doing a webcam session with a chink fag, MrMasterH makes his cash slave feel like he's being owned in prison. In this verbal beatdown video, MrMasterH verbally abuses his cash fag and lays into him. This slave is glad to be serving such an alpha superior like MrMasterH.