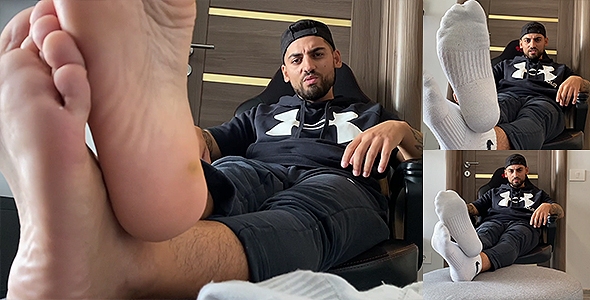 1 New Video – SlavesSeekers demands that you worship his alpha feet. This arrogant fin dom shows off his white socks and huge alpha feet to the camera for you to worship. Wearing all-black velvet Jordans to start, SlavesSeeker soon takes them off to reveal his white sweaty socks and then barefeet. Foot fags will drool over this cash master's feet.
---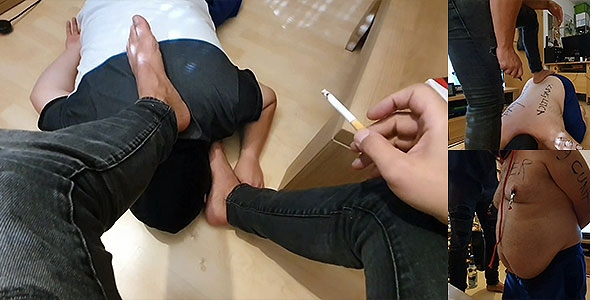 2 New Videos – In this 18 minute video clip, King Luca tortures this fag slave. King Luca clamps metal clamps up to the fag's nipples and writes all over him. Later, King Luca sits on the faggot's face and has it worship his alpha feet. The weak, masked faggot will do anything for his powerful dom that includes getting pissed on and forced to inhale his master's cigarette smoke. In another clip, King Luca has the masked fag lick his feet. The weak masked faggot does anything for his master and licks clean every inch of his master's feet. The foot fag worship's his master's soles, heels, and toes as a thank you for allowing it to serve.
---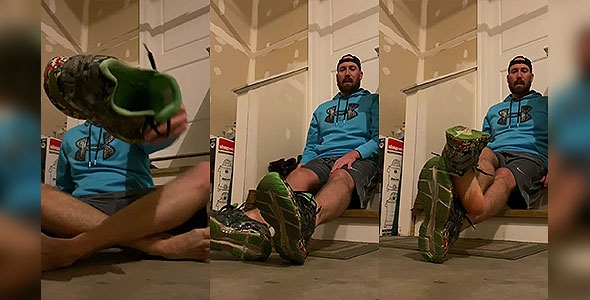 2 New Videos – Nebenny loves going for a long run in some sockless trainers then coming home to slip off his sneakers to air out his feet. Throughout this video clip, Nebenny shows off and airs out his sweaty feet for you to lust over. This straight jock slips off his ASICS and shows you his size 13 feet in their bare, sweaty glory after a 3 mile run. If you crave more of Nebenny's feet then check out the next clip of his giant feet outdoors. Nebenny's feet are always getting sweaty from working or going for a run. In this clip, he decides to relax outside and let his sweaty feet dry in the warm sun. This alpha shows off his giant wrinkled soles and plays with his feet non-stop while lying out in the grass.
---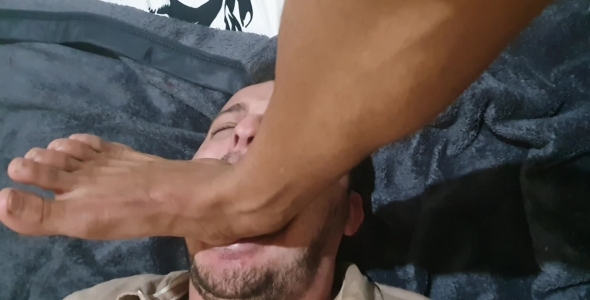 5 New Videos – Ikagura uses his younger cousin as his obedient foot fag throughout this foot worship clip. Ikagura makes the foot fag suck on his heels and lick the soles of his feet. All throughout the clip, Ikagura gets more and more aggressive with how he forces his younger cousin to worship his feet. Later he stomps on the fag's head in the foot worship session. The foot fag loves enduring this abuse because it means he gets to be beneath his master's feet. Ikagura doesn't hold back with stomping on his slave's face and head because it's all for his own amusement.
Later, Ikagura beats up the foot fag even more extremely with face kicks and stomps. The fag is in foot worship heaven from this type of treatment. Even though Ikagura shows no mercy in this foot assault, the foot fag loves it and craves more. In some parts, Ikagura kicks the foot fag's head like it's a soccer ball. Continuing with the abuse, Ikagura wrestles this sub in between the foot worshiping. 23 minutes of headscissors, choke outs, face punches, kicks, gagging, and stomps. The foot fag truly gets assaulted and used all throughout this intense clip. Afterward, Ikagura locks the foot fag in a headscissors choke to assert more dominance. The foot fag tries to handle as much of it as he can as the air escapes his longs while being choked out by master's legs and feet.