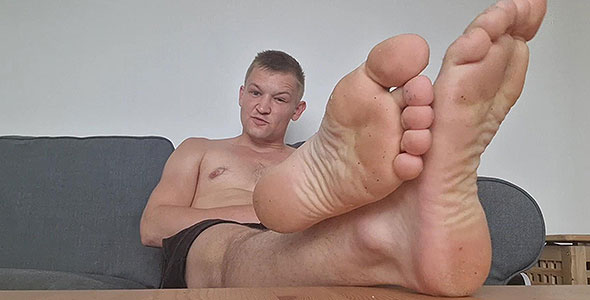 3 New Videos – Straight alpha Master Gary gets you intoxicated on poppers as you stare at his barefoot. Placing his huge alpha male feet to the camera, Master Gary instructs you on how to worship his soles and sniff your poppers. Go mindless and obey this alpha's commands. Afterward, Master Gary gives you some humiliating instructions on how he wants you to transform into a piggy. Dehumanize yourself for your master and become a pay pig. Once you accept what you are, you'll better serve Master Gary. Then as a reward for being a devoted slave, you can worship his ass. Master Gary wears a pair of short gym shorts and instructs you on how he wants you to worship his superior ass. Prepare to be teased throughout this entire video while being verbally degraded.
---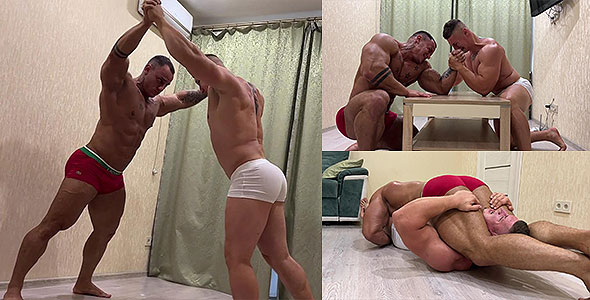 2 New Videos – There have been many requests for a meet up between Big Alpha and The Punisher in a muscle battle. You've got what you wished for, a test of strength between these two muscle doms. This two jacked alphas exchange wrestling holds to see who will be the strongest. Later, Big Alpha uses his strength to to dominate 2 slaves. Big Alpha first starts by squeezing a watermelon until it explodes before then using his strength on the first slave. Eventually he takes on a second slave where he squeezes him in a reverse bear hug until submission.
---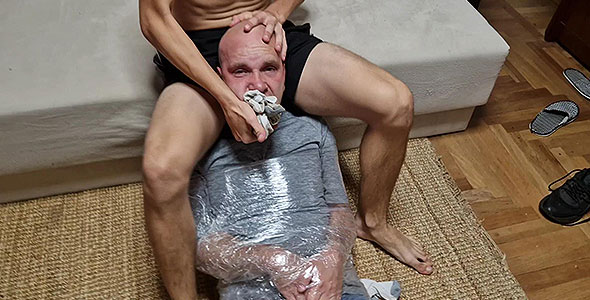 3 New Videos – ElliotScissor's friend Mark loves dominating and in this domination session it's no different as he mummifies his slave in tape. The taped up slave has no where to go as he's beaten and used. When the slave makes too much noise, Mark stuffs a sock in his mouth. Prior to that abuse session, Mark humiliates his slave by making him sniff smelly sneakers. The mummified slave has no where to run to as Mark chokes him and smacks him around. Deep inside the slave doesn't want to go anywhere but to be at his master's feet. Earlier, this same slave was subjected to wrestling and foot domination. The slave gets dominated with various headscissors, bodyscissors, and chokeholds. Afterwards, he has to smell his master's socks and feet after a gym session. The slave's suffering brings his dom pleasure.
---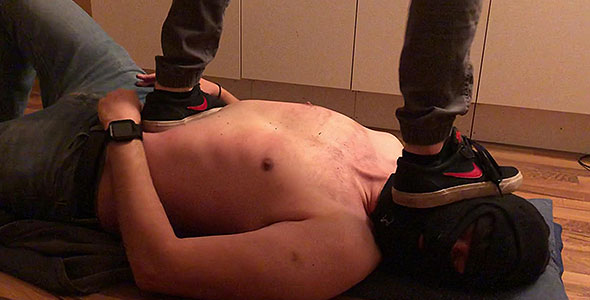 4 New Videos – Master Axel loves domination and loves trampling his slave. Putting the masked, shirtless slave on the floor, Master Axel stomps and walks all over this submissive slave. Master Axel stomps on the slaves bare chest with the soles of his sneakers with no regard for the slave's wishes. Later, the slave is stomped by Master Axel some more. Master Axel wears workbooks and stomps on this slave's bare chest like it's a welcome mat. The slave gasps for air as this dom puts his full force down with each stomp.
In another stomping session, Master Shivy walks all over this slave. Wearing sneakers, Master Shivy uses his entire bodyweight to press down on the slave as he walks on him. The slave's barechest and stomach get redder throughout this rough stomping abuse session. Later, the slave gets stomped some more by soccer cleats. Master Shivy uses soccer cleats to inflict maximum punishment on his slave. Kicking, stomping, and marching on the slave's body just makes the slave cry out for mercy. This dom shows no mercy and no respect for his slave as he treats it like a door mat.
---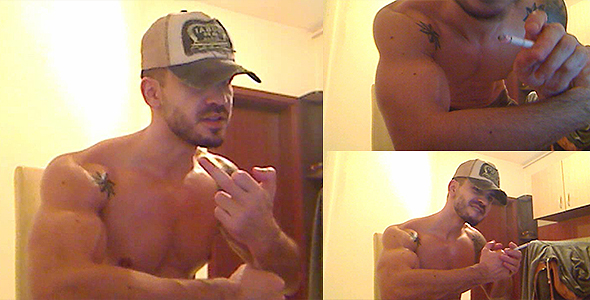 1 New Video – Get those poppers ready for some intense poppers training. King Michael flexes shirtless and orders you to sniff poppers like an obedient popper pig. Open them up and go mindless for your master has he flexes and blows cigarette smoke in your face.