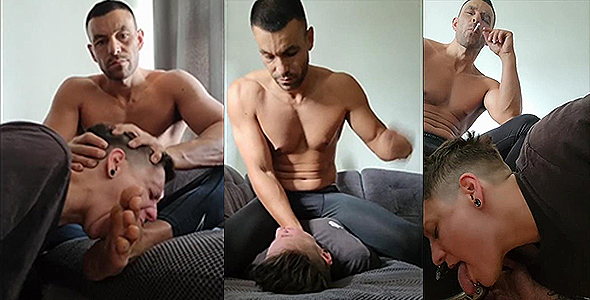 2 New Videos – King Luca is back to abusing a female slave. This alpha dom takes this female sub and teaches her what it means to serve a real man. The inferior bitch is told to lick and worship her master's feet and pits. Whenever King Luca thinks she's not doing a good enough job, she gets slapped or punched around. To degrade her even more, King Luca spits all over her slut face. In a different real time session, King Luca beats up a fat sub. The fat sub slave gets kicked repeatedly and tells King Luca how superior he is after each kick. The sub enjoys all of the pain given to him by his master. As a reward for his suffering, the slave gets to worship and lick King Luca's alpha feet.
---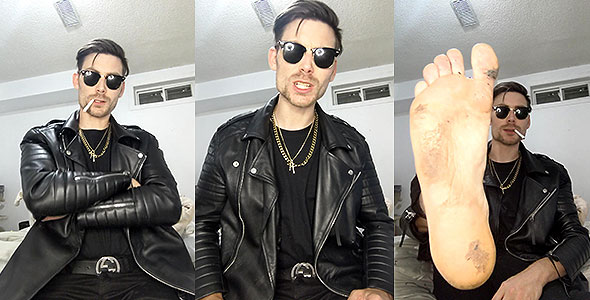 1 New Video – If you don't know already, CashMasterTrey is the true Brutal God. The punisher of nasty pigs, the sadistic sorcerer, the one who can make you risk it all for your sick kinks. Submit totally to this leather dom's words as he degrades you to the extreme and makes you come to the realization that you are nothing more than a nasty pig who craves and deserves nothing but abuse and degradation.
---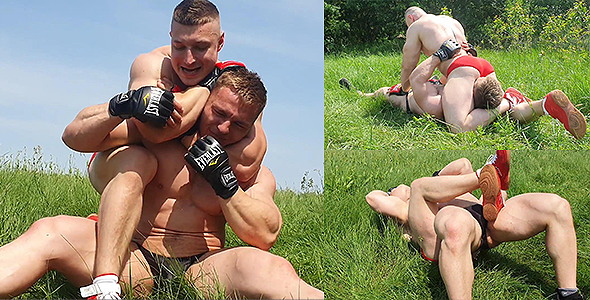 New Video – Big Alpha and muscle jock Romeo have an outdoor bodybuilder battle. Wearing nothing but speedos and fighting gloves, these two bodybuilders battle it out outside in a variety of submission holds and wrestling moves. Check out these two chiseled titans grapple each other for control in this battle.
---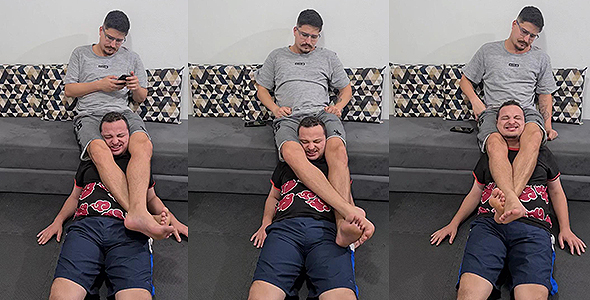 5 New Videos – Master Jeff takes full control of this foot slave when he chokes him out between his legs. The weak slave has no where to go while trapped between Master Jeff's legs. The slave begins to struggle as the chokehold tightens but Master Jeff just ignores him and plays on his phone. To choke his slave some more, Master Jeff locks the slave in a chokehold on the ground. Putting his arms tightly around the slave's neck from behind, the inferior slave does whatever he can to try and breathe. The slave quickly taps out whenever the chokes get beyond intense. In another encounter with Master Jeff, this slave gets choked out some more between Master Jeff's legs. Laying on a bed, the slave places his head between Master Jeff's legs to be locked in. Master Jeff crosses his ankles to lock in the chokehold even further causing the slave to tap out and beg for mercy.
To serve his master some more, the slave meets up with Master Jeff again to worship his feet. Sticking his tongue out with his mouth open, this obedient foot slave licks and sucks every inch of Master Jeff's feet. Master Jeff has some fun by kicking the slave around in between feet lickings. Lastly in this video series update, the slave meets with Master J and gets trampled all over the slave. The weak foot slave serves as a human door mat to Master J's feet. Pinned underneath his superior's feet, the slave endures the stomping and trampling like an object of foot domination.
---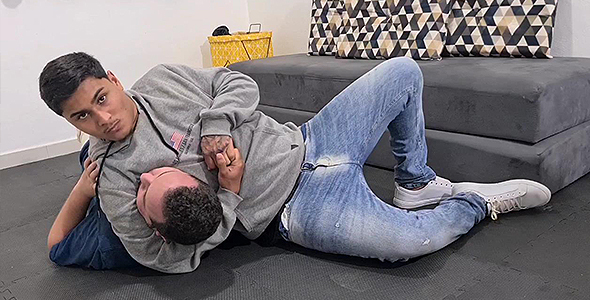 2 New Videos – Master Daniel loves choking out his sub slave. Pinning the slave to the ground, Master Daniel wraps his bicep around the slave's neck and locks in a submission hold. The slave wiggles around trying to break free but is no match for the jock power of Master Daniel. For those looking for some solo action of Master Daniel, then you can worship his muscles and feet in this next video. Flexing for the camera, Master Daniel shows off his biceps and muscular legs. Later, Master Daniel sits down and shows off his socked feet for all of his drooling foot slaves.