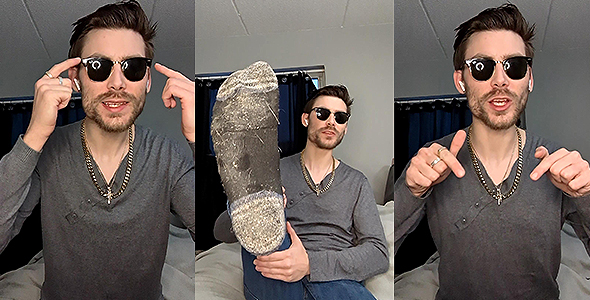 1 New Video – You're back again with the Brutal God because you're a nasty perverted piggy. CashMasterTrey wants you to repeat every word and every line over and over again until these words are burned into what's left of your feeble soul. This Brutal God will make you his perverted loser after you repeat the perverted loser mantra.
---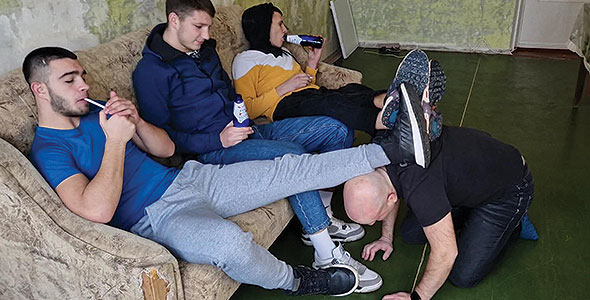 3 New Videos – The life of a slave is only for the service and satisfaction of needs of masters. Master Hunter, Nevil, and Basford begin by laughing at their slave in this real time clip as the slave licks the soles of their feet. From spitting to tasting the bottom's of these alphas' socks, the slave endures some rough treatment from these three doms. Later Master Hunter and Nevil decide to sit their asses on the slave's face. Throughout the video, the slave endures face sitting from the two masters. These doms sit on the slave's face in shorts, boxers, and then finally bare assed. Afterwards, it is Masters Basford and Nevil's turn to trample the slave as they bully him. This pathetic weak slave gets slapped around and spit on as these doms degrade and humiliate him. The slave lays there under their feet while they trample and walk all over him.
---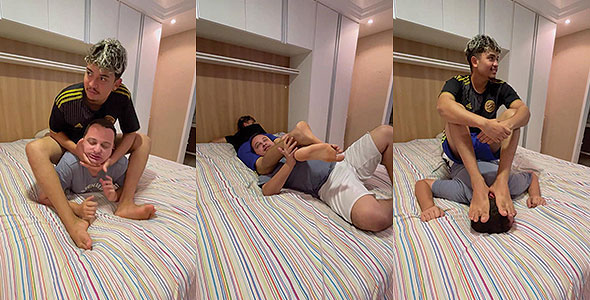 5 New Videos – Master Ch chokes out his slave in their latest meet up. This dom smothers the slave with his alpha male feet as he sits on the slave's chest. Later the dom wants to amuse himself and begins choking his slave. The next day Slave Matt meets up with another dom buddy, Master H, for some choke domination to be reminded of who's in charge. Master H chokes out Slave Matt on the bed and makes him quickly tap out. This slave is at the absolute mercy of his dom as there is no where to escape.
Meeting up with another dom, Slave Matt begins to worship Master J's feet in their latest encounter. Master J sits back on the couch while Slave Matt assumes the position under his feet and licks his soles. Mater J chokes his slave with his feet to make him gag on them. Master J then decides to choke out his slave in their next meet up. Master J gets the slave down on the bed and locks him in a tight headlock to the point the slave is gasping for air. This slave quickly learns that he must submit to all dominant men or be brutalized. Afterwards, Master J engages the slave in a boxing beat down. With their boxing gloves on, Master J and Slave Matt square off against each other. Slave Matt is no match for Master J and is quickly pummeled with punches.
---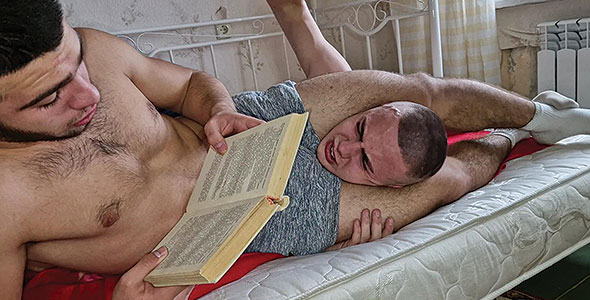 4 New Videos – ElliotScissors and his buddy do some headscissors practice on each other in their room. These two studs practice locking each other's head between their powerful legs to strengthen their submission power. The slave that has to endure these headscissors next is going to regret it. In another clip, ElliotScissors and his buddy Dustin do some at-home wrestling on each other. ElliotScissors and Dustin fight it out on the couch using some intense wrestling holds on each other. Dustin is a professional wrestler and teaches ElliotScissors a couple of new holds.
ElliotScissors gets a new buddy to become his headscissor slave. Headscissor slave Tommy experiences some inescapable headscissors for the first time in his life. Tommy experiences what other slave's feel when they're trapped between ElliotScissors' legs. In his final update this week, ElliotScissors invites over his buddies Dustin and Jim to have their own amateur wrestling match in his home. Dustin and Jim wrestle it out on the couch and fight for dominance against each other. Both of these studs lock a variety of chokeholds on each other to see which one taps out first.
---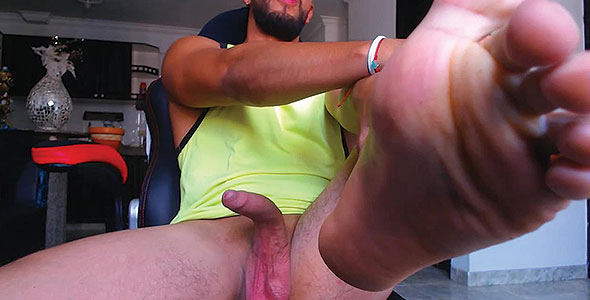 3 New Videos – DavidWar sits back at his desk and puts his feet up in the air for foot faggots to drool over. This alpha dom verbally abuses throughout as he orders you to worship and submit to his big alpha male feet. Later he whips out his big cock and teases you with it as he begins stroking. Things get even kinkier in the next clip as DavidWar covers his face in saliva. Sticking his fingers in his mouth and down his throat, DavidWar spits up thick throat slime that he covers his lips and face with. Changing gears away from the solo action, in his next clip, DavidWar does some facesitting domination on a Tgirl from Colombia. Wearing red boxers, DavidWar smothers the Tgirl with his jock ass before putting his bare ass on her face.