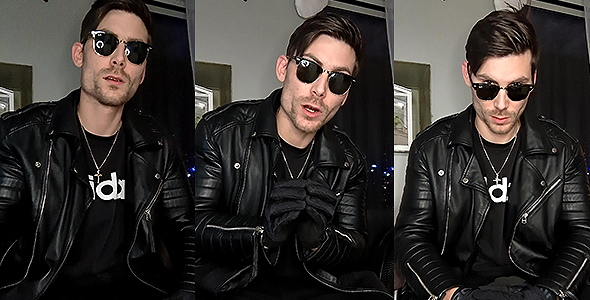 3 New Videos – CashMasterTrey wants you to listen up and accept that you're a nasty pig. This leather clad alpha is going to verbally assault you and bully you into accepting what you are. Listen and accept the reality that is your life as described by CashMasterTrey. After you've endured that session it's time for some more verbal bullying. You're such an addicted weirdo to CashMasterTrey. As an experienced alpha, CashMasterTrey realizes that you are a piggy that can't control itself. As a result, you come to this Brutal God for guidance on how to serve and behave. For being a devoted obedient piggy, CashMasterTrey will let you worship his cock as he jerks off. In a public bathroom, CashMasterTrey felt very horny and began stroking his fat white alpha cock for the camera. After stroking it, this alpha works up a massive load that he shoots and flushes down the toilet.
---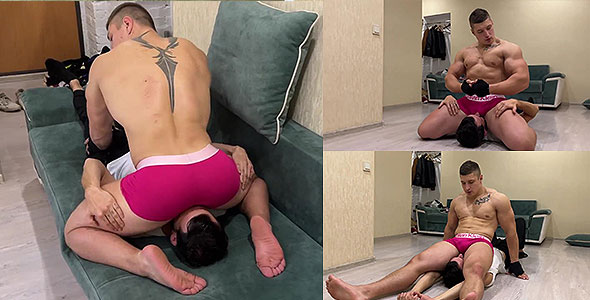 3 New Videos – Big Alpha sits his big muscle ass down on the face of this submissive boy. Totally smother the boy with his big muscle ass, Big Alpha flexes for the camera. This sub is in heaven being pinned under his muscle God's superior ass. Later, Big Alpha feels the need to squeeze his submissive. Locking him between his hugely muscular legs, Big Alpha chokes out this submissive in between his quads. The slave is trapped with no escape from the sheer muscular power of this alpha. In another clip, Big Alpha squeezes a boy in a tight bearhug. This boy stands no chance against Big Alpha's brutal strength. Once the bearhug is locked in tight there is no escape from his total domination.
---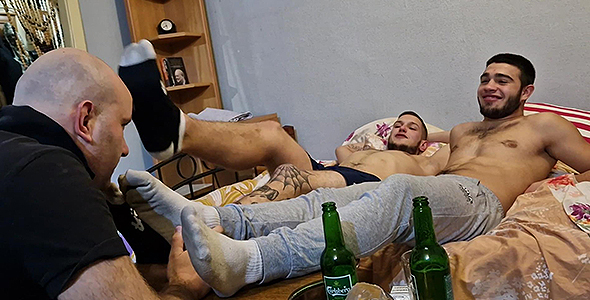 3 New Videos – There is nothing better for a slave to do than worship the feet of 3 dominant alphas. Masters Hunter, Ritchell, and Basford slap around, kick, and ridicule their house slave as he services their feet. The slave endures nonstop foot domination and bullying from these 3 superior alpha masters. Earlier, the slave was tasked by three masters to pour beer for them. Due to the fact that the slave did it too slow, the doms decide to put the slave in his place under their feet. There is triple the amount of dominance, ridicule, and humiliation since this slave is getting used by 3 alphas. At the end, the slave is covered in beer, spit, and snot. The humiliation continues as Masters Hunter and Basford degrade and humiliate the slave some more. These two doms order the slave to lick their sneakers, kneel to be spit on, and sniff their smelly socks. For their amusement, the masters stuff their nasty smelly socks into the slave's mouth to gag on as they laugh.
---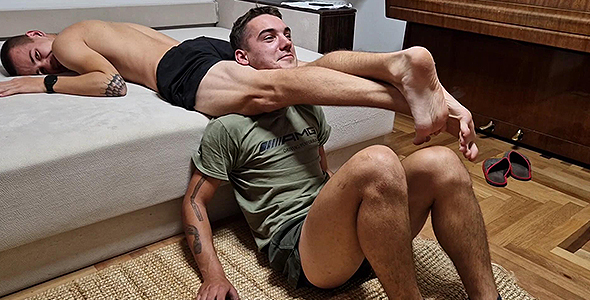 5 New Videos – ElliotScissors practices some headscissors on his buddy, Alex. Elliot always likes practicing holds on his buddies before using them on slaves. His powerful legs squeeze his friend tightly as he endures some punishment. In another clip, Elliot invites over his buddy Hunter for some strip wrestling. These two jocks start off the fight in a shirt and jeans before they test their strenght in choking each other out and ripping each other's clothes off. The shirts and jeans quickly get torn off as they test their strength and submissions on one another. Elliot meets up with Hunter again for some home wrestling in their underwear. This is their second battle together and demonstrate a variety of chokeholds and submissions that they would normally apply to slaves. See how much both of these jocks can endure.
Continuing with the theme of wrestling his friends, Elliot invites over his buddy Mark for some chokehold submission practice. These jocks get down on the floor and begin attempting to make each other submit. Their superior male egos and endurance make them hold off on submitting until the holds get so intense. Having so much fun in the last battle, Mark and Elliot have to have a wrestling rematch. These toned jocks wrestle on the couch in their underwear. You can tell that they are both passionate about wrestling and super experienced in a variety of chokeholds.
---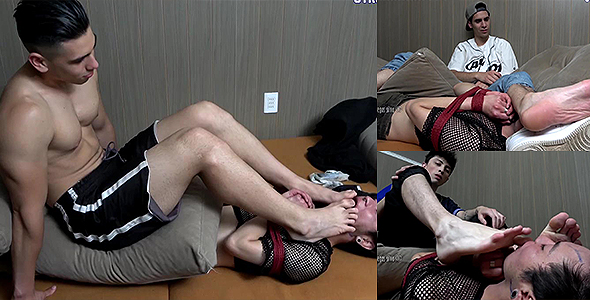 4 New Videos – Master Tommy loves to have his feet worshipped. Getting a slave on the ground, Master Tommy smothers the slave's face with his big superior feet. However, Master Tommy has a surprise for the slave, he invites all of his buddies over to have their feet worshipped too. In another clip, Master Tommy gets so turned on from the foot worship that he gives the sub a foot job. Using his huge barefeet, he strokes the tiny sub's cock for extreme pleasure.
Master Tommy goes into his video vault for a clip of one of his friend's getting his socked feet rubbed. This blonde hunk lays on the bed as a slave rubs and massages his socked feet. The slave then takes off the socks and worships this stud's barefeet. In part 2 of the foot worship, the slave meets up with this blonde stud again for more foot worshipping. Continuing with the same scenario, the slave rubs, sniffs and massages this guy's socked feet.