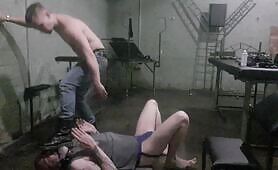 4 New Videos – Getting his slave back in the dungeon, MasterGary delivers some relentless cash master bullying on this slave. In the dirty dungeon, the cash slave is gagged, collared and abused by his dom. MasterGary is in jeans and leather boots when he canes and stomps all over this slave until it is crying. Later, MasterGary forces the slave into some double barrel popper abuse. Getting the slave on the ground and choking him, MasterGary gets the slave to inhale his poppers from both nostrils. The slave is completely mindless and at MasterGary's whim by the end of the intox session. Now it is time for the slave to lick his master's boots. Smoking a cigarette, MasterGary verbally abuses the slave and commands him to lick his superior boots. In between huffing more poppers, the slave licks MasterGary's boots clean like an obedient sub. Lastly, MasterGary gets the slave bound on a table for the final round of abuse. MasterGary straps this cash fag down to a table and uses it as his human ashtray while he smokes. The slave must take MasterGary's smoke and ash as the final form of punishment.
---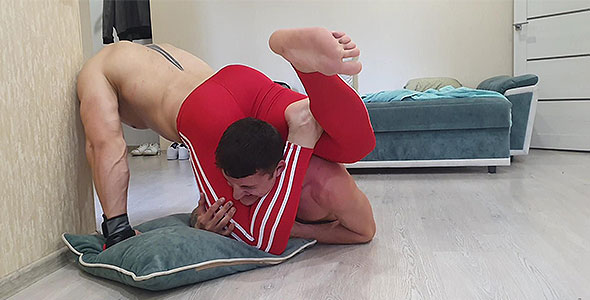 2 New Videos – Big Alpha loves dominating with his muscles and this time is no different. Getting a gym lad back to his place, Big Alpha shows why he's the most dominant man in his gym. This muscle master locks the weak boy in various headlocks with his bulging biceps and leg locks using his thick muscular legs so the beta cannot escape. In another domination video, Big Alpha ties up a slave for some muscle domination. Getting this slave tied up, Big Alpha flexes for the camera then proceeds to choke out the bound slave. This slave has no where to go when Big Alpha squeezes him with his big muscles and chokes him out.
---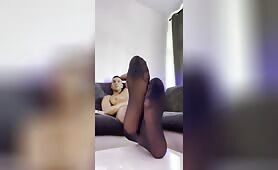 2 New Video – Worship and drool over King Luca's big alpha feet in sheer socks like an obedient foot slave. Putting his feet right up to the camera, you can see through his sheer black dress socks to see the soles of his huge feet. Imagine getting the chance to worship these superior feet in person as King Luca rubs them all over your faggot face. In this next clip, you won't have to imagine for long because King Luca gets his sheer socked feet worshiped by a slave. This foot fag places a pair of sheer dress socks on King Luca's alpha feet then worships them like an obedient foot fag. King Luca gets this foot slave to sniff and worship the scent of his superior socked feet throughout the real time.
---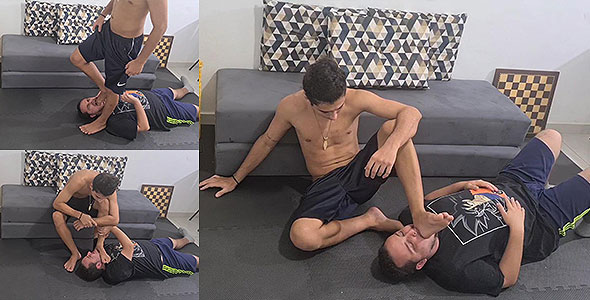 5 New Videos – Ikagura can't get enough of Master G's alpha feet. This dominant foot master pins Ikagura to the ground and makes him gag and choke on his big feet. Ikagura sucks on every inch of his master's feet, taking as much of them in his mouth as he can even if he gags. After the foot worship, Master G decides to choke out his slave between his legs. Trained in Jiu Jitsu, this dom can easily make anyone submit instantly. Ikagura is the perfect victim for Master G to test out his superior skills in the art of choking and beatdowns.
Days later, Ikagura meets up with another one of his superior to get choked and dominated some more. Laying on his bed, Ikagura submits so that this masked dom can wrpa his legs around Ikagura's throat. Once his legs are around the sub's neck, there is no mercy for this slave. Ikagura endures a second round of choke domination from this dom in another real time. The masked dom locks his legs even tighter around Ikagura's neck to establish more dominance. Even though Ikagura is getting choked out and gasping for air, he loves being an object for his doms' amusement every time he gets used. Later, Ikagura serves as a human punching bag for this same masked dom. Master J, the masked dom, lays into Ikagura with flying fists as he pummels him with his boxing gloves. Ikagura seems like a bullied kid in highschool as he cowers and balls up for his bully to punch him even more.
---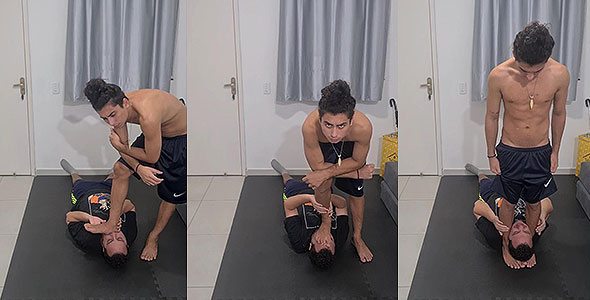 2 New Videos – Ikagura knows his rightful place is beneath his master, so that's why he immediately gets on the ground under Master G's feet. This brutal alpha pins Ikagura to the ground and stomps all over him, pushing his head further into the groudn with his big feet. Ikagura is kicked, stomped and dominated under the powerful feet of Master G and is shown no respect. Master G loves making Ikagura submit by choking the slave out. Sitting up on the sofa, Master G gets Ikagura underneath him on the floor as he begins to wrap his legs around the slave's neck. Wrapping them tight around the slave, Ikagura begins to struggle and writhe around for mercy but Master G offers none of that while using his slave.