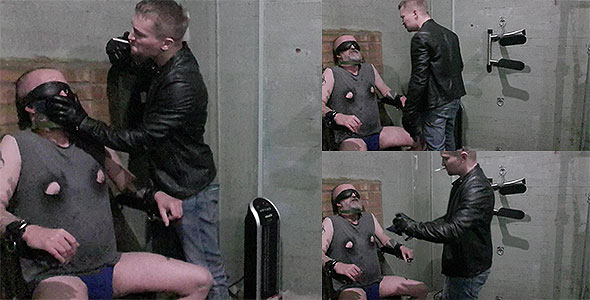 4 New Videos – MasterGary takes this slave deep into a dirty dungeon for some extreme intox abuse. This wild slave worships Master Gary's alpha body as this dom torments the slave for being such a weak faggot. To intox it better, Master Gary wraps a plastic bag around the slave's head. After the slave's mind is number, Master Gary binds the slave to a chair. This bound slave is trapped in bondage and used as a spitoon for Master Gary. The verbal leather master spits all over the slave and verbally destroys it. To assault the slave more, Master Gary blows smoke int he slave's face.
This extreme verbal abuse continues as Master Gary delivers relentless bullying on this slave. The abuse keeps coming as Master Gary gets right up in the slave's face and unleashes a verbal assault right in the slave's ear. This slave is shown no mercy and zero respect. In the final clip of this dungeon torment scene, Master Gary doesn't hold back. Master Gary bullies this slave even more and uses the plastic bag to intox this pathetic cash slave for another round. All slaves will be envious of this tormented slave by the end of this dungeon video series.
---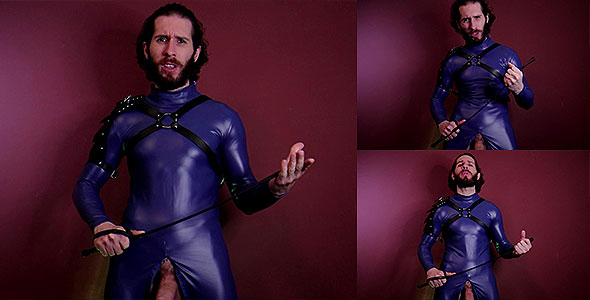 2 New Videos – You already knew the punishment for begging to be let out of chastity early, but you still begged for it. Master Alex sees this as an offense punishable by several riding crop lashes across your body. Now it's time to face the consequences for your bitch whining. Take a deep breath, because Master Alex will show no remorse. After you've been beaten by this dom, you can then serve as his urinal. Master Alex sees horny bitches like you as being only good for one thing and that is to consume his golden alpha piss. Underneath his big juice bubble ass, wait with your mouth open for that long warm stream. Keep your tongue out like a good whore until this dom is done emptying his bladder into your mouth.
---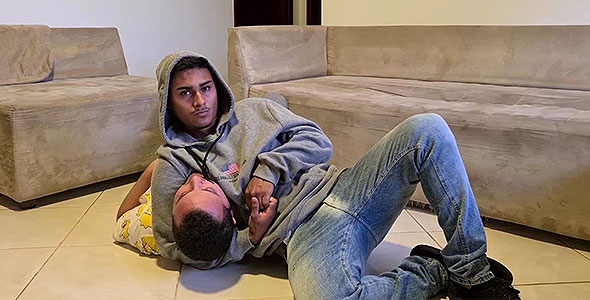 3 New Video – Jock dom DanielSlin dominates his weak slave with some intense chokeholds. Pinning this slave to the ground, DanielSlin wraps his arm around the slave's neck and begins to squeeze. This weak slave writhes around for mercy but DanielSlin is in a dominating mood and offers no remorse for the crying slave. The headlock abuse continues when DanielSlin returns for more chokeholds. The slave assumes his natural position and submits itself to DanielSlin. This jock alpha locks the slave in a headscissors and laughs as the slave cries for release. After all of the bicep choking, DanielSlin decides to squeeze the slave between his thighs. On a bed, DanielSlin orders the slave to place his head between his dominant legs. The soccer player dom then wraps his legs tightly around the slave's neck and begins choking him out. DanielSlin is amused by the slave's struggles and gasps for air as he locks the hold on tighter.
---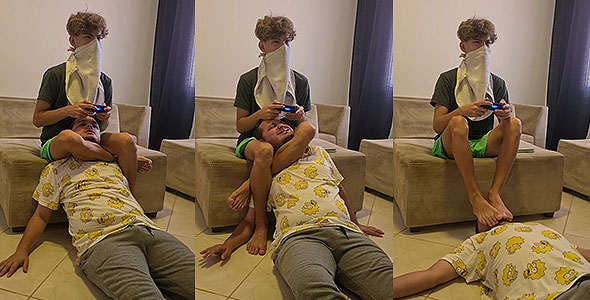 5 New Videos – Ikagura invites over one of his regular doms to choke and abuse him. This dom gladly agrees to choke out his slave while he chills back and plays some video games. Ikagura gets on the ground in front of his master, preparing to get choked out while being ignored. After the session, Ikagura gets beat up and choked out by his master. The lean dom master pins Ikagura down on the ground and locks his arms around the slave's throat. Ikagura has no where to escape to as he's pinned to the ground and choked out by his superior. After the beatdown, Ikagura is rewarded by getting the chance to worship his master's feet. With his tongue out, Ikagura licks and cleans his master's bare soles. The dom even goes further and gags Ikagura with his big feet. The foot gagging continues when the dom stomps on Ikagura and turns him into a human foot rest. Walking all over this slave, the dom orders Ikagura to open his mouth so he can gag him with his big feet. Ikagura takes as much of this dom's foot in his mouth as he can even if it gags him. Afterwards, Ikagura is kicked around by his master during a foot rub session. The obedient foot slave is commanded to rub his master's feet on the bed. When the dom thinks Ikagura isn't doing a good enough job, he smashes his feet right into the slave's face and makes his sniff and lick t hem.
---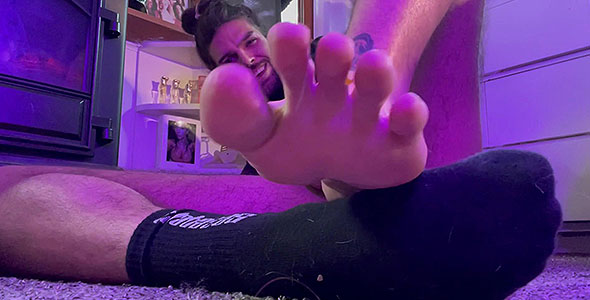 4 New Videos – AidenPrettii is already well aware of how obsessed you are with his superior feet when he sees how much you drool over his perfect smooth soles. This findom's feet have taken command of your life. Luckily for you, AidenPretti is allowing you to worship his feet and freshly shaved balls at the same time as a reward for your obsession. After you're done serving his feet, AidenPretti wants to humiliate your small cock. AidenPrettii verbally humiliates you and degrades you for having a small penis. The visuals he provides during the video will further send home the message of how little your dick is compared to a real man's dick. Prepare to be humiliated and verbally abused.
Slaves buy AidenPretti things all the time and this time a slave bought him a dildo for a self fuck video. This bratty findom loves teasing you as you watch him get off knowing it was slaves like you who bought him these sex toys. As a cash slave, you are required to tribute this dom every time you get off to his videos including this one. In part two, AidenPretti gets more raw with no filters and even hotter angles as he rides a big dildo. Submit your wallet to this cash master as he gets off to the thought of you going broke. AidenPretti will remind you throughout this clip that the money in your wallet is rightfully his and to never forget that.