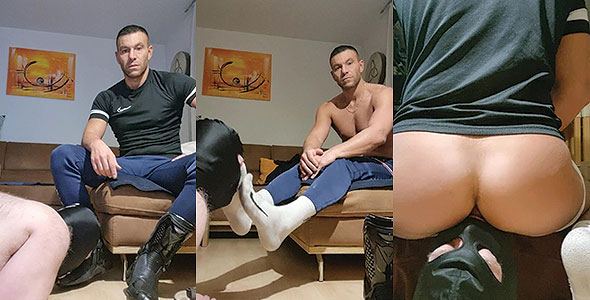 1 New Video – This obedient masked fag serves at King Luca's boots. He licks the bottoms of them clean and then proceeds to sniff this dom's sweaty smelling socks. After he proves his obedience at King Luca's feet, he is rewarded by being allowed to worship and rim his master's ass.
---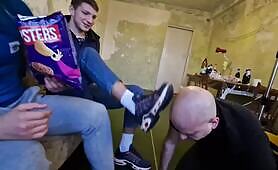 4 New Videos – Mastes Nevil and Hunter get this house slave to lick their sneakers as they laugh and degrade him. The slave gets slapped around and spit on by his masters. Afterwards the slave eats chips that the doms trampled under their sneakers or that they've chewed up and spit out. In another foot worship session, this slave gets on his knees and services the feet of 3 masters at once. These doms laugh and ridicule their foot slave. The slave shows his obedience by licking and sucking the soles of all of these men.
Later, Masters Hunter, Nevil, and Ritchell order their slave to wash their feet. These doms degrade the slave in the process by spitting on him and blowing snots on him. The foot slave washes and massages his masters' feet as ordered to while they mock him. In another encounter, Masters Basford and Ritchell abuse their slave when they see the slave disobeying. These doms make the slave worship their feet, socks, and sneakers. More ridicule for this slave as they spit on him and smack him around before making him drink a special cocktail they make at the end.
---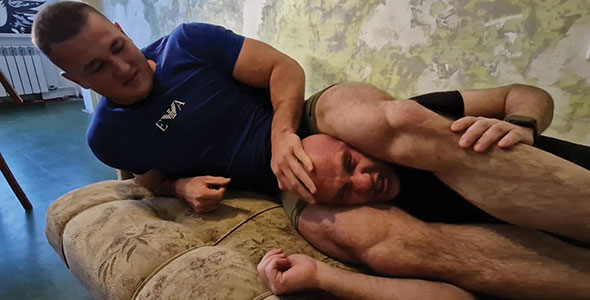 4 New Videos – Master Timur chokes out his slave to release some anger. This muscular dom gets his slave between his powerful thighs before crushing the slave's head and choking him. The unfortunate slave begs for mercy as Master Timu just laughs at him. In another abuse session, Elliot Scissors makes his slave submit. The slave's will is tested as Elliot Scissors locks this slave in a variety of chokeholds and headscissors. This slave has no where to run and quickly taps out as he cries.
Elliot Scissors wants to practice some wrestling holds as he has a submission fight with his buddy Master Hunter. These two studs work a variety of submission holds on each other and test their strength to see which dom is the stronger one. Check out how much these two studs can handle from the powerful submission holds. After their first fight, they come back for round 2 to see who is stronger. Master Hunter and Elliot Scissors don't hold back and try their hardest to make the other one tap out. See which of the two is the stronger one in their second battle.
---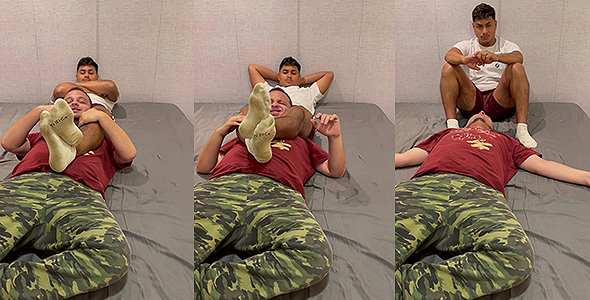 2 New Videos – Slave Matt is choked out by Master Daniel in their latest real time. Master Daniel locks his legs around the slave's head and begins to choke him out. The slave taps out quickly but that doesn't stop Master Daniel. In another real time session, Master Daniel locks his slave in a brutal sleeperhold to assert his dominance. This alpha wraps his strong arms around the slave's neck and doesn't let go. Instead he just laughs as the slave struggles.
---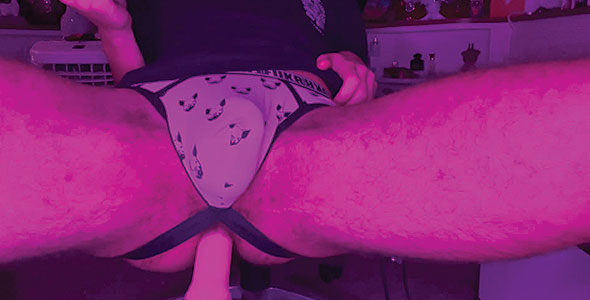 4 New Videos – AidenPretti has a new fuck machine. This findom pays you no attention as the machine pounds his hole. Stroke in embarassment as you get ignored by this findom getting his hole pounded. AidenPrettii has another ass worship video for you to goon to. Wearing a black thong, AidenPrettii shows off his ass while demanding that you go broke for him. Prepare to lose all your money as his command.
The ass worship continues but this time AidenPrettii gives you a cum countdown. Follow this findom's orders as you goon and bate to his ass. Hopefully you can cum on command or he won't permit you to cum again. Later, AidenPretti has a surprise for you with a candy cane dildo. AidenPrettii uses his sex toys in this clip to make you into a horny butt slut.