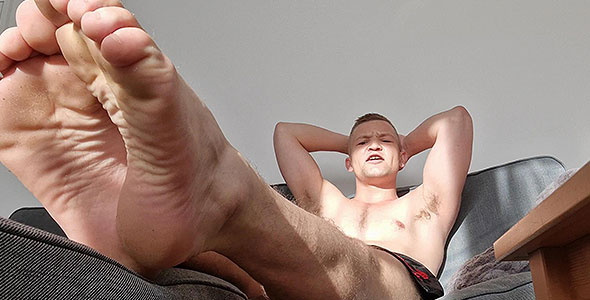 3 New Videos – Submit and kiss your master's feet when you bow before Master Gary. This verbal alpha lets loose and lays into you with intense verbal abuse about how he wants you to wear rubber and abuse yourself for him. Get your poppers out and obey Master Gary's every command. Afterwards you can humiliate yourself some more and be Master Gary's personal fart sniffer. This scally bully orders you to worship his ass and sniff his farts as he verbally berates you some more. Pay up and worship every inch of this superior dom. Master Gary even commands you to do just that in the next video as you're ordered to pay your leather master. Master Gary wears a leather jacket and leather gloves as he humiliates you for having a small dick with some SPH verbal. Stroke your tiny dick and go into debt for Master Gary.
---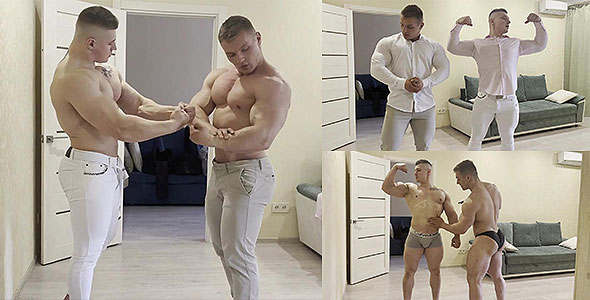 2 New Videos – Watch two muscular alphas worship each other. These two massive behemoths strip down after a night of clubbing and admire, flex, oil up, and rub down each other's muscles. Muscle worshipers will be drooling by the end of this 12 minute clip. Shifting to muscle abuse, in the next clip Big Alpha uses his muscles to dominate a weak boy. Big Alpha shows off some tight holds in this video on his beta submissive. There's even a bear hug thrown into the mix as this slave totally submits to his muscle master.
---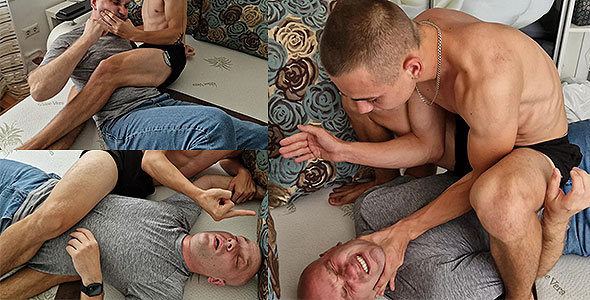 3 New Videos – ElliotScissors locks his pathetic slave in an inescapable bodyscissors during their latest brutal real time. The slave squealed like a pig and cried for mercy. After the video, the slave complained for 3 days about the pain he still suffered from this meet up. Practicing for his next real time, ElliotScissors tests some headscissor holds on his friend. ElliotScissors shows off the full power of his legs performing super tight headscissors. Imagine how much the slave will suffer if this is how his buddy endures these headscissors. The wrestling domination continues on ElliotScissors friend with some more headscissor holds. His buddy Alex lets him show off all of the brutal headscissor holds ElliotScissors intends to inflict on the next victim.
---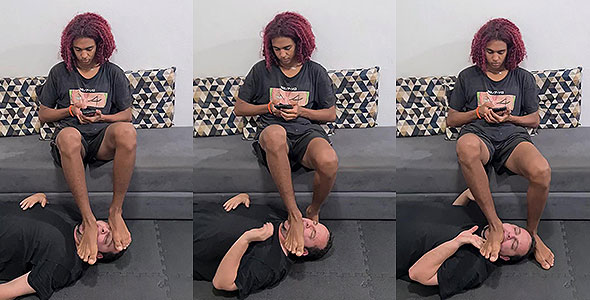 5 New Videos – Master Pedro comes over to dominate his foot slave. The obedient foot slave lays on his back on the floor under his master's feet. Master Pedro then covers the entire slave's face with his big alpha male feet. Later Master Pedro takes the slave to another room and sits on him to gag the slave with his feet. Master Pedro rams as much of his foot as he can into the slave's mouth making him gag and choke on his dom's feet. The slave is grateful to be of service to Master Pedro. In another clip with a different dom, Ikagura services his master's feet. Assuming the natural position on the ground beneath his master's feet, Ikagura sniffs, licks, and worships his master's feet. The foot slave gets kicked around and stomped on in return for his foot service.
Days later, Master J gives Ikagura a visit for some choke out domination. This alpha enjoys choking submissive slaves like Ikagura. Wrapping his leg around the slave's neck, Master J locks Ikagura in a tight chokehold to watch him suffer. The slave beatdown continues when Master J takes out all his frustrations on the slave. Master J stomps on, kicks, and beats up his slave for his own amusement and to release some anger on this weak slave.
---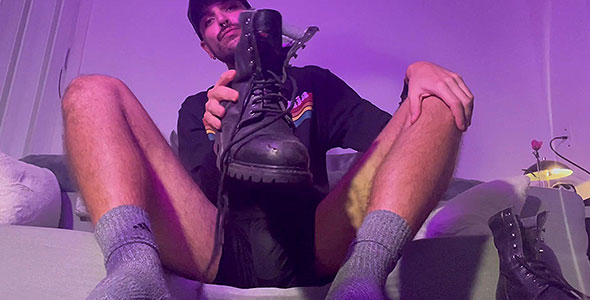 3 New Videos – Every time there is a holiday, Master Aiden sees it as an opportunity to ruin you financially. This hot POV will guide you through some brief boot worship and ends with some ball busting. Master Aiden can't wait to destroy your balls and your wallet. In a different video, Master Aiden will read off all of your slave debts that you owe him from going on a date with him for the holiday. This findom will ensure he gets every last penny of yours. Pay up and bown down like an obedient cash cunt for master. Following the cash mastery, Master Aiden will let you worship his ass while giving you some CBT instructions. Wearing pink spandex Master Aiden will call you a pathetic butt bitch as he tells you to worship and to hurt your balls for his amusement. MasterAiden's ass will make you do anything.