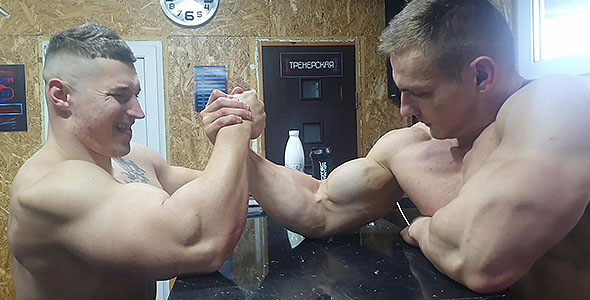 3 New Videos – The big Russian Alpha runs into his old friend, King Romeo, at the gym and they decide to have a battle of strength between each other to see who is the more dominant alpha. A lof of flexing from these two muscle dudes throughout as they arm wrestle each other for dominance. It's hard to even tell these two muscle Gods apart from each other because they are so evenly built making it a tough match of strength. The test of strength escalates into a part 2 where the two doms exchange headlocks to see who is more stronger in the category of chokeholds. Master Dennis and King Romeo battle it out again in a friendly competition of alpha vs alpha. The test of strength series concludes with a third part as they use their muscular alpha legs to lock on a tight headscissors on one another. The grueling headscissors exchange between these two massive beasts shows their ultimate crushing power. Imagine if you were the one being crushed between these dominant quads.
---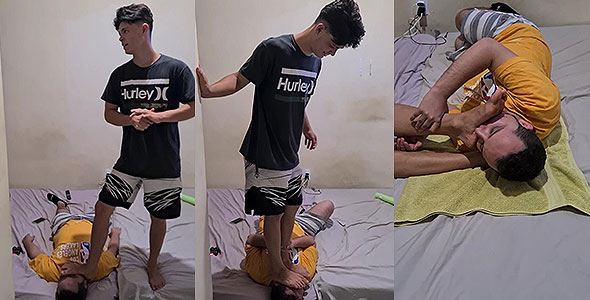 4 New Videos – Ikagura gets trampled and kicked by his dom in his latest foot worship video. Getting pinned down to the ground, the obedient foot slave gets smothered by his master's alpha barefeet. This cocky jock shows complete arrogance by ignoring Ikagura's cries when he kicks him around and stomps all over him. Later on, this alpha chokes out his slave to show how superior he is to him. Ikagura gets pinned down on the ground and squeezed between this lean jock's legs. Ikagura's face is planted right up against this alpha's ass as the alpha locks his legs around Ikagura's throat.
For an intense beat down session, this same dom from above uses Ikagura as his human punching bag. Ikagura isn't ready for this cocky dom to pummel him with blow after blow of his boxing gloves. You can tell the alpha enjoys letting off some steam by pummeling Ikagura in the face and to the torso. Following the beat down, Ikagura gags on his master's feet. Laying down next to his master's feet, Ikagura willingly opens his mouth and gags on his dom's barefeet. This alpha jams his foot as far as he can in Ikagura's mouth to make him gag and show his devotion toward worhsipping alpha feet.
---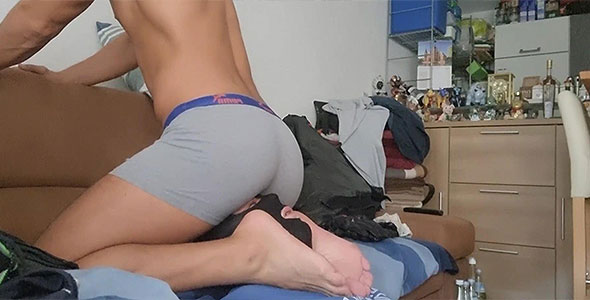 2 New Videos – This pathetic masked slave worships King Luca's ass and feet to show his devotion. King Luca get sthe slave on the ground and sits on the slave's face as the slave licks and worships his master's bare asshole. Afterwards, the weak submissive gets the chance to worship King Luca's huge feet. For those still hungry for more of King Luca, check him out wearing leather gear and stroking his big alpha dick. King Luca wears his leather biking jacket and leather pants for weak leather subs like you. Later, he strokes his big uncut alpha dick until he erupts a massive load of cum.
---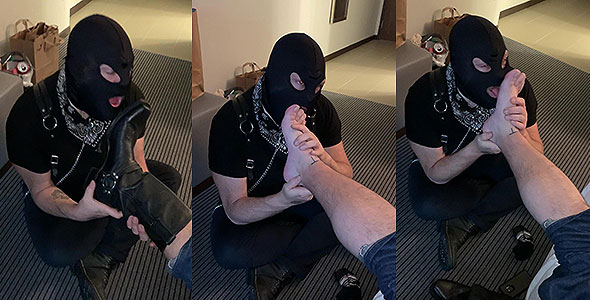 1 New Video – Learn how to be a properly trained foot slave in this crash course on how to lick an alpha's feet. SuperiorWicked went to visit a few west coast pigs and had to train this one particular foot fag on how to properly remove his socks and worship his feet. Watch the real time session unfold as this leather alpha gets his feet serviced by a mindless foot slave who obeys every order of his master.
---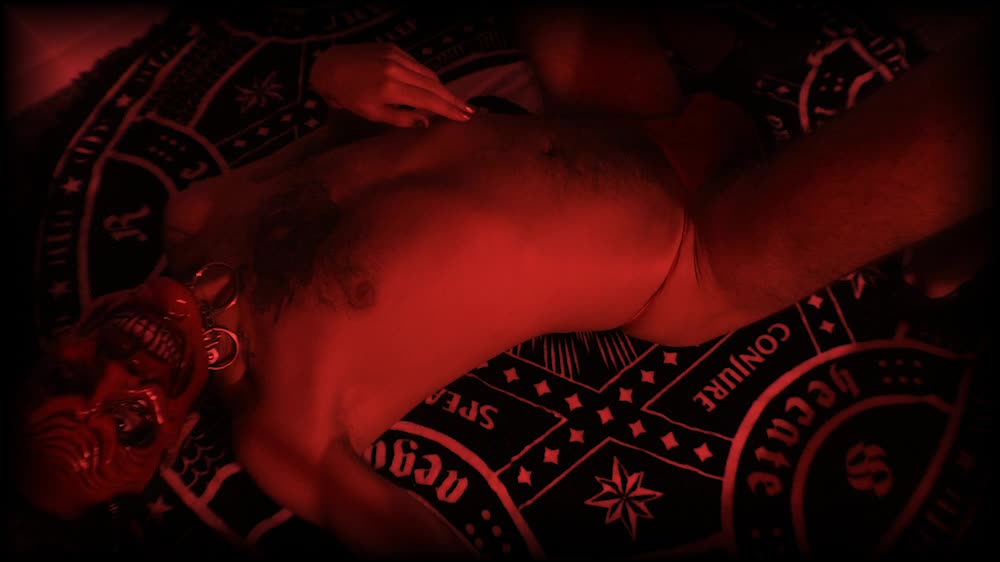 3 New Videos – Worship every inch of this sexy satanic body in this devilish worship ritual. Master Aiden makes you weaker for him as you submit to a Devil's Night body worship ritual. Wearing a devil mask, Master Aiden will quickly hypnotize you into being his minion and obeying his every command. If you need more of alphas in masks, then check out the next clip as Master Aiden does a sexy take on findom, JOI and the Scream movies. In this sceneario, you'll be greeted with a phone call and on the other end is Master Aiden aka Ghost Face. This dom will provide you with your jerk off instructions and how you must feed on your dom's perfect ass and how to swallow his cock. Goon your way to a very precise countdown done by this master. You'll be allowed to nut at the end if you can last that long and make sure to SCREAM at the end when you bust. The worshipping continues after that because like every findom, Master Aiden loves wishlist gifts. In this video, you'll have the privilege of watching this dom try on a small jockstrap haul purchased by his loyal followers. Master Aiden demands that you watch and worship every inch of his lean body while on your knees.