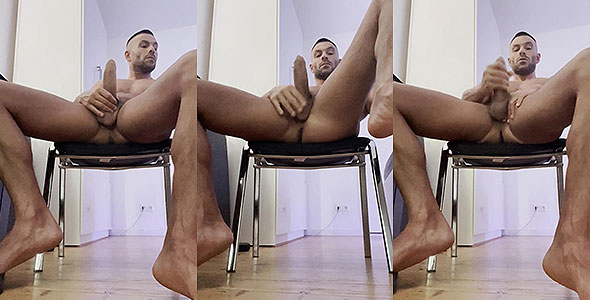 1 New Video – Get on your hands and knees and look up at King Luca's massive cock as he strokes it for the camera. Using spit for lube, this dom keeps jacking it until he bursts a massive load of cum. Slaves like you probably wish you could have the chance to worship this alpha cock.
---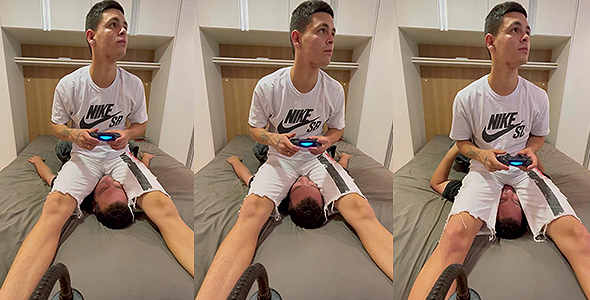 5 New Videos – Master Pedro visits his slave for a facesitting session. Slave Matt lays down on his back while Master Pedro sits on his face to play some video games. This dom completely ignores his slave and just smothers the slave's face with his ass. Afterwards, Master Pedro feels like choking out his slave. The slave gets locked between his master's legs in a tight headlock where he cannot escape. The slave begs for mercy from Master Pedro but there is none to give. The wrestling domination continues as this dom traps his slave in another series of submission holds. The slave quickly submits and cannot do anything but tap out from the excruciating pain.
In another real time session, Master Ch chokes out his slave. Slave Matt gets locked in a side headlock choke from Master Ch. This alpha just laughs as Slave Matt begs for air. Once he's done choking the slave, Master Ch makes his slave worship his feet. Pinned down on the ground, looking up at Master Ch, Slave Matt has his dom's feet rubbed all over his face for him to lick and sniff. The slave knows this is his rightful place under Master Ch's foot.
---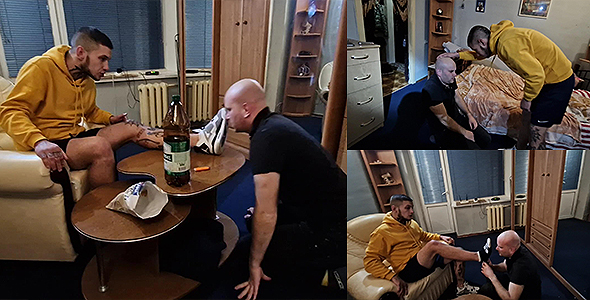 2 New Videos – Returning home, Master Ritchel wasn't greeted by his slave and what results is the ultimate slave punishment. Master Ritchell slaps and spits on his slave, commands the slave to worship his sneakers and socks, then ridicules and bullies this slave. Next time the slave will know better and follow the rules of his master. In another session with Master Ritchell along with Masters Hunter and Basford, the slave is mummified and degraded. Wrapping the slave with cling wrap and adhesive tape, these doms do everything to this slave that comes to their minds to humiliate him. The slave gets socks in his mouth, sniffs sneakers, slapped, and feet rubbed all over his face. Totally immobilized, the slave is at the whim of his masters.
---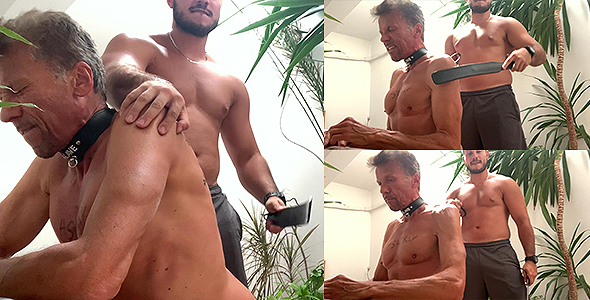 4 New Videos – Master Bryce gives his fag a lesson. Putting the slave in a collar, Master Bryce paddles his slave and gets him poppered up. The slave endures all of the paddling abuse his master dishes out to him obediently. Still in his collar, Master Bryce chokes out his slave. The obedient weak slave is choked and put in his place by his master. Master Bryce is totally amused by this slave's absolute submission to his power.
Things take a degrading turn when Master Bryce orders his slave to eat out of a dog bowl. This slave realizes he is less than human and gets on all fours like an animal to eat food from his dog bowl. Totally dehumanized the slave understands that he is the property of Master Bryce. Afterwards, Master Bryce orders the slave into the shower for some piss drinking. The slave sits down in the shower with his mouth open for Master Bryce to piss in his opened mouth. Guzzling down his master's warm stream of piss, this slave shows his complete devotion to his dom.
---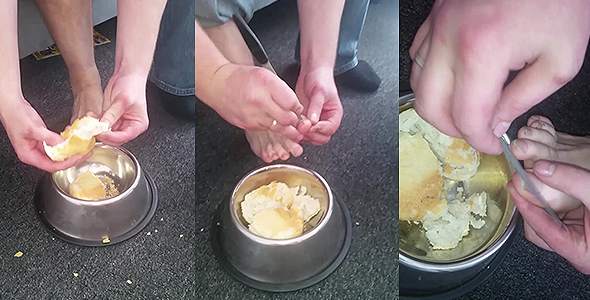 1 New Video – In another gross out video, Master Berlin gives his slave a fag breakfast. In a dog bowl, Master Berlin mashes together some food with his feet, adds in some toenails and spit then commands this fag slave to eat it. The mindless and twisted fag slave obeys every order he is given by Master Berlin.