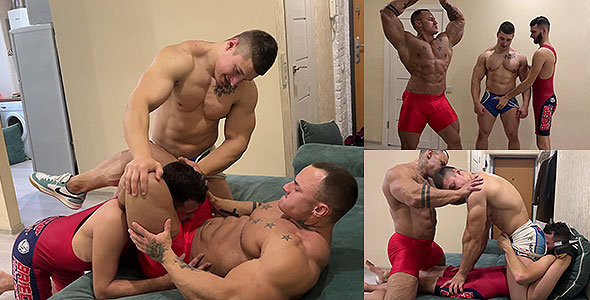 3 New Videos – The Punisher and Big Alpha get worshipped in this duo muscle worship session by their fag slave Gio. Admiring and rubbing the muscles of these two bodybuilders, Gio feels like he's in heaven. The two muscle doms squeeze him, flex in front of him, and totallyy dominate him. In another session with The Punisher, he uses his strength to dominate his friend Nicky. Nicky is pinned to the ground as The Punisher squeezes and chokes him from behind. Wearing a tight black compression shirt and blue jeans, The Punisher inflicts maximum punishment when dominating Nicky. However, Nicky can't get enough and keeps coming back for more muscle domination. This time the Punisher is wearing super tight white ripped jeans as he chokes out Nicky. Lots of muscle and wrestling domination awaits Nicky in this second real time session.
---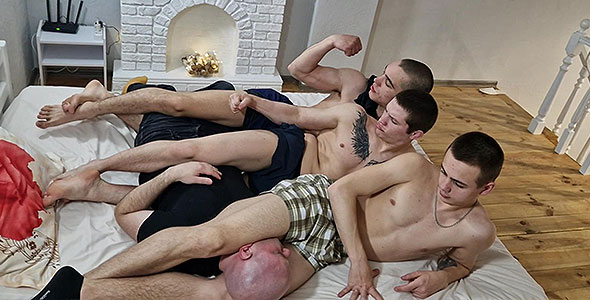 4 New Videos – This trio of jock bullies love squeezing and dominating their slave. This weak slave endures an agaonizing 20 minutes of torture which is 20 minutes of fun for these jock doms. Elliot Scissors, Jim, and Alex make this slave struggle as they lock him in an intense bodyscissors while laughing at him. In a different domination session, Jim gets plenty of practice doominating slaves when he chokes out this victim. Jim is a totally bully and loves squeezing slaves and even his friends between his powerful legs. Jim locks his legs around his buddy throat and clenches them tightly so there is no way out until Jim lets go.
Elliot Scissors gets a go at some friendly headscissors domination against Jim. These two jock studs practice locking each other in submission holds so they can perfect their technique they use on slaves. These jocks start with some tight bodyscissors around the ribs and torso before moving onto the neck. Buddies Ethan and Demir have their own wrestling match up against each other. Demir is bigger than Ethan but despite the size difference, he held a competitive match. This cool fight pits Ethan's strength up against Demir's technique and experience.
---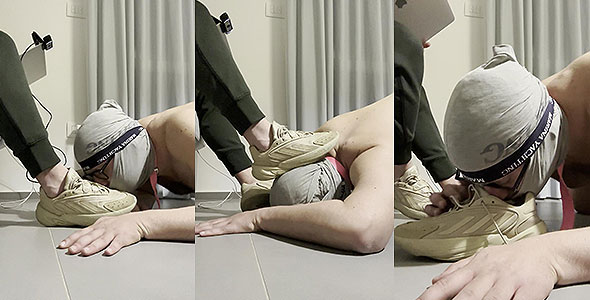 1 New Video – SlavesSeeker loves making slaves worship his feet and sneakers. In this 10 minute long real time clip, this masked sub gets down on the ground and worships at SlavesSeeker's feet. The sub is in absolute bliss as he worships SlavesSeeker's sneakers, well worn socks, and alpha scented barefeet.
---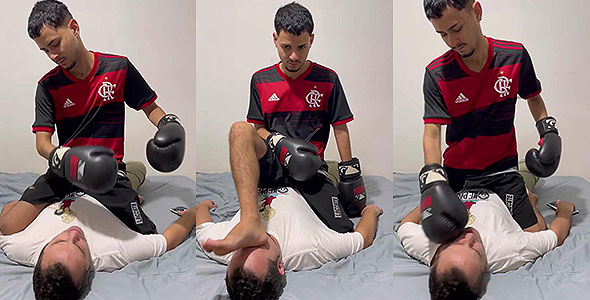 5 New Videos – Master K uses Slave Matt as his own human punching bag. Slave Matt is pinned to the ground as Master K straddles on top of him and pummels him with boxing gloves. Slave Matt has no where to go and no choice but to take this beating from his dom. Once the boxing gloves come off, Master K then proceeds to choke out his slave. Wrapping his leg tightly around Slave Matt's throat, Master K asserts his dominance and control over the slave. The slave learns very quickly who is the boss.
The abuse from 1 dom isn't enough as Slave Matt then submits to Master Hyago for a deep headscissors. Master Hyago locks on a tight headscissors onto Slave Matt as the slave is pinned between this dom's legs. Slave Matt gets a face full of his master's crotch as he struggles to break free. Master Hyago then flips the slave around so the slave is facing his ass for even more powerful domination. The slave struggles and whimpers but Master Hyago at some points just completely ignores the slave like he's not even there. The slave is immobilized with no escape between this dom's legs. The punishment continues as Master Hyago has even more abuse for Slave Matt. This slave endures even more abusive headscissors chokeholds from his master. Slave Matt whimpers and tries to wiggle free but Master Hyago never lets up until he's fully done using this slave.
---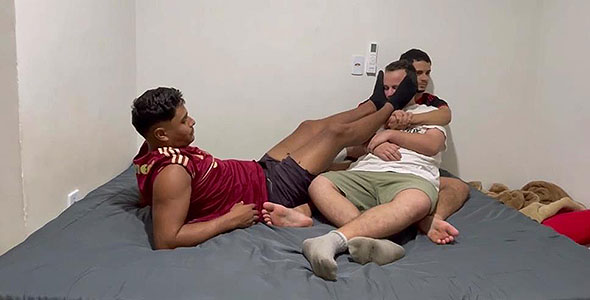 5 New Videos – There is double domination for Slave Matt when he's dominated by Master Daniel and his buddy Master K. These two doms alternate between choking the slave and making him worship their feet. If Master K chokes the slave, Master Daniel is forcing his feet into the slave's face to smell his sweaty socks. Then it's time for some solo domination as Master Daniel gets the slave's face in his crotch for some tight headscissors abuse. The slave is locked between Master Daniel's muscular thighs and has his face buried deep in this dom's alpha crotch. Master Daniel just looks down at the slave with pity as he begs for mercy. In another encounter with Slave Matt, Master Daniel gets on the boxing gloves to fight his slave. Slave Matt cowers in the corner as Master Daniel lays into him with body blows. Slave Matt gets beat up like a human punching bag with no letting up. Slave Matt makes a couple of attempts to defend himself but they are of no use against Master Daniel's strength and speed.
Master Daniel then orders his slave to worship his shoes. Pinning Slave Matt on the ground under his shoe, this slave is ordered to worship at his master's sneakers. The slave licks and worships his dom's alpha sneakers as Master Daniel flexes and laughs at the slave. Master Daniel then shows off with a solo flex show for the camera. Flexing his biceps, Master Daniel shows how powerful and cocky he is to slaves like you. This dom then squeezes a basketball between his strong legs showing how he'd squeeze a slave's head.