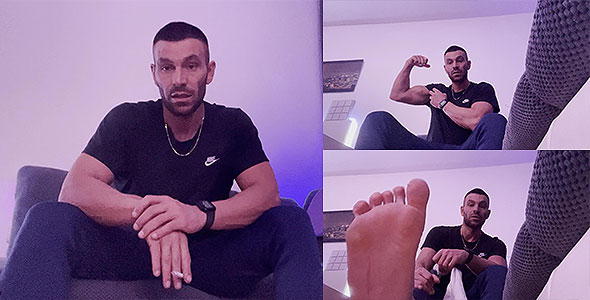 3 New Videos – King Luca smokes and verbally humiliates weak submissive faggots like you in his latest video. This verbally abusive dom will make you bow down and submit to him as he pushes his socked feet into your face. Follow all of this cash master's commands as you lick and sniff his sweaty alpha feet. In the next video clip, King Luca doesn't just tell you but he shows you how he publicly humiliates a slave. This slave comes over to worship King Luca's boots and to get used. King Luca then takes the slave out in public at night to humiliate and degrade him. The pathetic faggot gets naked outside and lays on the pavement while this alpha pisses all over the slave. Then to amuse King Luca, the faggot slave runs across a bridge naked waving to passing cars. This needs to be seen by all slaves.
For slaves craving just solo action of King Luca, check out his video changing into leather gear. King Luca puts on his leather biker gear including leather pants and a helmet. If you're lucky enough and drool enough over this alpha, King Luca will give a glimpse of his superior alpha cock during the clip. Watch and beg for more from this alpha.
---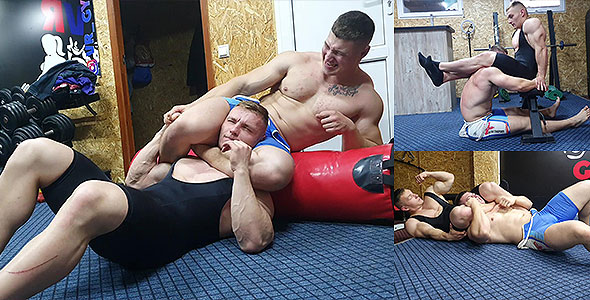 New Videos – Alpha dom Dennis goes up against another muscle stud in this submission battle. These two big muscle boys go at it in the gym with lots of tight crushing submission holds. Watch Dennis and the other muscle stud show off their biceps, legs, and quads while wrestling on the mat. In the next battle of strength, these two muscle studs battling it out in an arm wrestling match. Dennis uses his arm strength to try and overpower this other muscle dom. Who will dominate in this intense arm wrestling match and be declared the victor? After all of that competition, alpha dom Dennis feels like picking on a submissive and showing off his alpha power. In this 15 minute clip, Dennis verbally degrades and physically abuses this poor sub. Watch Dennis show off his huge muscles as he makes this sub boy know who the true Alpha is in this gym.
---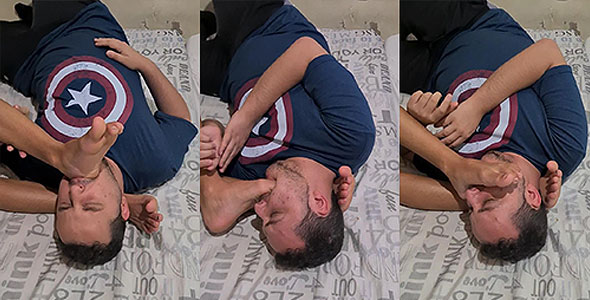 5 New Videos – Ikagura submits to alpha feet in his latest foot worship session. This obedient foot slave lays back on the mattress as a foot dom gags and chokes him with his huge feet. The foot dom traps Ikagura between his feet with one foot behind the slave's head and the other jammed in his mouth to ensure he doesn't resist. In another foot session with a dom, Ikagura gags on his master's feet. Ikagura grabs onto his master's huge alpha feet and does his best to deepthroat his master's entire foot as best he can. This foot sub swallows and sucks on his alpha's feet to show his devotion. With another new foot dom, Ikagura plays a familiar game of gag the slave as he gags on his dom's feet. This arrogant alpha locks a foot behind Ikagura's head and forces every inch of his huge alpha foot further down Ikagura's mouth to make him gag. The foot sub doesn't care how much he gags as long as he can serve his master's feet.
Ikagura then lays on his back on the floor for a foot trampling session under his master's feet. The foot dom walks all over Ikagura like he's a human doormat as he tramples the slave's face and chest. Ikagura gladly accepts his rightful position under a master's feet to get trampled. In another real time session, Ikagura gets a slave beatdown from a dom. Ikagura lays in bed and gets awoken by an alpha who simply wants to beat him up. Ikagura was dreaming peacefully about serving his master right before the reality comes of a master waking him up to beat him up and make him serve.
---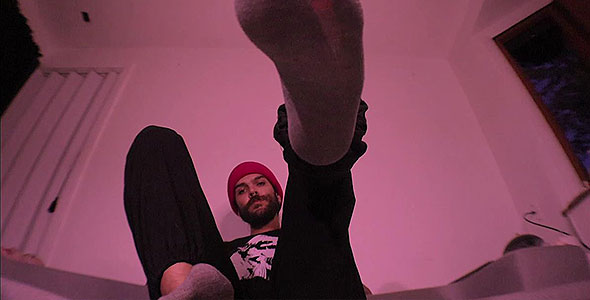 2 New Videos – AidenPrettii wants you to sit back and take all of his verbal abuse during this sock worship video. Become the little slut you know you are as you grovel at his perfect feet. As an obedient foot slave, you'll submit to this alpha's every word and service every inch of his feet on command. Afterward, prepare to get teased by AidenPrettii's alpha bussy. This verbal dom teases and degrades you before making you feel tiny and tormented. Once shrunken down to the size of a tiny slave, Aiden shows off his round ass and tight hole right to you. Be prepared to be swallowed up at the end by his alpha ass, the best ending for a slave.
---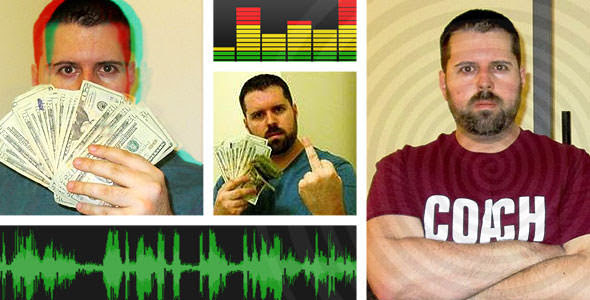 2 New Audio Clips – Sit back and relax with this erotic stroke-along audio clip for guys wanting to become a meathead in the gym. Listen as MasterJosh makes you think about becoming a bodybuilder and building muscle. At the end of the clip, instead of orgasming, take your energy and put it into your next workout at the command of your new hypno coach. However, your hypno coach has more commands for you to follow. When in the gym, you'll need to work your ass for your coach and other alphas. There is some workout motivation in this audio clip but it focusing on increasing the lust for having a good bubble butt on yourself. Do whatever it takes to please your coach and obey his orders by transforming yourself into the idea himbo slave with a perfect ass.