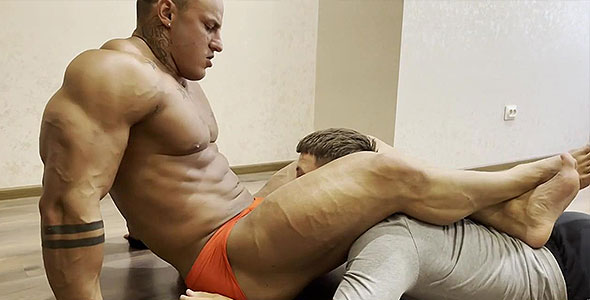 3 New Videos – Everything about The Punisher is huge…his arms, legs, and even his feet. When next to an ordinary man, he can squeeze the life out of him. This muscle behemoth effortlessly squeezes a weak boy into submission with his python like grip between his massive legs. In another clip, the 245lb muscle beast wears some camouflage legging and dominates his slave. Getting another weak boy on the ground, The Punisher wraps his massive legs around the boy's head and begins squeezing. His huge legs are practically busting through the seams of his pants in this 15 minute clip. Returning to dominate is Big Alpha who is back from vacation and ready to destroy a boy. Big Alpha relentlessly dominates this boy over and over again as he locks him in various submission holds with no escape. Big Alpha shows why he is a brutally bodybuilder bully.
---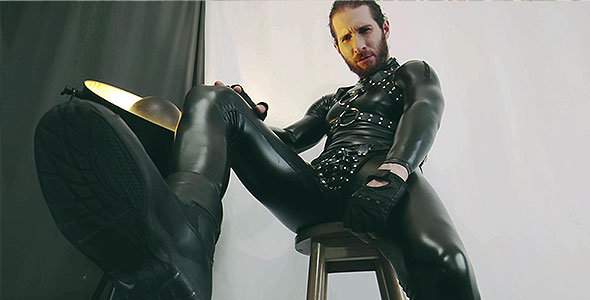 New Video – Crawl to Master Alex and get ready to beg for a spit shower. You love when Master Alex spits all over your face and when his spit slides off and into your mouth. Open wide and lick it all up as you savor every last bit.
---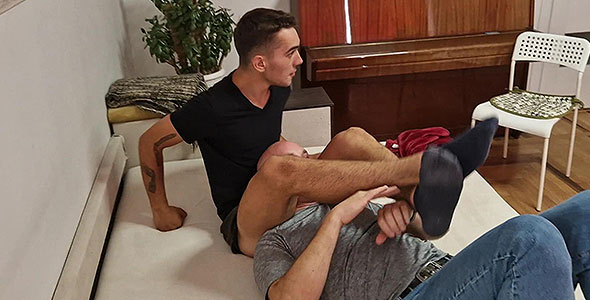 3 New Videos – New to IN-CHARGE.NET is Elliot Scissors, a 19 year old soccer player who loves locking people in tight headscissors and dominating. In his first video, Elliot invites over his friend Alex to use a slave. Alex locks the slave in a tight headscissors hold and totally degrades him. The slave squeals and pleas for mercy but the two young bullies just laugh at him. Once the slave leaves to go home crying, the two jocks practice some chokeholds on each other. Elliot shows off how strong his legs are as he squeezes his friend's head as hard as he can. You'll see that asserting dominance truly gives Elliot pleasure. On a different day, Elliot invites over his buddy Mark for a friendly fight. They can be friends but are still competitive and love to horse around to see which one is stronger. The two jocks take turns wrestling and choking each other out for fun.
---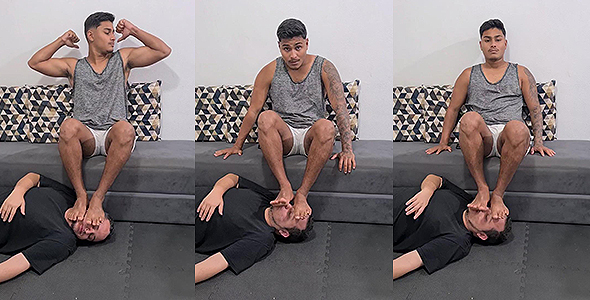 5 New Videos – The obedient foot slave is dominated under Master Daniel's foot. After a soccer match, Master Daniel is pumped up and ready to dominate this slave. The jock dom chokes his slave and stomps all over him for his own amusement. The next day, Slave Matt invites over Master J to worship his feet too. Master J sits on the slave with all of his weight and smothers the slave's face with his feet. Slave Matt shows his true devotion to his master's feet by licking and sucking on every inch of them. This slave can't get enough of worshiping men's feet as he needs another meet up with Master J to service his feet. Master J smashes his feet into the slave's face and makes Slave Matt choke on his feet. Master J wraps his feet around the slave's head and rams his foot into the slave's mouth to make him really taste it.
The slave worship gets more intense when Slave Matt eats his master's toenails. Slave Matt sits in anticipation as Master J clips his toenails and feeds them to the slave. Slave Matt devours them then begs to lick his master's feet. Following that encounter, Slave Matt gets a visit from Master Pedro for some more foot domination. Master Pedro smacks the slave around with his feet and demands that the slave clean the bottoms of his feet. The slave cherishes being under his master's huge alpha male feet in this 10 minute clip.
---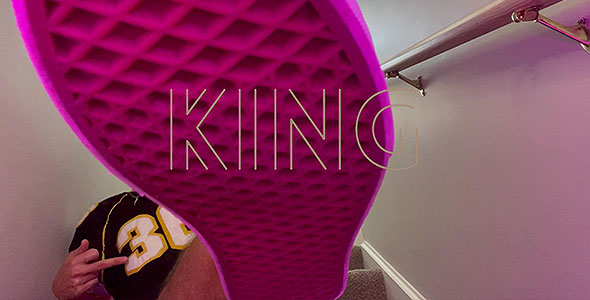 2 New Videos – Become a small and helpless bug under Master Aiden's Vans sneakers. You've shrunken down and catch Master Aiden leaving the house and thankfully he misses stepping on you. However, this cashmaster quickly notices the tiny bug near his sneaker which is you and begins teasing you for being so small. Look up in fear and amazement at this giant and his massive shoe before he stomps on you. For slaves who just want to lose themselves to mindless gooning then check out Master Aiden's next video. Keep staring, keep binging, and do everything your master tells you. You'll become obsessed with your master's ass as it will control all of your thoughts. Goon your way into oblivion every time you think of your master's ass.