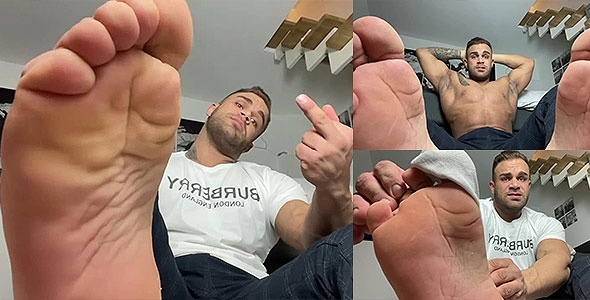 2 New Videos – Get ready for some hardcore popper training. Throughout this 10 minute video clip, Flexgod will order you around in German and instruct you on how to huff that bottle of poppers. Serve at the feet of this muscled German master as you fry your brain on poppers. Later you can get the chance to worship his huge alpha muscles as Flexgod tells you why he is superior in German. Flexing his tatted muscles and showing off his feet, Flexgod will make you feel weak and inferior compared to him. Submit to your natural state as you drool over yourself watching this dominant muscle God.
---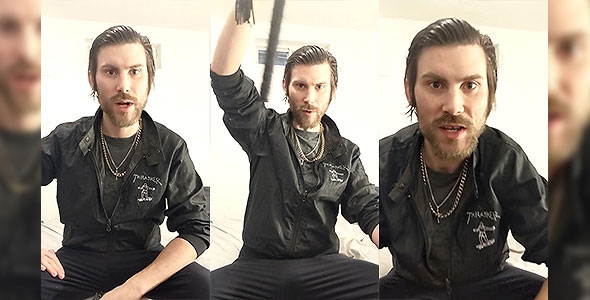 2 New Videos – CashMasterTrey is here to put stupid cash pigs like you in their place. Obey this verbal alpha and fall under his spell as he turns you into one of his loyal drones. CashMasterTrey verbally berates you and shows you how he will punish faggots like you throughout this video clip. Later you can worship his sneakers. Sit there like a dumb faggot and admire this superior alpha in his leather jacket and black Nike Air Force1's while he degrades you. CashMasterTrey never holds back with verbal abuse as he will make you feel completely inferior and vulnerable.
---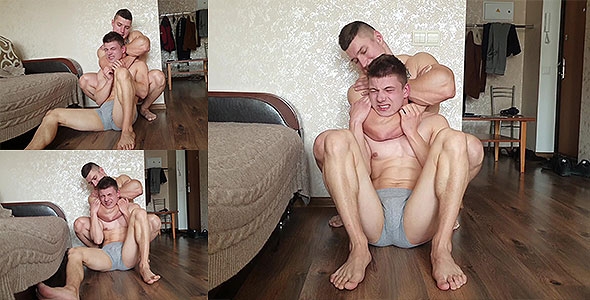 4 New Videos – Muscular alpha Dennis puts Nikita in an intense chokehold which he cannot escape from. This powerful alpha locks his submissive jock slave in an inescapable chokehold as he asserts his dominance. Nikita writhes around and struggles to break free but his only option is to tap out or pass out. Dennis then shows off his strength on another sub named Alex as he crushes him in a vice tight headlock. Poor Alex is crushed in a vice tight headlock under the 220lb weight of muscle dom Dennis. Dennis does not let up on the pressure and increases the squeeze until the very end. Dennis has been working his arms very hard as you can notice a sizeable difference.
Later Dennis locks Alex in another super tight sleeperhold. Dennis keeps Alex just on the edge of passing out. The arms of Dennis are so huge that it makes Alex look so tiny as he struggles to keep conscious. You can see the face on Alex as it looks like his head is ready to pop sometimes. Getting down on the ground, Dennis then locks Alex in his massive arms for a front sleeperhold. Poor Alex does not stand a chance. Trapped between the huge arms of Dennis, Alex must endure this super tight chokehold for over 2 minutes straight with no letting go.
---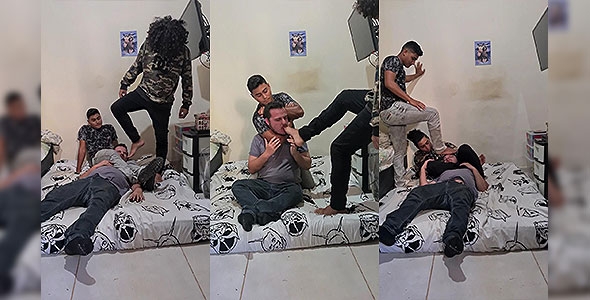 5 New Videos – This slave gets to experience double domination for the first time. The weak foot faggot gets dominated and used in real time by 2 alphas at once. These dominant guys force the foot faggot to lick and suck their feet while they choke him out. Later the faggot suffers from some one-on-one abuse as he gets beat down by a dom. In this clip, the dom wears boxing gloves and beats up on the faggot until he's pummeled. After the beating, he chokes out the faggot until he's on the brink of passing out. There is even more of a beat down as the slave gets beat up by another dom. The foot fag quickly learns his place is under his master's feet. Pinned under his dom's foot, the slave at that point realizes his true purpose. The obedient foot slave's job is to serve under his master's feet forever.
Later the slave is put in his place again as he must worship his master's feet. Putting the slave in his natural position, under master's feet, this alpha asserts his control over his obedient foot stool throughout this 30 minute clip. Trampling, kicks, and foot worship all throughout this real time beat down session. Later the slave is dominated and humiliated by his master again. The foot faggot is stepped on and spit on by his superior alpha. Throughout the clip, the slave doesn't want to and cannot resist the power of his master. Instead the slave allows its master to degrade and use it how master sees fit.
---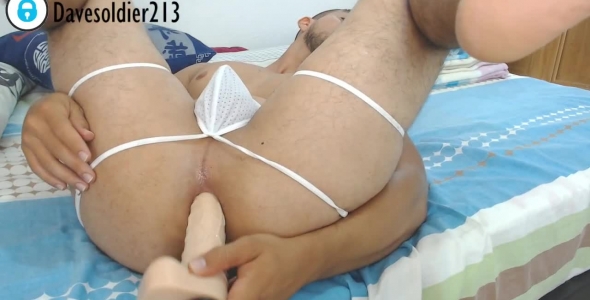 1 New Video – Davidwar shows off his big muscle ass as he plays with his jock hole. Davidwar pulls out a big toy dildo and slides it deep into his jock pussy while wearing a string jock. This Latin hunk works over his hole hard as he fucks himself deeper and deeper. Work your dick as you lust over something you'll never have while Davidwar teases you with his jock pussy.