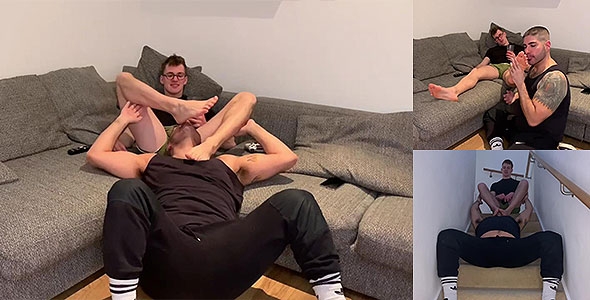 1 New Video – An American foot fag gets to worship his Serbian God's feet in this new 16 minute video clip from SerbianGods. The chubby foot fag starts off by worshiping his dom's feet in a stairwell before going into a game room to sniff, lick, and suck his master's feet. Throughout the clip, the American foot fag gets his face smothered with alpha God feet. At one point, the Serbian alpha even ignores the fag to play video games as the fag serves his huge alpha feet.
---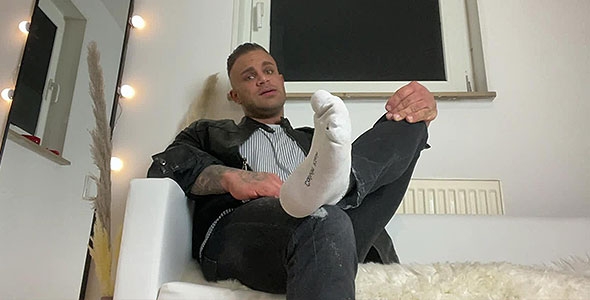 1 New Video – Attention slaves! The biggest duty of a weak slave is that a slave must sacrifice his entire life to serve his master. That means that all throughout a slave's entire life, there must be sacrifices made and things to give up to make life for your alpha better. Flexgod teaches you about this important rule throughout this 7 minute video clip. As a weak slave you must continually sacrifice throughout your existence for your alpha at all costs.
---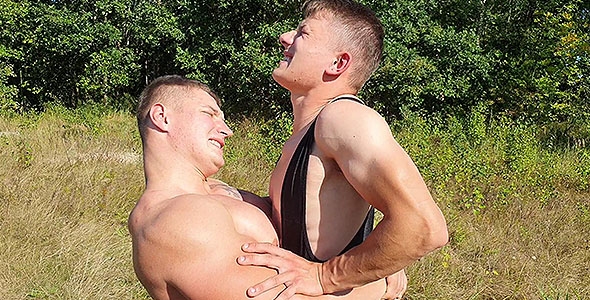 2 New Videos – Muscle beast Dennis crushes another weakling in his latest wrestling domination video clip. Bearhugs, headlocks, and headscissors are abound as this muscled alpha squeezes and tortures the smaller jock outside. See the pure raw power of this muscled alpha as he makes another made submit to his strength. In another new clip from chokemasters, lean alpha stud Johan flexes and jerks off for the camera. Showing off his hard muscles and gym progress, Johan flexes his big bulging biceps and shows his long, hard cock. From the looks of his physique, all of the hard work in the gym is paying off for him.
---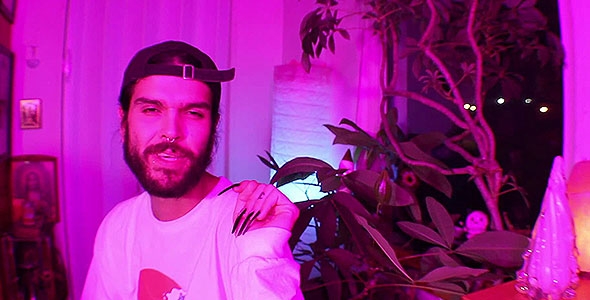 2 New Videos – This isn't just another one of your foot worship videos. AidenPrettii takes you back in time to an era where camcorders were used. Indulge in this VHS styled aggressive foot worship clip. In this 10 minute video clip, AidenPrettii will make you submit to his alpha feet. Prepare to be destroyed by his perfect feet to the point that you will be begging for more. In another new clip, Aiden Prettii humiliates you for being a sissy. Aiden and you both know that you're an eager little sissy slut. You will do ANYTHING he demands and he will make you do anything in this task video. You'll be required to have pantyliners before you begin. Download this task clip and see what tasks Aiden puts you through.
---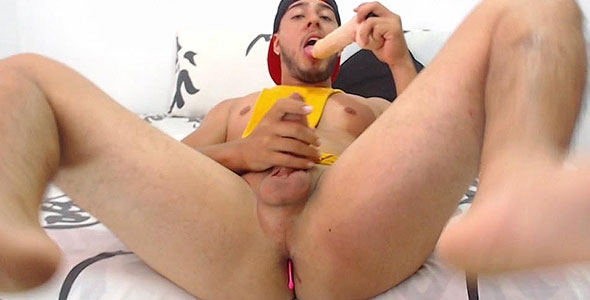 1 New Video – DavidWar gets on cam in this dildo and foot worship video. See what it's like to watch Davidwar live on cam as he teases his asshole with a dildo and makes you stay down at his feet. Later, Davidwar sucks on the big dildo while jerking his Colombian cock. It is your task to service his feet and please him by worshiping his feet as he gets off. If you're lucky, he might let you taste his cum.