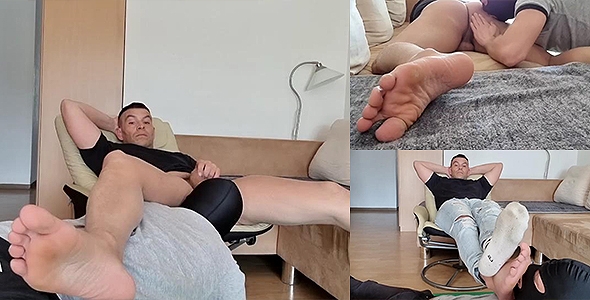 2 New Videos – King Luca uses another masked faggot for an intense real time session. The masked faggot worships King Luca's socked feet, alpha ass, and balls all throughout this 30 minute clip. King Luca barely acknowledges the fag slave as he instructs the fag to give various parts of his body a tongue bath. In another session with the cash fag, King Luca sits on the fag slave's face. This superior cash master sits his ass on the faggot's face and has the slave sniff his sweaty jock ass scent. Earlier in the clip, the cash fag must sniff his master's socked feet and underwear to savor all of his alpha's manly scent.
---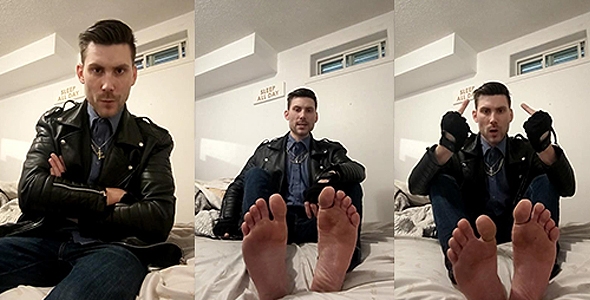 2 New Videos – It's time for you to get in line, piggy. Brutal alpha CashMasterTrey is ready to make you worship his alpha feet. This superior findom is clad in a leather jacket and leather gloves as he verbally abuses you and flips you off. All throughout this clip, CashMasterTrey will degrade you and make you feel like an inferior pig. In the next verbal abuse clip, CashMasterTrey wants you to get your butt plug or dildo ready because you're going to fuck yourself for your master. It is time to degrade and humiliate yourself while getting verbally abused. Rub your little fucking clit on CashMasterTrey's command while he makes you bust your balls and bounce up and down on your dildo like a hopeless loser.
---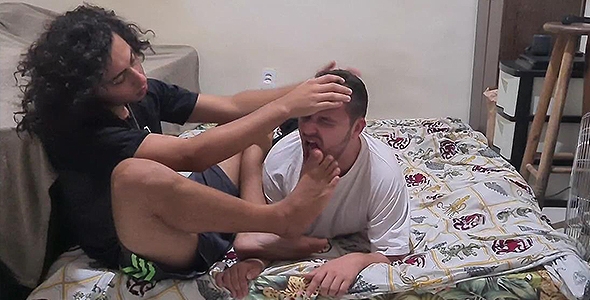 4 New Videos – This arrogant foot dom makes the weak foot fag lick his sweaty feet. In this nearly 9 minute video clip, this dominant foot dom makes his weak faggot lick, suck on, and worship every inch of his alpha feet. Whenever he wants to establish dominance over the foot fag, this alpha sits on the slave's throat and slaps him around. After that session, the foot fag gets tag teamed by 2 doms for some double alpha domination. These two cocky alphas choke the weak foot fag and make him serve their feet. The weak foot fag struggles to breathe while getting choked and having an alpha foot jammed down his throat. However, the fag slave loves every second of the abuse.
This weak foot fag cannot get enough of serving alpha men and worshipping their feet. In another real time session, the foot fag gets locked in a headscissors by his alpha. This twink master wraps his legs around the foot fag's throat and makes him gasp for air as he tries to break free. There is no tapping out or quitting until the twink dom has had enough choking out this foot fag. After the foot fag gets choked out, he has gag on his master's feet. On his back and looking in his alpha's face, this obedient foot fag sucks and licks every inch of his master's foot. The lean and cocky alpha jams his foot further down the fag's throat just to watch in amusement as the fag slave gags on it.
---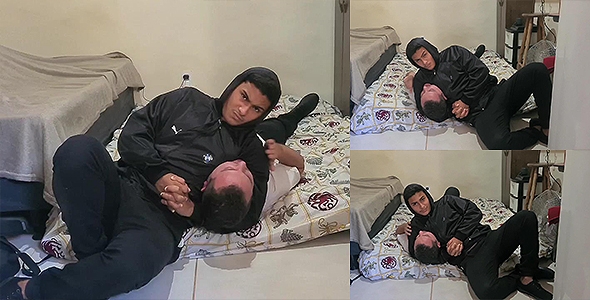 2 New Videos – Daniel Slin uses his cash fag in this next clip by choking out the slave. The weak submissive gets locked in a tight headlock by DanielSlin and is forced to endure this chokehold for over 10 minutes. The slave struggles and tries to get as much air as he can but DanielSlin doesn't show any mercy with this tight chokehold. Going for round 2, DanielSlin continues to choke the slave in this next clip. Getting behind this weak submissive, DanielSlin clamps on a tight sleeperhold on this weak fag slave and locks it in tight to watch the slave struggle. The cash fag does his best to escape DanielSlin's forceful hold but he cannot break free from his master's powerful grip.
---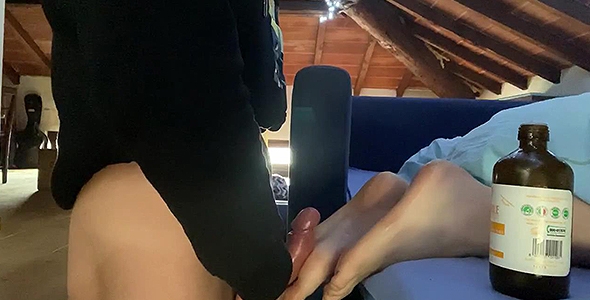 1 New Video – KevinStr8Master gets his cock oiled up for a footjob from a sleeping friend. Getting himself rock hard, KevinStr8Master rubs his hard dick up and down his friend's foot to get himself off. Stroking his cock with soft soles gets him closer and closer to cumming before he finally explodes.