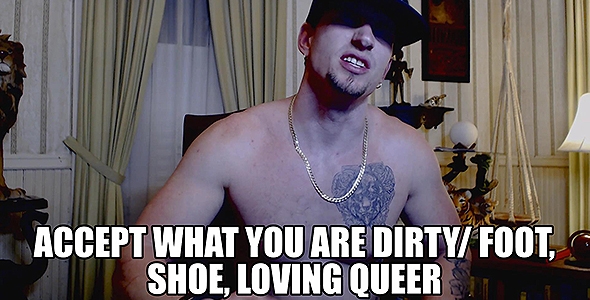 1 New Video – You've been longing to worship SirKraze's feet. Get ready to have your limits pushed as you submit to this findom's alpha male feet. SirKraze will verbally abuse you and make you feel like a dirty shoe loving queer by the end of this clip.
---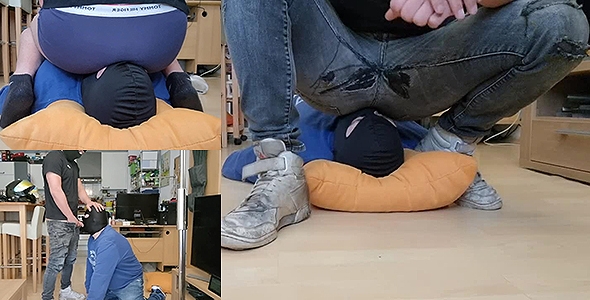 1 New Video – King Luca makes a slave sign a slavery contract at the end of this real time session. Prior to the contract signing, King Luca uses and abuses this fag slave. This dominant alpha sits on the slave's face, smothering it with his alpha ass. Later he makes the slave worship his feet and blows cigarette smoke in the slave's face. Once the session is nearly complete, the fag slave gets to worship King Luca's bare ass during the contract signing, making this slave King Luca's property for life.
---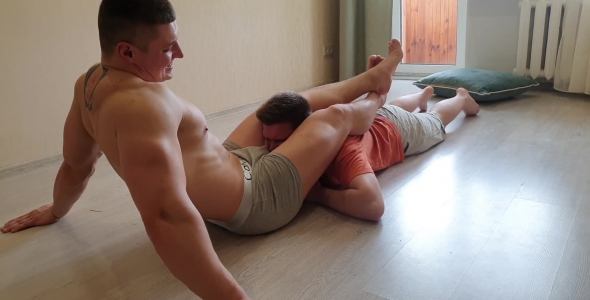 4 New Videos – This muscle master has been practicing this particular headscissors hold to lock onto a slave. Muscle dom Dennis get this weak slave on the floor and wraps his muscular legs around the slave's head. Once locked in, Dennis pulls the slave closer to him to lock the headscissors in even tighter and deeper. Dennis gives the slave an anaconda like squeeze as he squeezes the slave into submission. Later, Dennis puts on a pair of red Adidas gym pants and he cannot wait to make another slave pass out from a tight headscissors choke. It takes Dennis a few minutes but he positions himself just right on the couch to grab the slave's neck and head with his muscular legs. The weak slave is trapped between this alpha's monster thighs and quads before he ultimately taps out.
Muscle dom Dennis uses a new choke technique to make the next slave tap out and pass out. Doing almost a rear naked choke with his huge legs, Dennis locks the slave's throat right up against his massively muscular hamstring and uses his foot locked on his other leg to tighten the choke. The slave's head turns bright red and looks like it is going to burst as one point from the intense pressure from this muscular alpha's legs. Later, Dennis uses his go-to technique to make this slave submit. Muscle master Dennis has his knees positioned on the sofa to give himself total control of the headscissors once he locks it on the slave. Dennis teeers up and down, each time locking in the hold tighter and tighter. THe slave is struggling and moaning until he has to give up and beg for mercy.
---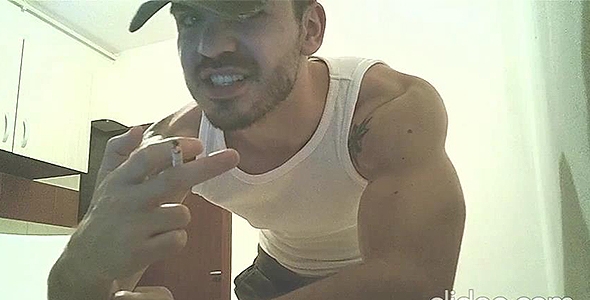 2 New Videos – Get your poppers for this intense popper training session. Master Michael flexes and verbally abuses you as he commands you to fetch those poppers and prepare for his verbal commands on how to sniff your poppers. Counting you down and making you inhale, Master Michael will fuck with your mind throught this popper session until the only thing you want to do is give him your wallet. After you've completed the first session, it is time to download the second session and sniff harder at your master's commands. Master Michael flexes and shows off his superior muscles while he verbally degrades you for being a weak poppered up faggot slave. Obey everything this dom commands of you and inhale when you are told.
---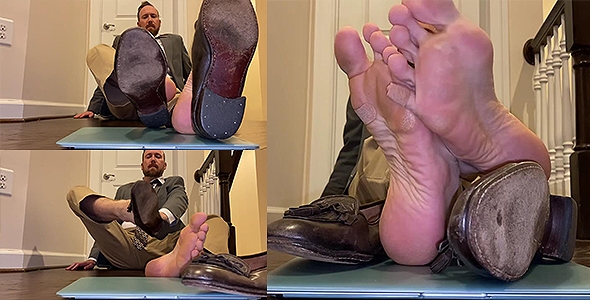 2 New Videos – After getting home from a long day at the office, Nebenny takes off his loafers to air out his feet. This foot dom sits on the floor and allows his sweaty feet to breathe. Crawl to this dom's size 13 sweaty feet and beg to worship and sniff them like an obedient foot fag. In another foot worship clip, Nebenny shows off his massive feet in some yellow flip flops. After a long day at the beach, this master slips off his sweaty flip flops and rests his feet up on the table. Nearly 10 minutes of flip flop and feet play all throughout. Stick your tongue out and drool over this alpha's huge soles, smooth feet, and hairy legs.