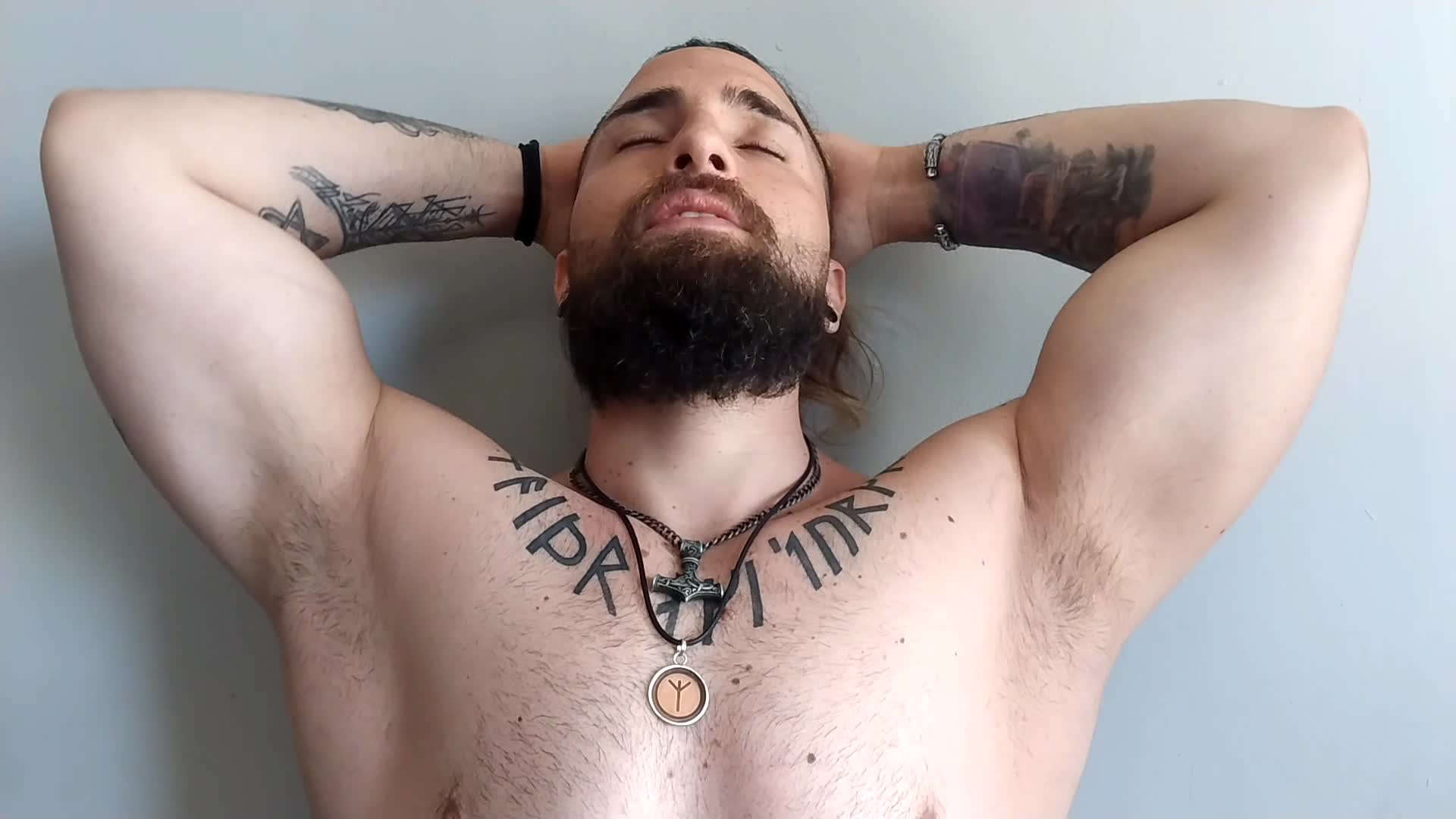 2 New Videos – Dominant alpha Viking God, Master Kruzzar, flexes his biceps and shows off his alpha armpits. This dominant alpha demands that a weak, obedient slave like you worship every inch of his muscular body as well as sniff and lick his sweaty, smelly pits. Give into this alpha's demands and serve him in every way possible as you worship his superior God like body.
Master Kruzza then takes you along for an online degrading session with his disgusting pay pig. This loser slave follows all of MasterKruzzar's orders to humiliate himself and turn himself more into a filthy pig for his master. Watch MasterKruzzar entertain himself by making this fag duct tape his head, cover his face with whatever is nearby, and clip clothespins to his nose.
---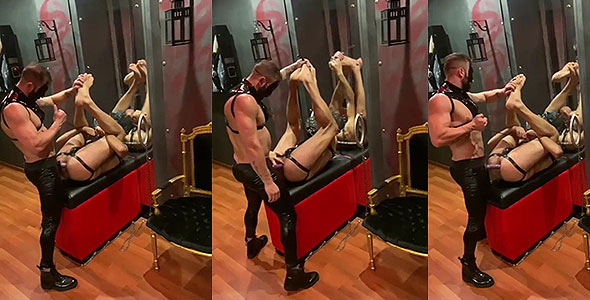 3 New Videos – KingMaster gives this slave something he's always wanted – he fucks him with a dildo. KingMaster first ties the weak sub to a pony bench and gets him on his stomach to push the dildo deep in the slave's ass. Later, KingMaster gets the slave on his back and pounds out his pathetic hole with the strap-on. In another slave abuse session, KingMaster calls over his bitch slave who wants to be humiliated by KingMaster and his girl. This alpha dom puts the slave in a collar and makes him deepthroat a dildo. KingMaster gags the slave on the dildo hard until he chokes then lays him on the ground while he and his girl laugh at the slave while putting more toys in the slave's mouth. Finally the slave is permitted to cum as it thinks about this degrading experience.
KingMaster's Mistress brings over a slave for a foot gagging worship session. This foot slave can't get enough of his mistress's feet and thoroughly licks and worships her soles. When the slave moans in pleasure, this brutal mistress slaps and spits on her slave to teach him that only her pleasure matters and not his. Watch how obedient this boy can be for his mistress.
---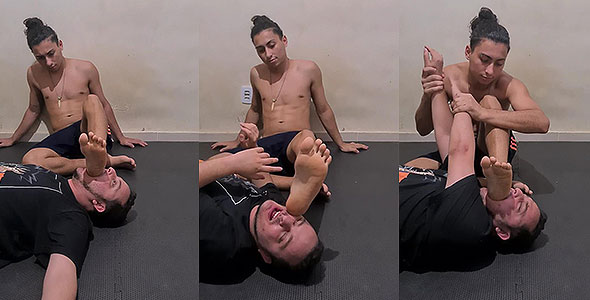 4 New Videos – Ikagura submits to this alpha male's feet in his latest foot worship video. This arrogant alpha gags Ikagura with his big sweaty jock feet right after some jiu jitsu practice. Ikagura gladly opens his mouth and sucks on his master's toes and heel to show how obsessed he is with alpha feet. Later, this alpha gets bored with the foot worship and decides to choke out his slave. Ikagura feels his master's biceps wrap around his throat as he gets choked out and dominated hard. The sub follows all of his master's commands and gasps for air as he begs for mercy.
In another foot worship session, Ikagura gags on his master's feet like an obedient foot slave. Laying down on the floor, Ikagura opens his mouth as wide as he can to take all of his master's foot in his mouth. The foot dom looks on at Ikagura with disgust and amusement as he watches a sub gag on his feet. The foot worship continues in the second part of this gagging session as Ikagura shows how obsessed he is with his master's feet. Ikagura worships the toes, the soles, and the heels of his master's feet. There isn't a spot of this alpha's feet that goes unserved. Ikagura gladly takes on the role as a foot cleaner in both of these videos.
---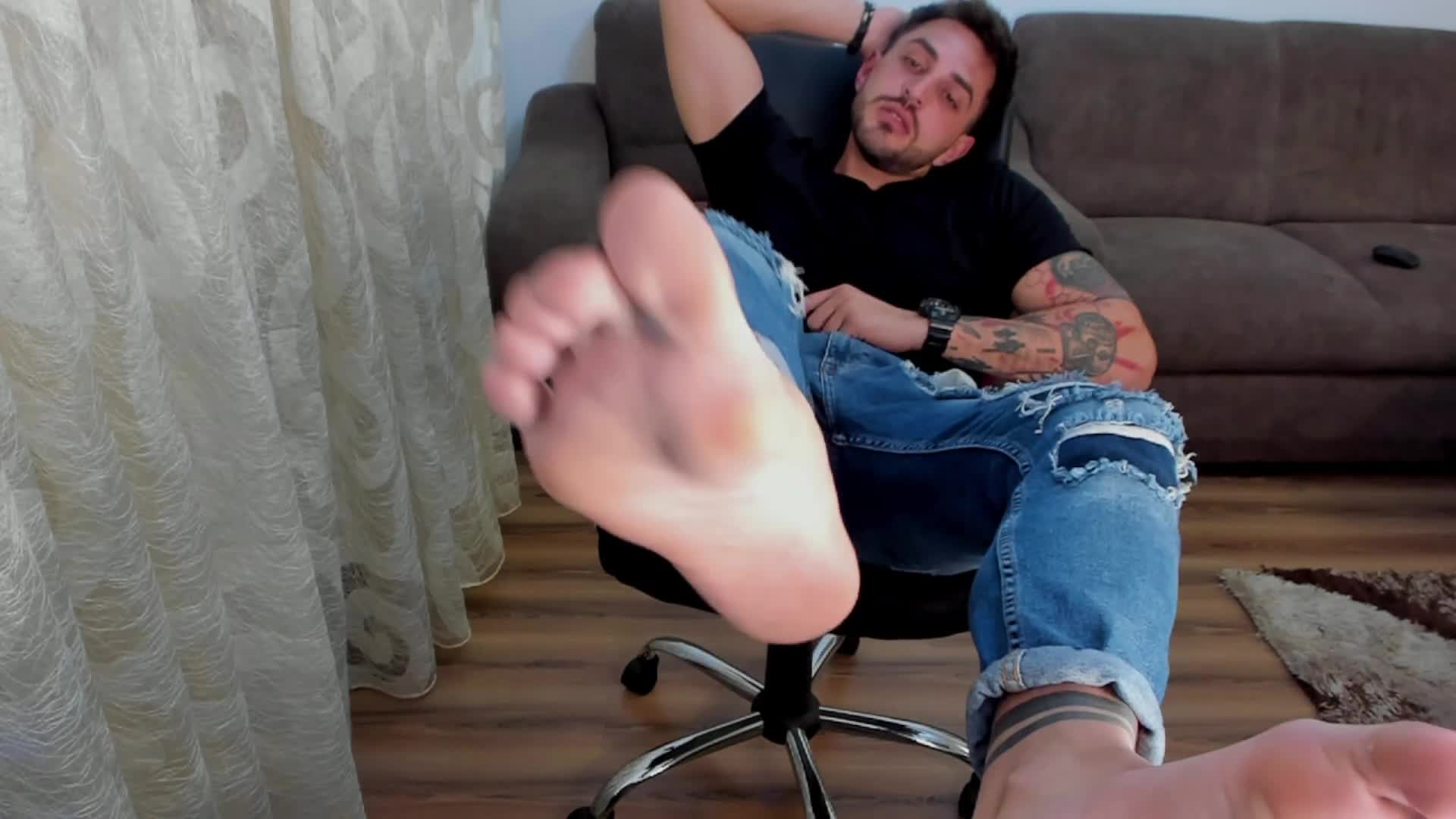 1 New Video – MikeyMagic wants you to clean his feet with your slave tongue. Get down on your hands and knees with your tongue out and serve this master's barefeet. MikeMagic verbally degrades you as you're down there worshipping and serving his superior alpha male feet.
---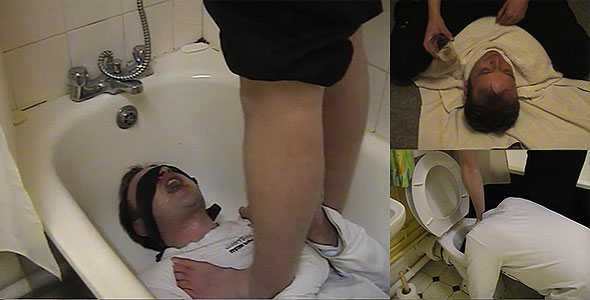 4 New Videos – When MasterShaun needs to piss there is no better way than to use his slave as a human urinal. MasterShaun stands above his slave and lets a stream of warm piss pour out of his cock right into his slave's mouth. Being a kind master, MasterShaun cleans the slave's face afterward by putting the slave's head in the toilet and flushes it. To finish the night off the slave is treated to yet another face wash but this time from a glass of Master Shaun's old spit that he had been preparing all day. MasterShaun then wants his slave to make him happy by giving him a nice place to sit. MasterShaun sits his ass on his slave's face while watching a movie. Prior to the facesitting, MasterShaun makes his slave finger his ass and rim him as he commands the slave to do anything he wants for his own pleasure.
Master Shaun gets even nastier towards his slave with some full bodyweight facesitting on this weak slave. Master Shaun gets amusement out of trampling, kicking, and jumping on his slave's chest and stomach during this session. The slave loves learning that his place is underneath his master – right where slaves are meant to be. The domination goes on as MasterShaun tramples his slave some more in the final clip of this session. MasterShaun even rides his slave around like a pony to dehumanize him some more. After the stomping and riding, they then start humping on the ground since the rough play turns MasterShaun on so much.