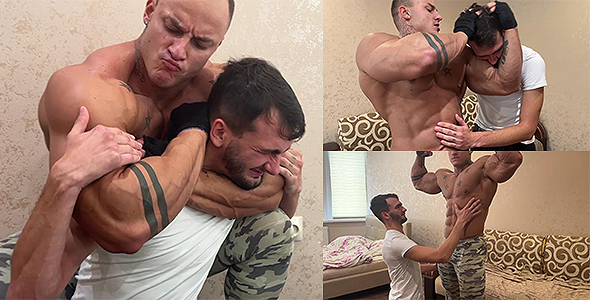 2 New Videos – What starts out for the first few minutes as a muscle worship session quickly turns ugly. The Punisher gets annoyed with his admirer and proceeds to lift and carry him in some tight headlocks. The Punisher totally dominates this slave with his biceps which are bigger than the poor guy's head. In another video, Big Alpha is back to punish a scrawny guy. Big Alpha carries around this guy like he's a twig and locks him into submission after submission. Big Alpha lifts the boy doing bicep curls and then locks him into the tightest headlock you've ever seen.
---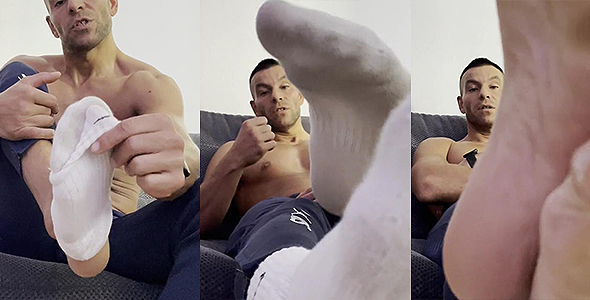 2 New Videos – Get down on your knees and prepare to be verbally abused by King Luca. Inferior small dicked fags like you only have one purpose and that is to serve superior men like King Luca. Obey and worship this dom's alpha male feet as you watch this 8 minute video clip. Later you can worship King Luca's feet and stinky soles. Wearing some worn white athletic socks, King Luca verbally puts you in your place as an inferior slave. He will order you to drink his spit and swallow the dirt from his socks and feet.
---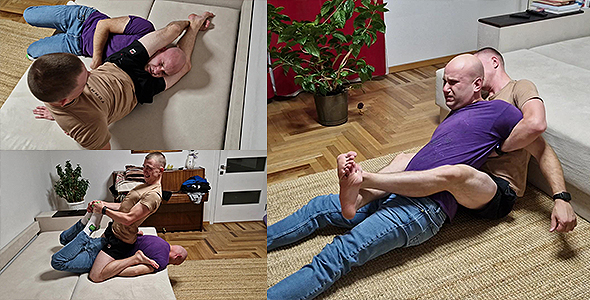 3 New Videos – In ElliotScissors latest clip, his slave gets dominated by another dom. The inferior slave endures some intense chokeholds while Mark and ElliotScissors taunt him and slap him around. The slave gets the treatment he truly deserves from these two alphas. After the slave is done being used and leaves, these two jocks battle it out with each other. With some friendly chokehold competition, ElliotScissors and his buddy Mark test out a variety of chokeholds on each other. These two alphas perfect their craft to punish slaves even harder for next time. In another practice bout, Elliot practices some figure 4 chokes with his buddy Alex. These two powerful studs lock in some serious and intense chokeholds on each other. See which of the two is more powerful in this submission practice session.
---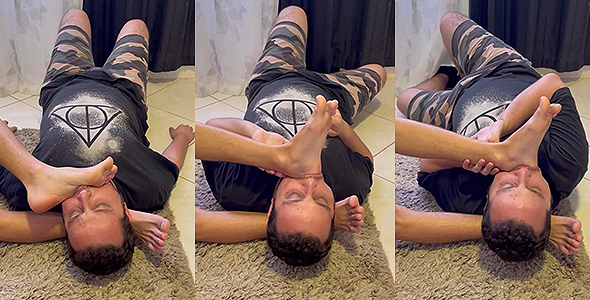 5 New Videos – Master J wants his feet worshipped by his slave. Slave Matt is happy to oblige and begins servicing his master's feet. This slave sucks his master's toes and gags on the soles of his feet. Later, Master J wants to punish his slave with some chokeholds. Slave Matt assumes the position as Master J wraps his thighs around the slave's head. Master J squeezes and locks in the choke on this weak slave.
Master J decides to increase the punishment with some jiu jitsu fighting on this slave. Getting the slave down on it's stomach, Master J walks all over this slave like he's a human doormat before locking in the chokeholds. Slave Matt is no match agains the intense chokeholds from Master J. This weak slave endures all of the abuse from Master J as he doesn't even want to fight back. Slave Matt just enjoys the punishment being given to him by his master. In the third part of their encounter together, Slave Matt gags on Master J's feet. After being worn out from grappling against his master, Slave Matt gets to gag on his superior's feet. Master J rams his foot deep in Slave Matt's mouth so he can gag on it and taste all of the foot flavor from his master.
---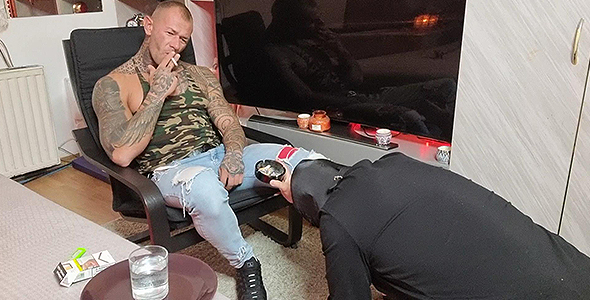 2 New Videos – AdonisDomTop invites over his masked slave for some real time abuse. The masked slave lights his master's cigarette and takes his place at his master's feet. This is the ultimate privelege for any slave to be at his master's feet in person. The humiliation of the slave continues as AdonisDomTop uses his slave as a foot rest. The slave bows its head and gets on all fours for AdonisDomTop to rest his feet across the slave's back. AdonisDomTop even gets his shoes licked by this inferior slave during their real time meet.