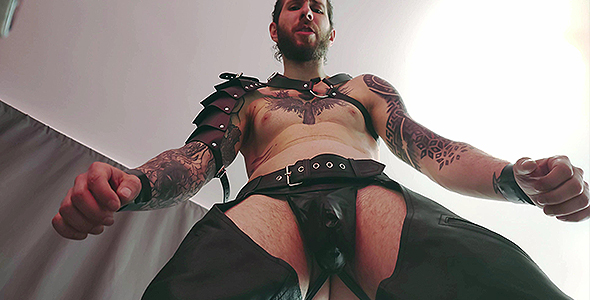 1 New Video – Kneel and serve as Master Alex's urinal cleanup slave. Master Alex knows that you like to be used by everyone and serve as a human urinal so it's time to open your mouth and take his piss. Why would anyone bother with a real urinal when they have a nice warm mouth like yours?
---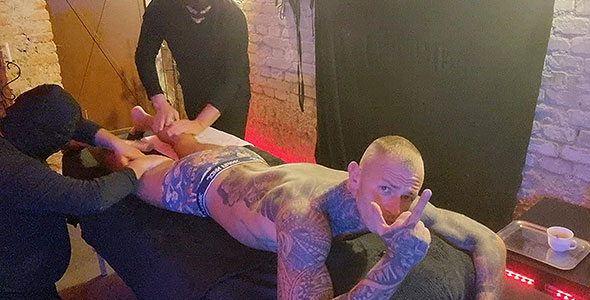 1 New Video – AdonisDomTop loves to be serviced by slaves. Laying on a massage table, AdonisDomTop gets massaged and rubbed down by two of his worshippers. These slaves massage his feet and rub his muscles to show their complete and total devotion. AdonisDomTop looks at the camera to flip you off a few times as he shows you how hierarchy works.
---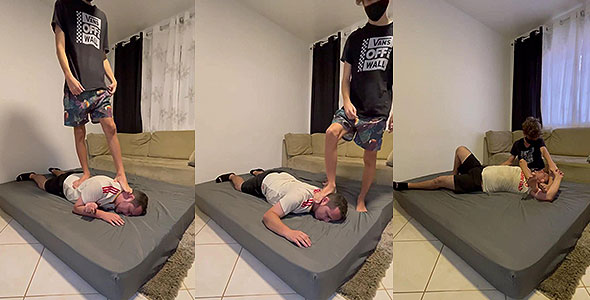 5 New Videos – Master J enjoys stomping on his slave. Serving as a human doormat, Slave Matt lays under his master's feet and gets stomped on and kicked. This slave is always humbled when put in his place by men superior to him. The stomp domination continues from Master J as he rubs his feet all over the slave's face. To change things up a bit, Master J throws in some choke holds on the slave too. This slave quickly begs for mercy and completely submits to his master. As a reward for his total submission, Master J allows the slave to service his feet. Laying on his back and looking up at his master, Slave Matt gets Master J's feet smothering his face. This slave licks and sniffs his superior's alpha feet as is grateful for the chance to be an obedient foot slave.
Master J makes it a regular thing to get his feet worshipped by subs like Slave Matt. Master J's huge feet cover Slave Matt's entire face in this real time session as he orders the slave to worships the soles of his feet. Licking the bottom's of his feet, Slave Matt shows his master that he's a devoted foot slave. In part 2, there is even more foot worship throughout this nearly 11 minute clip. Slave Matt gags on his master's feet after being choked by them and completely dominated. Slave Matt understands that his rightful place is under his master's soles as he serves.
---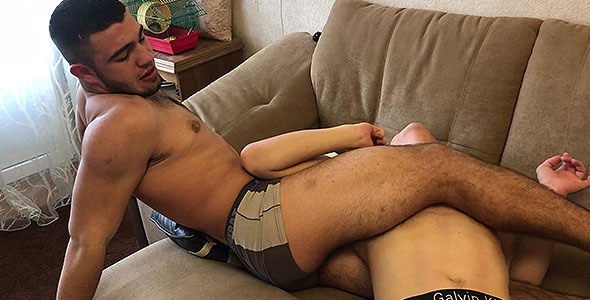 5 New Videos – Elliot and his buddy hunter have a bodyscissors battle. These two alpha studs practice for when they need to use a sub slave and administer some of the most excruciating holds. Each of these studs tries to punish the other with all of his might. More friendly headscissors practice goes on between Elliot and Hunter in their next encounter. This time more playful, these two jocks have fun locking each other in powerful chokeholds. One can't stop but admire the strong muscular legs on both of these alphas. Days later, Elliot invites over another buddy for some chokehold domination on the couch. These two jocks use their strong legs to grip around each other's necks and show their strength. It would be sad for the next slave these two studs meet because the slave is going to be brutally choked out if this is just a playful version.
Another evening, Elliot invites over his friend Mark to lock him into various headscissors. Even with very limited space on the balcony, ElliotScissors shows how he can adapt and lock on a headscissors anywhere. This stud's powerful legs quickly choke out his buddy Mark. Continuing with the theme of ElliotScissors dominating his buddies, this time Elliot invites over a friend to dominate. His friend struggles and fights at first but Elliot quickly pins him down through force. These two sexy studs keep attemtping to pin each other to the ground and sit on each other's chests to show superiority over one another.
---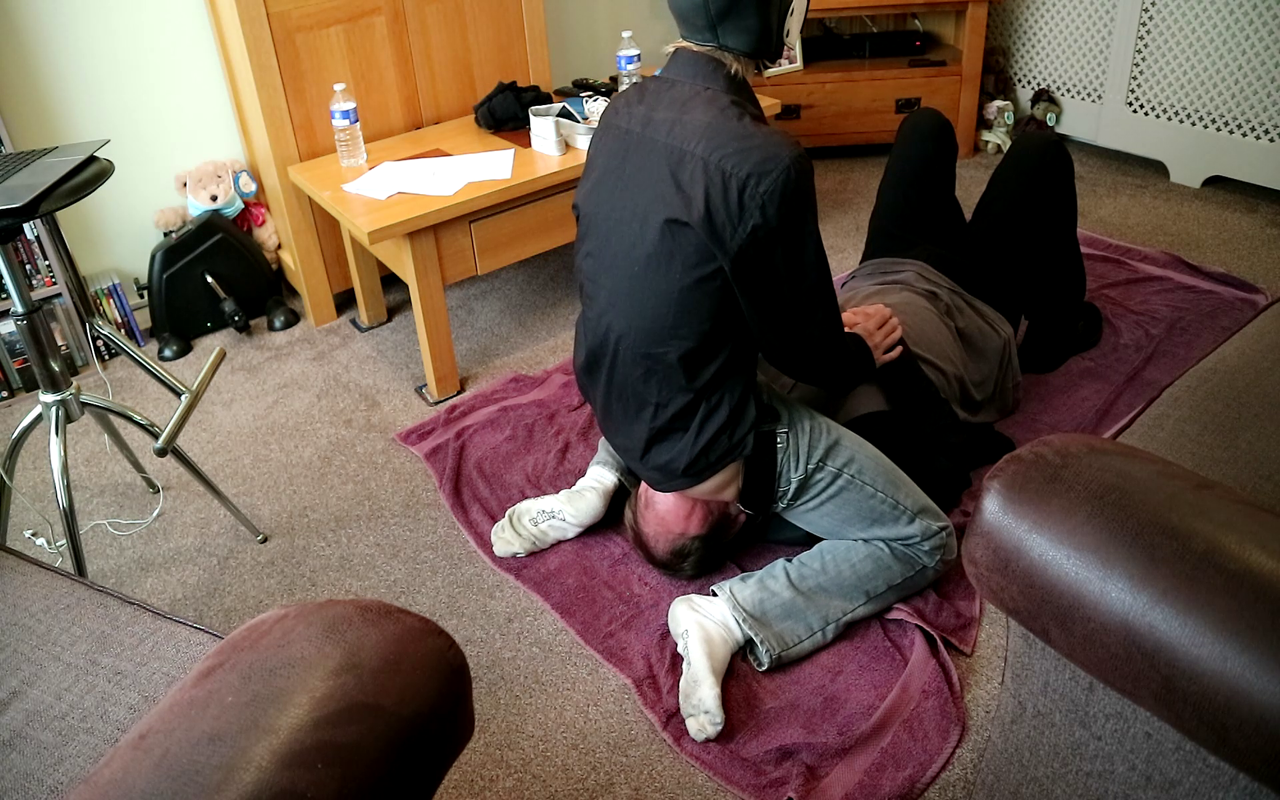 2 New Videos – Master Baily dominates his slave with intense facesitting in this real time session. Pinning his slave to the ground, Master Bailey sits on his slave's face so that the slave can't escape. Starting off in jeans, Master Bailey eventually strips down to his boxers and then nothing for even more facesitting on this inferior sub. This same sub slave meets up with Master Shaun days later for some trampling domination. Master Shaun shows his face this time in the video as he tramples and jumps on the slave. At some points, Master Shaun uses his strength to carry the slave around and pins him to the ground making him submit.